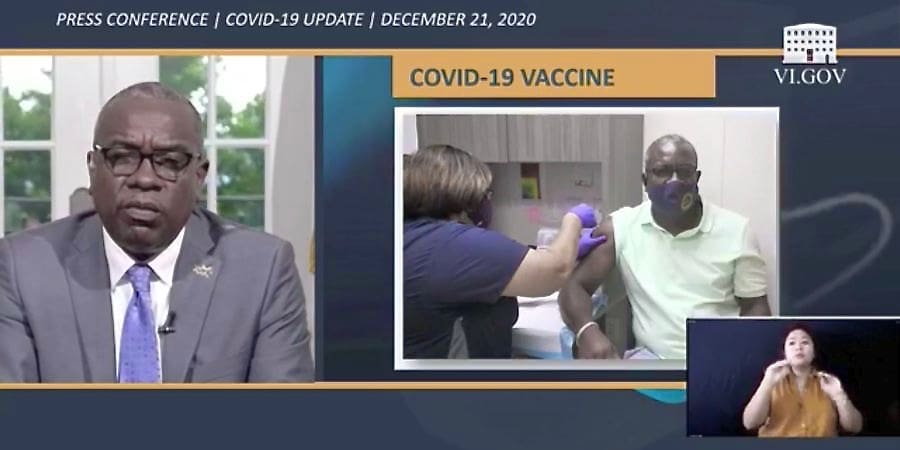 After reporting a COVID-positivity rate of about 9 percent a week earlier, officials on Monday announced updated numbers that show the territory is moving in the right direction, with 114 positive tests out of 2,248 tested, about 5 percent.
"This is fantastic news," Gov. Albert Bryan, Jr. said at Monday's weekly virtual news briefing. Bryan attributed ramped up testing and cooperation from the V.I. community as the largest contributing factors.
The governor urged residents to keep it up, particularly as family members and friends return from or travel to gatherings on-island or abroad.
A mention last week of a family wedding on the mainland that resulted in four positive cases has turned into 13, Bryan said on Monday, showing how easily the virus can be transmitted.
Currently, the Department of Health is tracking 146 active cases, with 33 percent, or 33,748 residents, having been tested. Of that amount, 1,921 were positive, but Bryan said the number of recovered cases continues to increase, while the number of patients at local hospitals – two on St. Croix and one on St. Thomas – remains at a minimum.
"Let's be responsible," he said. "The holidays are coming up, the numbers are starting to look good, and hopefully we'll get through this surge without loss of life. If we work hard, ramp up testing, wash and sanitize, we'll be OK."
Bryan said he also is taking hope from the ongoing distribution of the COVID-19 vaccine, which is being administered to local health care workers. On-island, 260 vaccines were administered last week, along with another 320 doses on Monday, and Bryan said more shipments are expected to arrive as early as next week. Doses of the Moderna vaccine are also on-island and being administered, he said.
Bryan received his first of two vaccinations on Saturday and said that other than a slight fever Saturday evening he has experienced no side effects and "feels fine," while Territorial Epidemiologist Dr. Esther Ellis said that she initially experienced soreness around the injection site on her arm that lasted about a day.
"We need to get to 80 to 90 percent vaccinated to establish herd immunity," Bryan said, referring to the threshold of vaccination a population needs to reach in order to be protected from a virus. "I truly believe the availability of the vaccine, coupled with the increased testing and other federal resources will help us get out from under this pandemic."
With no additional restrictions announced this week, Bryan added that to brighten up the holiday season, the government will launch a house-lighting contest, and award up to $2,500 in prizes to winners. Those interested can register here or by sending an email todwilkes@vitourism.vi.
Additionally, the governor has announced that eight hours of administrative leave will be granted on both Dec. 24 and Dec. 31, giving employees time to celebrate the holidays, while the waterfront apron on St. Thomas will be open for free parking for the week to allow residents to head downtown and shop.