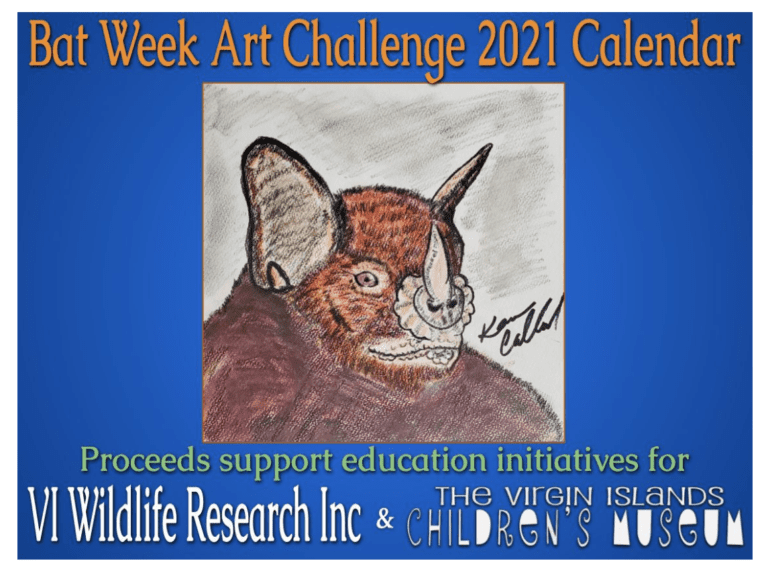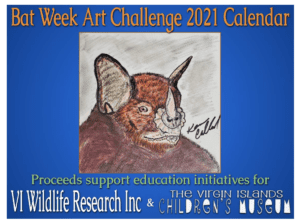 During Bat Week this past October, the VI Bat Team and the Virgin Islands Children's Museum collaborated to collect bat art from the community with their Bat Week Art Challenge. The goal of the challenge was not only to encourage young people to learn more about bats that live in the Virgin Islands but also to help the two non-profits create a 2021 calendar. Twenty-three art submissions were received from St. Thomas, St. John and St. Croix. A panel of judges selected the following winners:
1st place – Karim Callwood
2nd place – Victoria Tyson
3rd place – Cheyenne Blanchard
1st runner up – Aure Baptiste
2nd runner up – Herliz Naar
Participants earned prizes, and the top 13 artworks were published in the 2021 Bat Week Art Challenge Calendar. In addition to showcasing the community's #batart, the calendar will serve to share the benefits of bats while reducing the fear surrounding these amazing creatures.
Scientist Renata Platenberg, Ph.D., aptly nicknamed the "Bat Lady," expresses her appreciation to every artist who participated in the challenge. "It was extremely encouraging to see so many submissions from young people in the Virgin Islands. This gives me hope that the next generation will be even more knowledgeable about bats and will possibly lead to better conservation of their natural habitats," Platenberg said.
The 2021 Bat Week Art Challenge Calendar will be available in the gift shop at the VI Children's Museum starting this week. To reserve or pick up a copy, call 643-0366 or email discover@vichildrensmuseum.org. The VI Bat Team will also have calendars available and can schedule deliveries to Northside and Frenchtown locations; just email the team at vi.wildlife@gmail.com.
Each calendar is $20 and both organizations will happily mail calendars to the states (buyer will be responsible for shipping costs). Supplies are limited so reserve your copy today!
"This is the Museum's first calendar fundraiser, and we are always happy to partner with other local non-profits to encourage creativity and a love for learning," said Amber McCammon, the museum's director of programs.
Funds raised from the sale of the 2021 Bat Week calendars will directly benefit the Virgin Islands Children's Museum and the VI Bat Team. The calendar will keep supporters organized and make them amateur bat experts with the fun and educational bat information highlighted each month.
Be sure to visit the VI Children's Museum's website and follow both non-profits on Facebook.
www.facebook.com/vichildrensmuseum