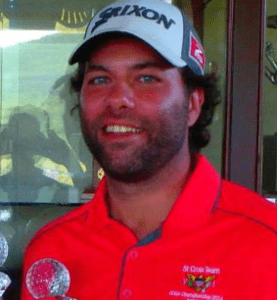 The Reef Associates Inc. (The Reef) has announced that Kevin Ferris is joining it as its new golf superintendent, effective Monday, Nov. 30. He has had a very large presence in the St. Croix golf scene for several years.
Ferris has been a member and captain of multiple Caribbean Golf Association (CGA) and Eastern Caribbean Golf Association (ECGA) teams, and a USVI representative in four Latin America Amateur events.  He has multiple St. Croix Open titles, as well as one St. Thomas Open title. He has also been running clinics and giving private lessons for the past eight years and was most recently the assistant general manager for the Carambola Golf Club here on St. Croix.
Ferris will take ownership of all things golf, disc golf and tennis/pickleball related, including the Golf Shop, the golf staff, course maintenance and improvement, running leagues, tournaments and clinics, giving golf lessons and running a junior golf program. He will also work closely with The Reef's TLC Café to promote "Nine & Dine" type specials, a "19th Hole" lounge behind the Golf Shop, and on-course beverage services during special events and busier course days.
The Reef is looking forward to seeing him implement all the ideas he already has to improve the course and overall golf operations. He is a serious wealth of knowledge for all things golf, and The Reef feels very lucky to have him on its team.
Anyone looking to get into the great game of golf, or just sharpen his or her skills a bit, please contact The Reef Golf Shop at 773-8844, or Kevin Ferris personally, to get some private lessons scheduled.  Follow The Reef Golf STX Facebook page at www.facebook.com/reef.golf.stx  for updates on clinics, leagues and other events.