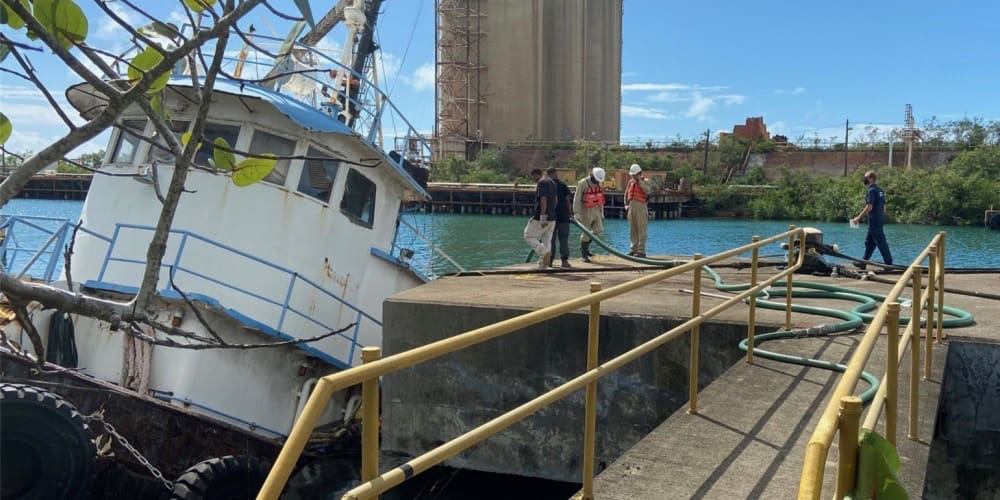 Pollution teams from the U.S. Coast Guard continued to monitor clean-up operations Wednesday to recover discharged oil from the partially sunken and abandoned tugboat Cape Lookout within Krause Lagoon in St. Croix.
"The National Response Corporation in the U.S. Virgin Islands has been hired as the Oil Spill Removal Organization that will be conducting oil recovery and clean-up operations for the Cape Lookout," said Lt. Cory Woods, supervisor of the Coast Guard Resident Inspection Office for St. Croix. "Our primary objective is to remove this pollution threat and help the affected area and environment return to its pristine state as soon as possible."
Since oil recovery operations began Tuesday afternoon, clean-up crews from the National Response Corp. have recovered approximately 1,500 gallons of oily water of the material discharged from the vessel.
But though the oil discharged into the water has mostly been cleaned, it's an ongoing problem that won't be finished quickly, according to Ricardo Castrodad of the U.S. Coast Guard's Public Affairs Officer in Sector San Juan.
"They've cleaned up a lot of what was on the outside, but since the vessel is still discharging, they'll probably be cleaning almost every day until they're able to go into the vessel," Castrodad said.
Part of the problem, he said, is that officials don't know how much the vessel might have held.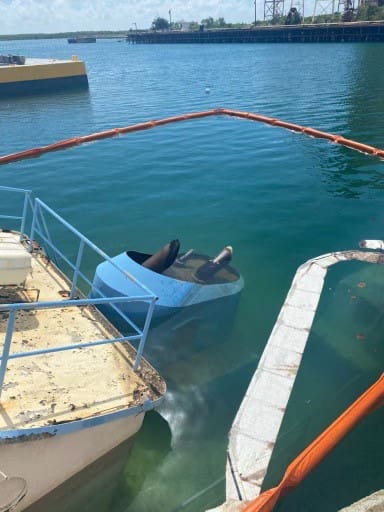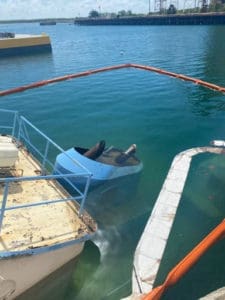 "We do not specifically know the capacity of fuel that is in the vessel," he said. "What we do know is based on OSHA laws there is a maximum capacity of fuel permitted for the fuel tank and the loop oil tank aboard the tugboat. It does not necessarily mean that the tug is full. We do not know exactly how much material may be inside the tanks currently, because that is going to entail diver's or other personnel looking to get into the vessel."
Crews from the National Response Corp. placed new containment and absorbent boom around the vessel to keep the discharged oil contained and facilitate its recovery, and they are using an oil waste vacuum truck and oil skimmers to recover the oil from the water.
"It is a method to collect oil, and they have also brought a vacuum truck and oil skimming equipment that is used to recover oil from the surface, and capture that material, which is placed in tanks for further disposal," Castrodad said.
On Nov. 12 the owner/operator of St. Croix Renaissance Group, LLP, the industrial property adjacent to Krause Lagoon, reported the seepage of oil from the tug. Coast Guard personnel from Resident Inspections Office St. Croix, working in coordination with the Sector San Juan Incident Management Division, responded to the scene and confirmed oil coming from the 97-foot tugboat. The Cape Lookout remains tied to a concrete platform at the facility, partially sunk with its bow sticking out of the water.