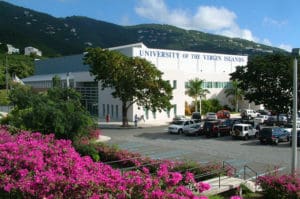 UVI to Host Virtual Commencement on Dec. 11 Hannibal Ware, U.S. inspector general and UVI alumnus, will give keynote address; notable Virgin Islander Dr. Eugene 'Doc' Petersen will receive honorary degree in December when the University of the Virgin Islands hosts a virtual commencement ceremony to commemorate degrees earned by more than 300 graduates in the Class of 2020.
Last spring, in consultation with the members of the 2020 Graduation Class, the university decided to postpone the May 2020 Commencement ceremonies until December. The decision was made on the assumption that by December 2020, COVID-19 would have receded and UVI would be able to safely resume normal activities. The university continues to monitor incidents of the coronavirus in the territory, and it ultimately decided to convene an online commencement ceremony.
Typically, two commencement exercises on both campuses occur in May, but the St. Thomas and Albert A. Sheen Campuses will celebrate with a joint ceremony at 1 p.m. on Friday, Dec. 11.
"The Class of 2020 is worthy of this University's sincere admiration and respect, and I hope this reimagined Commencement Ceremony, though different than what we initially planned, will remind them of the wonderful journey they successfully completed, and the wonderful people that made it all possible," said UVI President David Hall. "The Class of 2020 is like no other, and they are an exemplary of resiliency and success."
More information is available in a news release on the Media Section of the UVI Website www.uvi.edu/
Dance Workshop Series to introduce UVI BFA Dance Program to be Held via Zoom The newly formed BFA Dance Program invites the UVI Community to participate in a series of dance workshops throughout November. Instructor of Dance Elle Nielsen and Assistant Professor of Dance Djassi DaCosta Johnson will lead the workshops.
The purpose of these masterclasses is to spread awareness of the pedagogical studies and movement techniques to be offered in the program's curriculum. DaCosta Johnson will host a dance workshop from 3:30 to 4:45 pm. on Friday, Nov. 20
The Zoom meeting ID is 613-204-9503.
Nielsen also will host a dance workshop from 5:30 to 6:30 pm on Friday, Nov. 20, and Monday, Nov. 23 and 30.
The Zoom meeting ID is 831-335-2442, passcode: 2020DAN.
For more information, contact Nielsen at [email protected] or Prof. DaCosta Johnson at [email protected]
UVI Welcomes New Head Men's Basketball Coach The University of the Virgin Islands welcomes Alfonzo Duncan to the University's Athletics Department, where he will serve as the head men's basketball coach and Wellness Center manager. Duncan brings over 30 years of experience in intercollegiate coaching and athletic administration to the department at the National Collegiate Athletic Association (NCAA) Division I and II and National Association of Intercollegiate Athletics (NAIA) level.
Previously, Duncan served as director of athletics and head men's basketball coach at Clinton College, assistant coach at North Carolina A&T State University, interim head coach and associate head coach at Florida Atlantic University, assistant coach at Virginia Tech, assistant coach/ associate athletic director for compliance and director of student activities at Livingston College.
"I'm elated to get the season underway and mark the beginning of a new era of winning with excellence with UVI Basketball," said Duncan.
"Coach Duncan has an incredible track record spanning over 30 years, matched by his ability to recruit and build championship caliber basketball programs of integrity and character," said Dr. Jerel Drew, Ph.D., UVI athletics director. "He brings a new level of energy and passion that will attribute to the success of our men's basketball program on the court, in the classroom and the community," said Drew.
More information is available in a news release on the Media Section of the UVI Website www.uvi.edu/
 The V.I. Society of Certified Public Accountants (CPA) Announces Minority Scholarship The Virgin Islands Society of Certified Public Accountants (VISCPA) minority scholarship is now open for the 2021-2022 academic year. Scholarship awards range from $3,000 to $5,000.
Eligible applicants must be an undergraduate or graduate student at UVI majoring in accounting and be of an ethnic minority.
To apply visit, http://viscpa.org/scholarship.html.
The application deadline is 3 p.m. (EST), Dec 1.
For additional information or to ask questions, email [email protected]
UVI Communication Students Establish the First NABJ Student Chapter in the Caribbean The University of the Virgin Islands Communication Department students have founded the University of the Virgin Islands Association of Black Journalists (UVIABJ) student chapter, becoming the first student and only NABJ affiliate chapter in the Caribbean.
At its annual October meeting, the executive board of the National Association of Black Journalists (NABJ) made a unanimous decision to officially grant UVIABJ chapter status. NABJ is committed to; strengthening ties among Black journalists, sensitizing all media to the importance of fairness in the workplace for Black journalists and expanding job opportunities and recruiting activities for veteran, young and aspiring Black journalists, just to name a few.
UVIABJ joins 883 professional and student journalists from 11 states and 33 student chapters as part of Region III of NABJ. "Welcome to the NABJ family," said Dorothy Tucker, NABJ president. "We are thrilled to have our first NABJ chapter from the USVI and 'tickled black' it's a group of young aspiring journalists."
More information is available in a news release on the Media Section of the UVI Website www.uvi.edu/
Back to Better Project Initiate Mental Health Wellbeing Online Course UVI Counseling Services is offering a new option for supporting mental health well-being this year. The course is from EVERFI –Back to Better Project.
This course will help students understand more about mental health well-being, especially in times of COVID-19 impacts: what comprises mental health and how to attain, maintain and sustain better mental health wellbeing.
The counseling office hopes that students will take advantage of this course. It is free, interactive and brief.
The counselors are available to discuss any questions students may have about the Back to Better Project and Mental Health Wellbeing Course.
For more information, contact Patricia Towal on the Albert A. Sheen Campus by email at [email protected] or telephone 692-4187. Dahlia Stridiron-Felix can be reached on the St. Thomas Campus at 693-1136 or by email at [email protected]