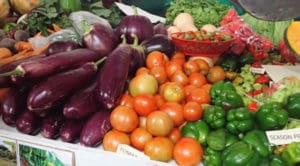 Due to the continued COVID-19 pandemic, its impact on community health and well-being, our annual 2021 Agriculture and Food Fair of the U.S. Virgin Islands (AgriFest) has been postponed by the Board of Directors of the Fair.  The rescheduled date for 50th anniversary event is Memorial Day weekend, May 29-31, 2021.
Applications for vendors and exhibitors will be available starting Monday, Feb. 1, 2021, from the V.I. Department of Agriculture at the Rudolph E. Schulterbrandt Agricultural Complex in Estate Lower Love, St. Croix.
Applications for livestock will be available at a later date, Monday, March 15, 2021.
The following are the fees for the 2021 Ag Fair:
Crop Exhibit                             $125
Exhibitors                                $200
Food Booths                            $400
Government                            $125
Livestock Exhibition                No fee
Livestock Sales                        $125
Refreshments Booths             $250 + Health + Fire fees
Youth Activities                       No fee