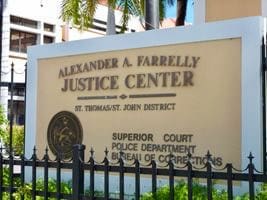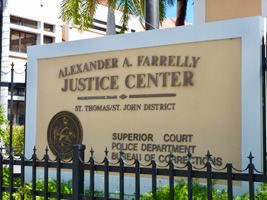 The mission to repair damage from hurricanes Irma and Maria to public buildings has led to $3 million awarded through Federal Emergency Management Agency's (FEMA) Public Assistance Program for numerous recovery projects in the territory last month.
An obligation of $890,169 for the Judiciary of the Virgin Islands to restore the Alexander A. Farrelly Justice Center on St. Thomas back to its pre-disaster design, capacity and function stands out among approved projects in October.
The three-story justice center on Veterans Drive houses courtrooms and offices.
"The Alexander A. Farrelly Justice Center is an important facility for the people of the Virgin Islands. FEMA staff is pleased and proud to have worked with our USVI partners to obligate funds for a very important facility and taking another step forward in the recovery process from the devastating hurricanes of 2017," said FEMA Acting Recovery Director John Covell.
Maria's winds and rains damaged the justice center's roof and caused water intrusion inside the complex in September 2017. Water saturation collapsed the ceiling inside courtrooms and saturated drywall, light fixtures, ceiling tiles and carpet. High winds blew out windows and damaged window seals inside multiple offices.
The judiciary will administer the design and choice of contractors, permits and compliance with regulatory codes and standards of the territory during the justice center's restoration.
"The recent obligations for the repair of these public buildings that provide vital services to the territory signals continued progress towards restoring our infrastructure," said Office of Disaster Recovery Director Adrienne L. Williams-Octalien. "With this funding, the work now begins with soliciting for a contractor to perform the necessary repairs for these facilities. The territory is appreciative of the continued support from FEMA."
Other public buildings projects obligated include:
▪ $384,093 awarded to the Bureau of Corrections for the Alva A. Swan Jail Annex and Franklin Building contents. Water infiltration destroyed and damaged various contents at the buildings during the 2017 hurricanes;
▪ $151,928 obligated for the V.I. Fire Service for repairs to the Emile C. Berry Fire Station on St. Thomas.
Severe winds and wind-driven rain caused damages to the Dorothea firehouse. Heavy debris damaged three overhead bay doors and blocked the roof drains, causing water to accumulate over the main corridor and leak onto the lower roof;
▪ $107,852 awarded to the Office of the Governor for management costs on St. Croix;
▪ A total of $1.5 million was obligated for other projects that include debris removal for the Nature Conservancy and management costs for the St. Croix Landmarks Society.
FEMA's USVI Public Buildings Group will continue to focus on projects to restore damaged facilities to their pre-disaster condition and strengthen the territory's resilience against disasters.