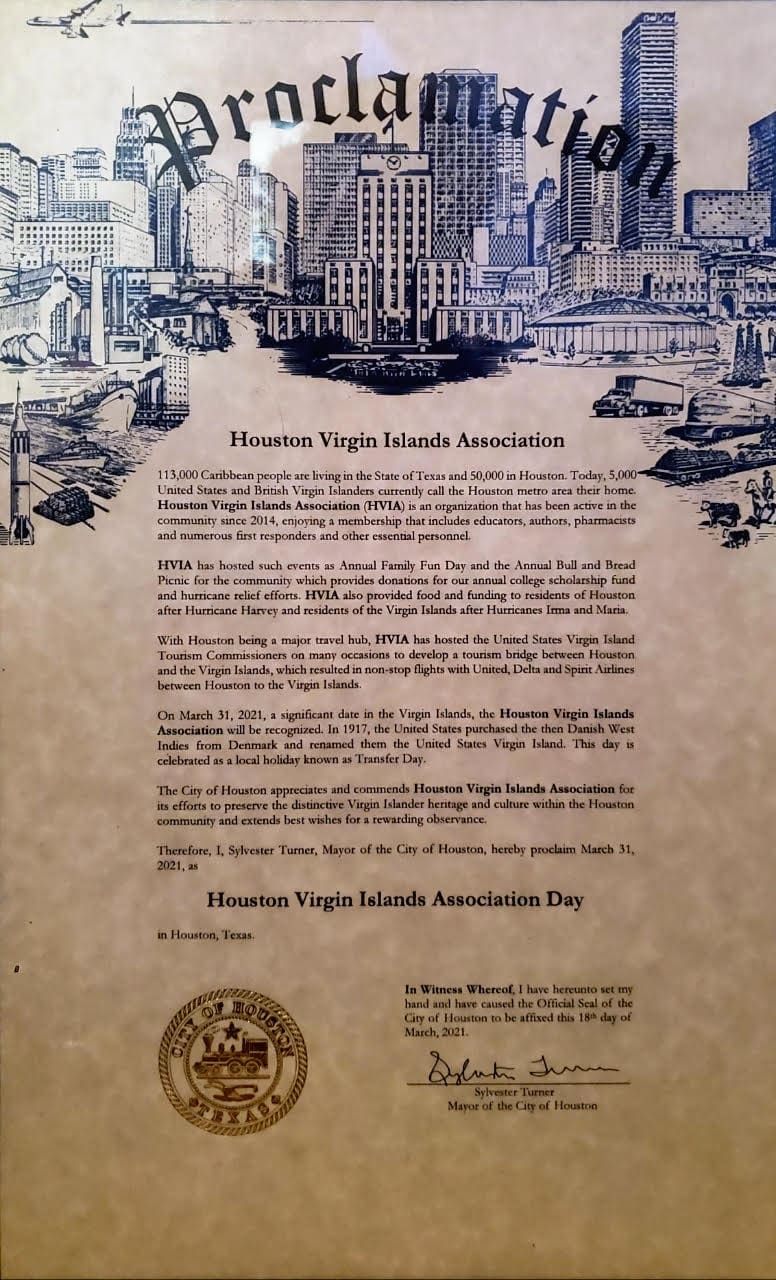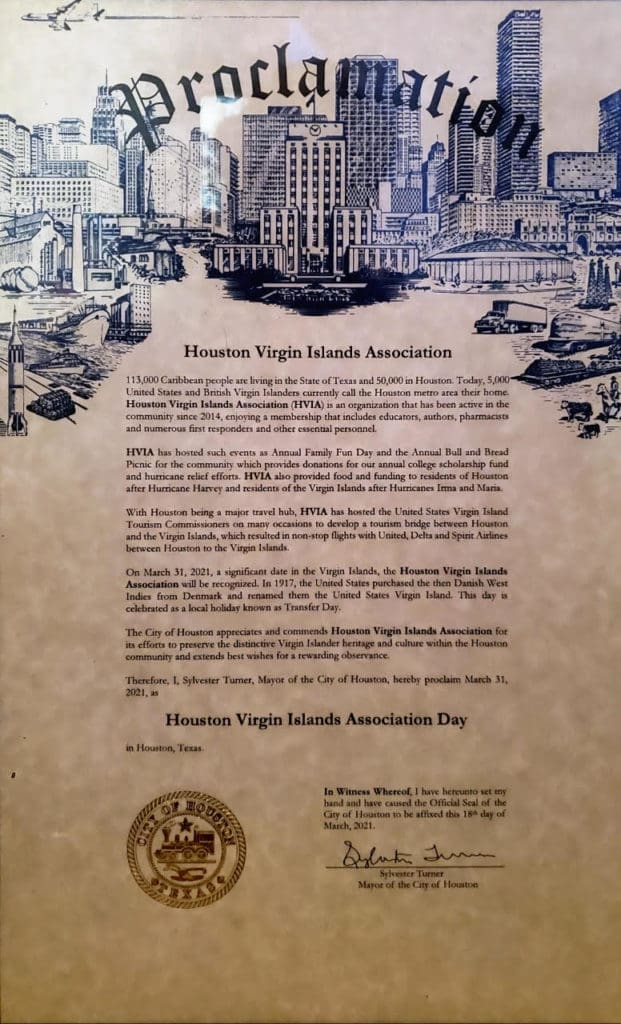 March 31, 2021, will have a special meaning to Virgin Islanders living in Houston as it will be the first Houston Virgin Islands Association Day after the organization received a proclamation from Houston Mayor Sylvester Turner last week.
March 31, known in the Virgin Islands as Transfer Day, is historically significant because it is the date in 1917 when the Danish West Indies were officially transferred to the United States.
The Houston Virgin Islands Association was created six years ago and has connected Virgin Islanders in Texas since. The association is run by an 11-member board led by President Carol Sadler-Cuffy and Vice President Sylvanus Donaie. The other board members are Marcy Anderson-Smith, Rozzette Maduro, Patricia Sadler, Beverly Moses, Kenrick Douglas, Julie Bastian, Desiree Hodge, Atlon Hector, Marc Benjamin and Enrique Corneiro.
In a phone interview with the Source, Sadler-Cuffy expressed her gratitude to Turner for valuing and acknowledging the diversity of Houston. "He is very big on the diversity of the city, and since Houston is the fourth largest city it has a lot of cultures running through its veins," she said.
Since the organization was founded, it continuously hosts events to keep Virgin Islanders in touch and promote Virgin Islands culture.
"Our goal is not to just keep our culture alive in Houston but to make Virgin Islanders feel at home away from home," Sadler-Cuffy said. "I'm very passionate about it."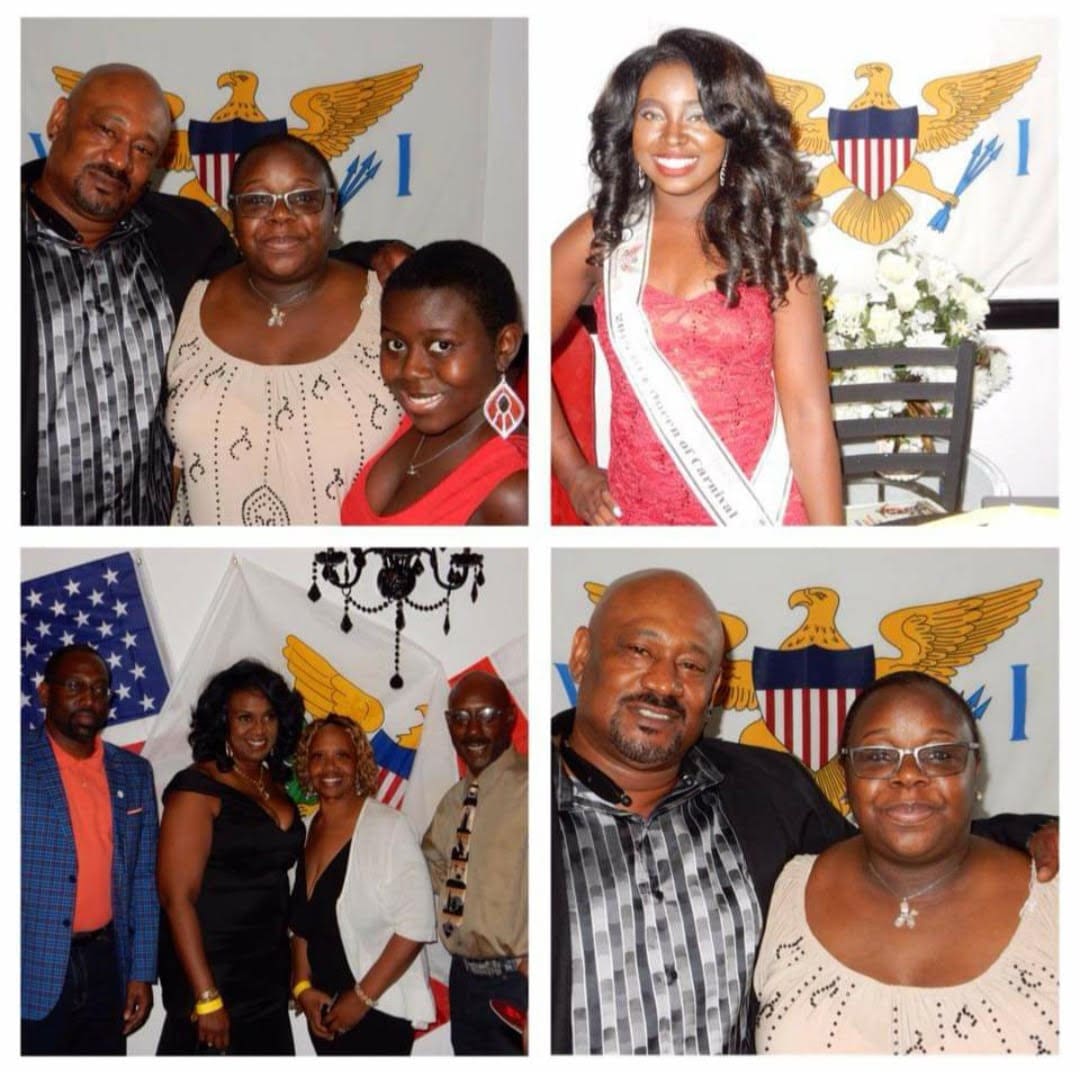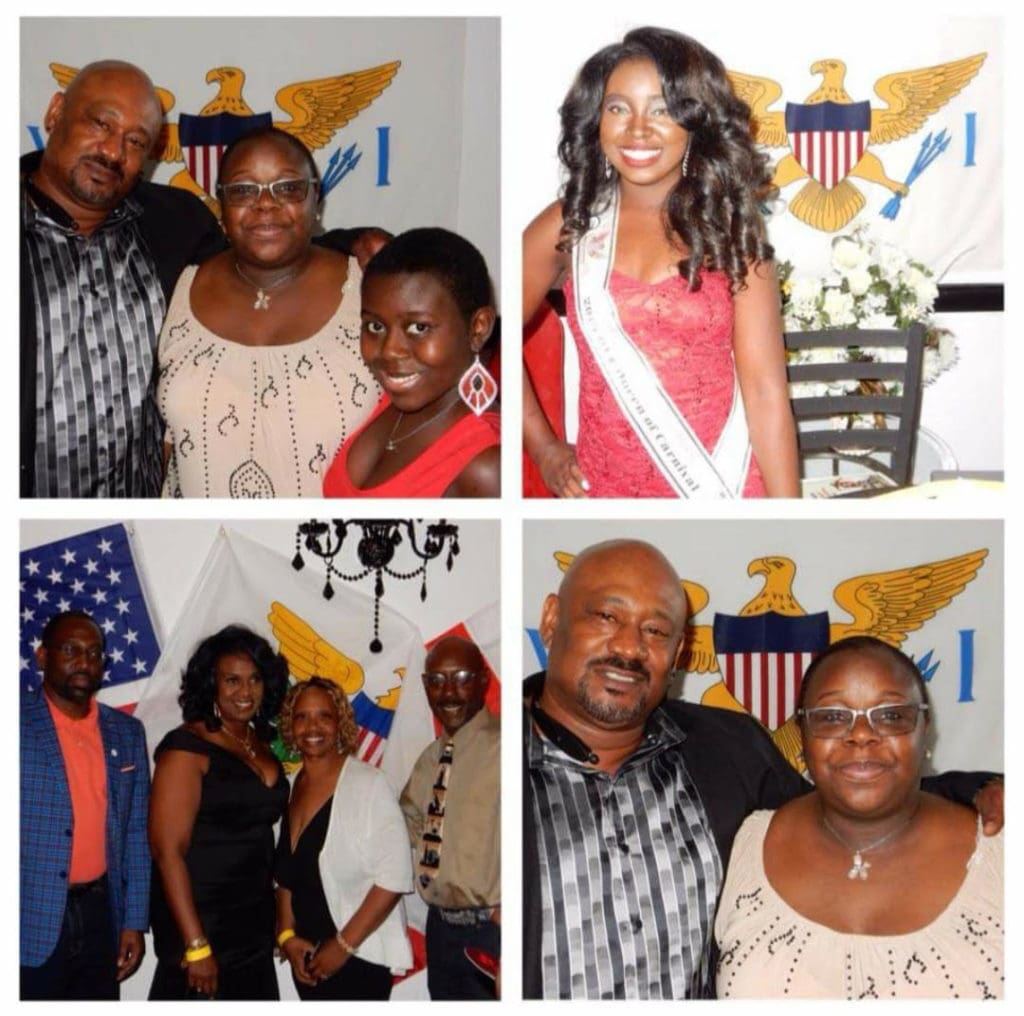 The organization's website lists its mandates as 1) Enhance the cultural, educational, civic and general well-being of its members; 2) Showcase our values, traditions, heritage and culture as a means of increasing public awareness; 3) Educate members and our community about the Virgin Islands, our history, culture and traditions; and 4) Involve our members in community developments and charitable causes, within the meaning of Section 501(c)(3) of the Internal Revenue Code or corresponding section of any future federal tax code.
One of the long-standing events from the organization's early days is its Bull and Bread Day, or David Hamilton Jackson Day, picnic. Unfortunately, this year it was postponed due to the COVID-19 pandemic.
Sadler-Cuffy said that at the organization's functions there is a wide variety of V.I. food and music.
Douglas told the Source that although he left the territory at 19, he still sees friends he went to school with because of events the organization hosts.
2017 was a busy year for the association's philanthropic efforts as they tried to provide help for Virgin Islanders affected by hurricane devastation. The organization has helped Virgin Islands families financially in the Houston area after Hurricane Harvey and held supply drives for the Virgin Islands after hurricanes Irma and Maria.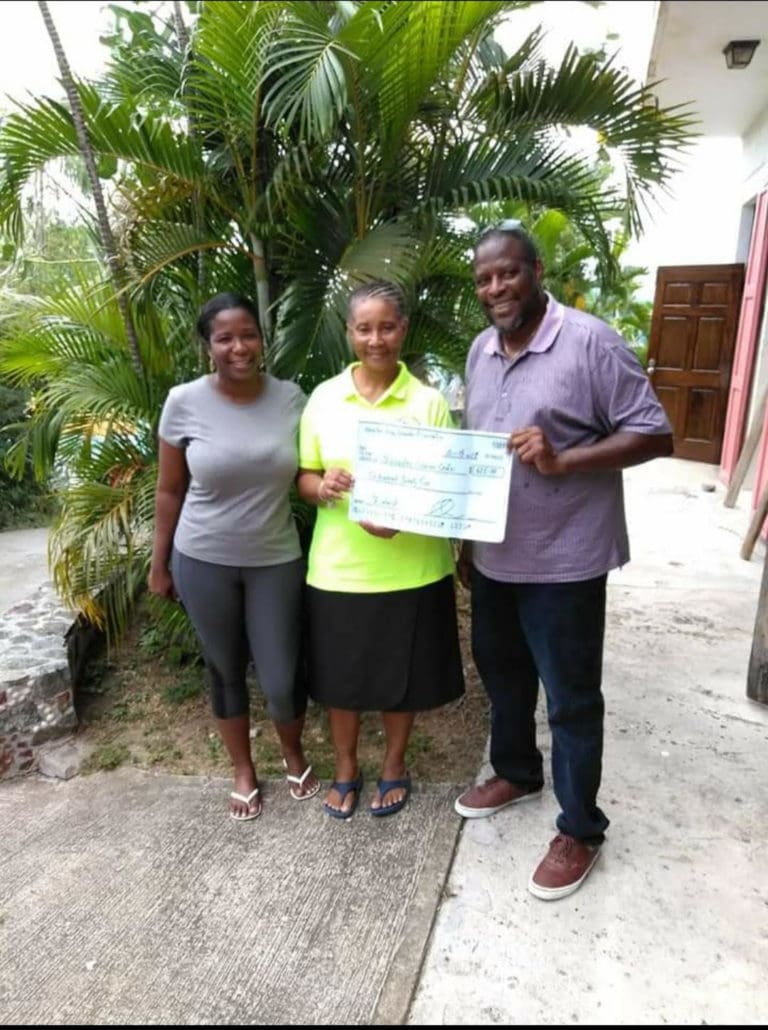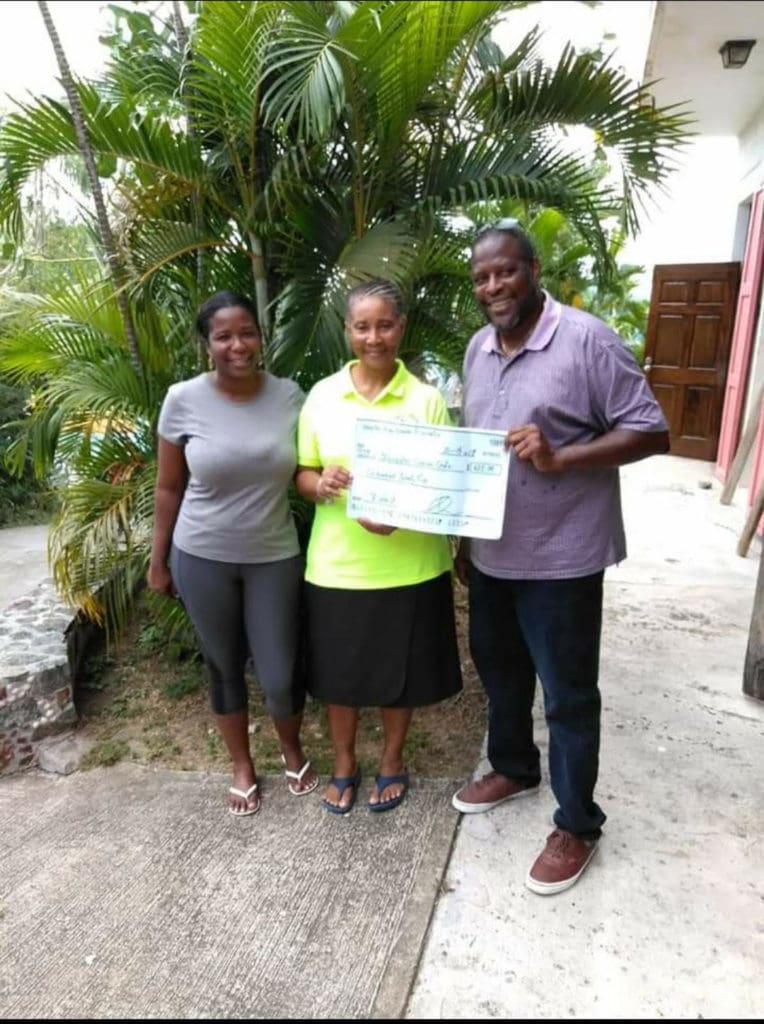 Before the pandemic, the association helped arrange a weekly flight from Houston to the territory through United Airlines and the Department of Tourism. In a Facebook post about the proclamation, Tourism Commissioner Joseph Boschulte said, "I want to shout out President Carol Sadler-Cuffy, her board and committed volunteers for their continuous efforts to bring together Virgin Islanders in the Houston area and to promote our culture. We've partnered with the HVIA to strengthen this important market and to promote new flights which have given Virgin Islanders more options to come home."
One of the future goals of the association is to partner with other Caribbean associations in the city and build a Caribbean culture center in Houston. "When you look around Houston, other cultures have their community center, but there is no Caribbean center," Sadler-Cuffy said.
More information about the association can be found on their website or Facebook page.