The Department of Health has confirmed that a 65-year-old man on St. Croix has passed away from the COVID-19 virus, bringing the territory's official, confirmed pandemic fatalities to 22.
While still lower than most U.S. jurisdictions, new confirmed USVI COVID-19 infections have risen in the past few days, after weeks of few confirmed cases.
For most of October, the territory saw a steady trickle of one to four new confirmed positive test results every day. The real number of infections was almost certainly higher, as the source of most infections is unknown and listed as "community spread" and many people experience mild or no symptoms. But the number of positive tests and the percentage of tests coming back positive both still reflect the general course of the epidemic in the community. But on Oct. 30, 14 test results came back positive, with six on St. Croix and eight on St. Thomas. The following day, two more St. Croix cases were confirmed.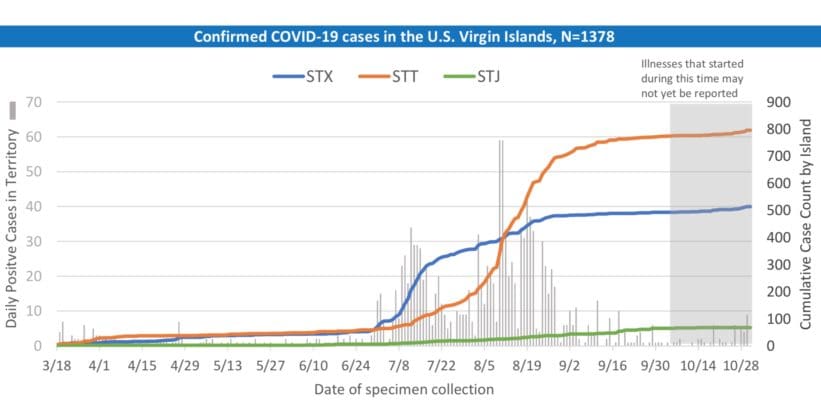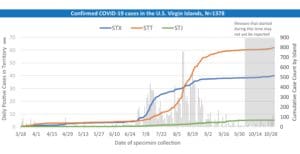 The territory had seen 1,378 positive COVID-19 test results as of Oct. 31.
The seven-day rolling average of positive test results had been slowly declining since late August and well below 5 percent positive results in new tests. The rolling average remains below 5 percent, but the graph shows a jump to around 2.5 percent.


St. Thomas has been hit hardest, with 96 positive tests and 14 fatalities. St. Croix, with roughly the same population, has seen 514 positive tests and seven fatalities. St. John, with less than 10 percent of the population of either St. Croix or St. Thomas, has seen 68 positive test results and one fatality.
The full Department of Health report can be accessed on its website.
According to the U.S. Centers for Disease Control, people with COVID-19 have presented a wide range of symptoms reported – from mild to severe. Symptoms may appear two to 14 days after exposure to the virus.
People with these symptoms may have COVID-19:
– Fever or chills
– Cough
– Shortness of breath or difficulty breathing
– Fatigue
– Muscle or body aches
– Headache
– New loss of taste or smell
– Sore throat
– Congestion or runny nose
– Nausea or vomiting
– Diarrhea
Editor's note: The Department of Licensing and Consumer Affairs has provided the following cellphone numbers where residents can report activity that is against the law, including violations of the governor's executive orders, that may put others at risk or in danger. Information, photos or videos can be texted to the following: The general number is 340-725-5129. The other two numbers are 340-727-7226 on St. Croix and 340-771-7226 on St. Thomas. You can also call 911 to report serious crimes.