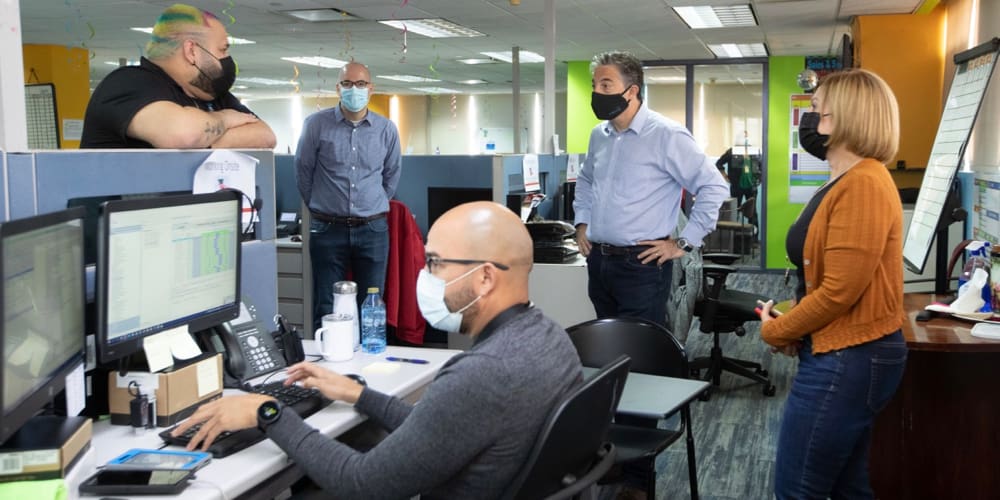 With the recent announcement that U.S. Virgin Islands AT&T cell customers are now Liberty Puerto Rico cell customers, Virgin Islanders have been lighting social media and email threads on fire with questions about what it means for the average cellphone user.
Can I cancel my contract? Who do I pay now? If I have a billing question, is there someone I can ask? Will I pay roaming charges now? If I have two phones under AT&T and one has a stateside area code but the other a 340 area code, do I now have to pay two companies?
The good news for worried customers is there will be zero visible changes for USVI customers for the next year or two at least, Liberty Puerto Rico President Naji Khoury promised during a phone interview on Monday.
The change was first announced a year ago, but largely forgotten by USVI cell users until last week's announcement. A new website just went live on Monday, with answers to some of these questions.
First and foremost, Khoury said, nothing is changing for customers at all right now. Your plan, service, rates, whether you are on roaming and who you pay your bill to will all remain unchanged for at least a year and possibly longer, he said.
"We did it specifically that way by design," Khoury said. "We have no hurry to introduce drastic change. … Success for us is if next week you don't even realize there was a change."
According to Khoury, if you pay by automatic withdrawal, it will continue unchanged. If you pay online at the AT&T website, you can still do so. He said if you send a check in the mail, you will still get a bill and still send a check and the bill will still say AT&T – for now.
There are no additional fees for travel, no roaming charges, you have access to the same phone upgrades you had under your AT&T plan, say to get an iPhone 12, and if you have HBO Max streaming through AT&T, that will all continue unchanged.
"We at Liberty paid a tremendous amount of money to get this asset. The last thing we are going to do is allow anything to diminish service quality or do anything to lose customers," Khoury said.
Liberty will maintain all active AT&T plans and when new plans become available in the future, you will have the option of changing to a comparable or better plan.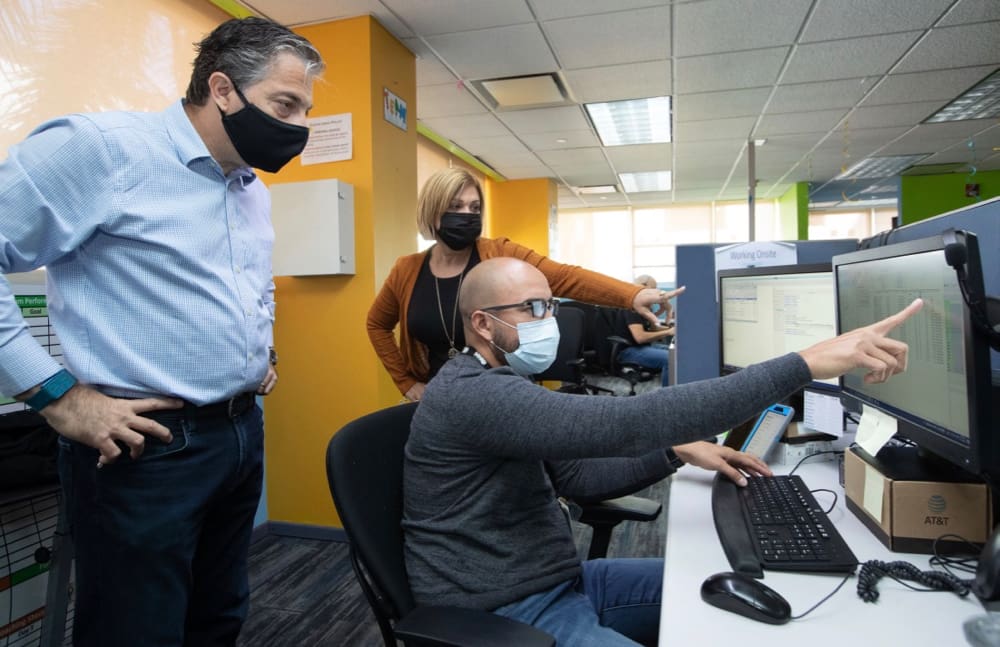 When the transition is completed, he said he pledges Liberty will have a consistent, transparent and easy to understand bill and a clean, easy to navigate website.
Eventually, customers will get bills in the name of Liberty and pay to a Liberty website, but not now and not for a year or more.
When Liberty signed onto the purchase, they negotiated a three-year transition agreement.
"The reason we took so long is because we want to make sure we do everything right, not to interrupt anything," Khoury said.
Who You Have Is Based on Your Location, Not Area Code
So how do you know if you will be under Liberty or AT&T? Can you put your phone under a stateside address and stay with AT&T?
"It is based on your billing address, but also on where you spend most of your time," Khoury said.
If you have a phone with a 340 area code but a stateside address and spend most of your time in the states, you will be under AT&T. If you have a stateside area code but spend most of your time in the USVI, you will be with Liberty.
AT&T Largely, But Not Entirely, Confirms Liberty's Assertions
Khoury's reassurances are mostly consistent with what AT&T has released about the changes but partly at odds. AT&T issued a release on Oct. 28 saying the "AT&T THANKS program" will not be available in Puerto Rico and the U.S. Virgin Islands. That program includes HBO Max and free tickets to some concerts, among other benefits.
According to AT&T, service questions, including rate plans, terms, policies, prepaid agreements and fees, will be handled by the local, now AT&T branded stores, which will eventually be rebranded Liberty stores, or by calling 800-331-0500. And accounts will no longer be serviced in AT&T stores outside of Puerto Rico and the U.S. Virgin Islands. Phone protection insurance packages will now be serviced by Asurion Protection services.
AT&T also says IDnotify services will be discontinued effective Dec. 1 for all AT&T Protect Advantage Customers. Those enrolled in a device protection plan, the release says, will continue to have coverage for loss, theft, damage and out-of-warranty malfunctions.
While coverage is optional and you can cancel anytime, paying your monthly bill will automatically continue enrollment.
Customers can cancel their coverage by calling Asurion Customer Care at 888-562-8662.
A call to the AT&T customer service line confirmed the transfer of ownership but the help line operator referred all questions to Liberty Latin America.
U.S. Department of Justice Anti-Trust Action
The U.S. Department of Justice announced on Oct. 23 that it would require Liberty Latin America to sell off some of its landline operations in Puerto Rico before allowing Liberty to take over AT&T's cell operations in Puerto Rico and the USVI. The Justice Department complaint argued that competition between AT&T and Liberty helped reduce service prices in Puerto Rico and there would be a lack of competition in telecommunications there if Liberty took over the AT&T operations.
Khoury said Liberty agreed with the Department of Justice and is in the process of selling off those assets.
"We are in the process of divesting to a local landline company, a business-to-business provider," he said. "The DOJ approved the buyer, and we think it is likely to happen in the next two or three months," Khoury said.
Update: HBO Will Still Be Available 
Liberty officials emailed to clarify customers who are subscribed to AT&T's Unlimited Elite with free HBO Max will continue enjoying this feature. New and current customers who subscribe or switch to Unlimited Elite plans will also receive HBO Max as part of their plan.
Customers who had plans with WATCH TV and chose a premium music service will no longer have it in their plans. They will instead receive HBO Max as their premium service option in the plan.
Current AT&T rates will be honored by Liberty including rates that some customers may still have from old plans, as per their service agreement.
Customers will also be able to enjoy a new feature that AT&T announced recently that extends the best equipment offers to current and new customers alike.
According to Liberty, the 1-800-331-0500 phone number that leads customers to AT&T's automated customer service system, will not change after November 1. The 611-dialing feature from your mobile phone will not change either.
AT&T customers who have a hotspot feature in their cellphones will be able to use it as they normally do.
Prices and fees, billing, and mobile usage outside of Puerto Rico will remain the same. AT&T customer service contacts remain the same and will be handled by representatives in the USVI. The network, engineers, service personnel, and maintenance and quality control personnel have all been maintained.
Should customer have additional questions, they can visit www.libertyvi.com
for more details on this transition.