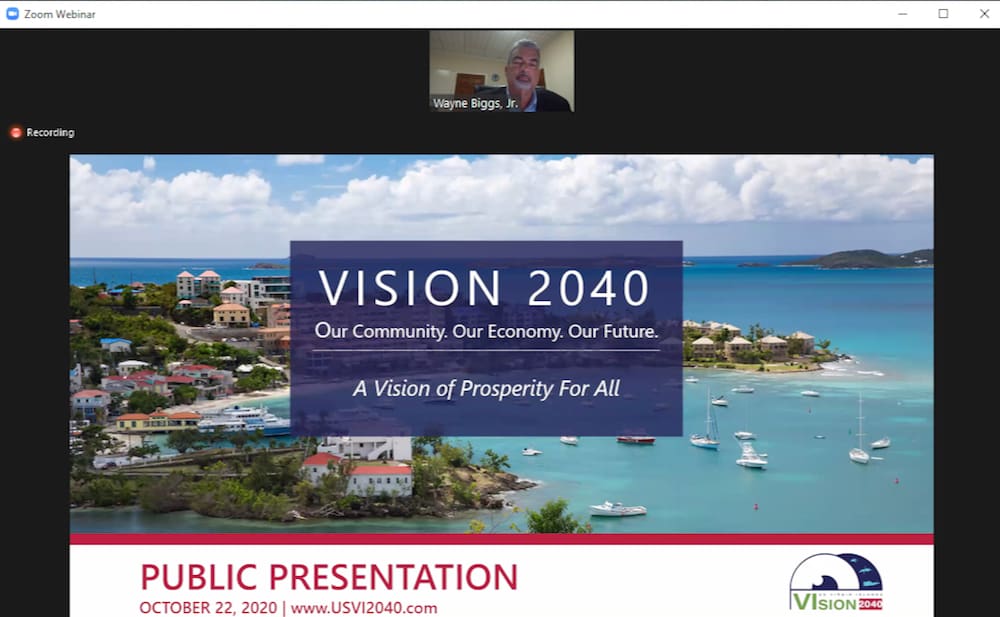 In an interactive webinar that launched the V.I. government's Vision 2040 plan on Thursday, Economic Development Authority officials made one thing abundantly clear: They need Virgin Islanders to do their part to make it a success.
Vision 2040, the federally funded plan to create a 20-year economic strategy for the U.S. Virgin Islands, was announced Tuesday by Gov. Albert Bryan Jr. It is an ambitious undertaking that cannot succeed without input from Virgin Islanders, said Wayne Biggs Jr., CEO of the Economic Development Authority, who hosted Thursday's 30-minute webinar.
Also taking part in the program were Shanell Petersen, EDA managing director for marketing and Vision 2040 manager, and Dan Gundersen, principal and senior vice president at Camoin 310, the national economic development firm selected to oversee the project.
Biggs faces what he admitted is an "incredibly aggressive" deadline, with a mandate to deliver the final blueprint for economic self-sufficiency and prosperity by the end of February, Gundersen said.
To achieve that, the Vision 2040 team announced an ambitious schedule that over the next three months will include three different citizen surveys on the project's website; a virtual open house Nov. 5 through Nov. 19; two virtual open houses per island; business surveys specific to each island; five working group meetings; three focus groups; 60-plus "stakeholder" interviews; and two "diaspora events" – one aimed at USVI citizens living on the U.S. mainland and another targeting those who reside internationally.
Details about the upcoming events, as well as the first citizen survey, will be posted on the Vision 2040 website that launched on Thursday at www.usvi2040.com.
For those thinking, been there, done that – Biggs admitted the territory is not lacking in planning efforts – the Vision 2040 project differs in that it is a long-range strategy that will help align and put the shorter-term plans in context, he said.
"We won't recreate the wheel," but instead we will synthesize the work already done and find patterns and solutions, said Biggs.
The project aims to put "quality of place" front and center, to create a climate that will attract and retain businesses and the talent that comes with them – including enticing the diaspora to return home, said Biggs.
"It's all about ensuring economic prosperity," said Petersen, with the biggest challenge being how to diversify the economy so that it is not dependent on tourism or any one industry while addressing issues, such as education and social programs, that have hindered development.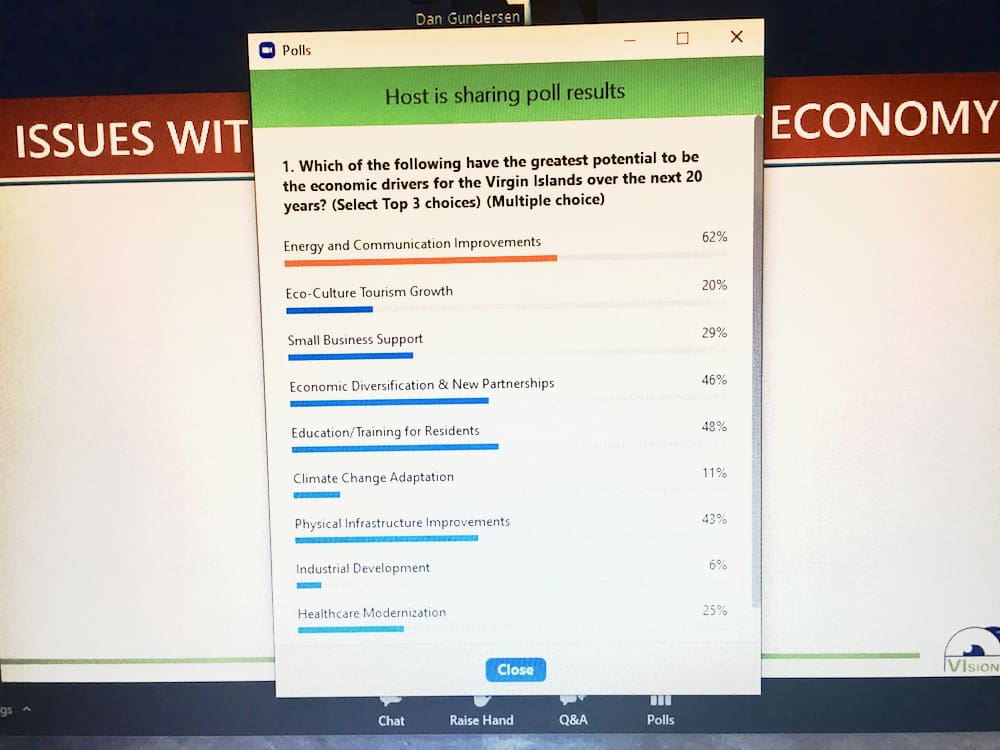 To that end, Thursday's webinar featured a real-time poll of the top three issues with the greatest potential to be economic drivers for the Virgin Islands over the next 20 years.
Not surprisingly, 62 percent of participants selected "Energy and Communication Improvements," followed by "Education/Training for Residents" at 48 percent, "Economic Diversification & New Partnerships" at 46 percent and "Physical Infrastructure Improvements" at 43 percent.
Trailing those concerns were "Small Business Support" at 29 percent, "Healthcare Modernization" at 25 percent, "Eco-Culture Tourism Growth" at 20 percent, "Climate Change Adaptation" at 11 percent and "Industrial Development" at 6 percent.
"All of this makes perfect sense," said Gundersen as he shared the poll results that his team members will now delve into further. They include two economic development professionals with ties to St. Croix, Rob DeRocker and Mark Waterhouse, and Nykole Tyson, a native Virgin Islander and president of NT Media Productions.
"We have a lot of work to do," said Biggs, again urging the community to complete the online survey at www.usvi2040.com, which takes about 10 minutes and is anonymous.
Bryan was the first to complete the survey and, in a pre-recorded clip included in Thursday's webinar, urged participants to "be brutally honest with yourself" in answering the questions.
Even so, a question and answer session at the end of the webinar revealed some skepticism that yet another government plan will deliver actual results, with one participant questioning whether Vision 2040 will stick through changes in administrations.
Because the project is endeavoring to reflect the voice of the community like never before, Biggs said he is confident "it will outlive administrations, it will outlive legislatures." Vision 2040 also is not intended to be set in stone – it will need tweaking from time to time, he said. "This is going to be evergreen," Biggs said.
And all ages are urged to get involved, Petersen said, in response to teen participant Miriam's question.
"Absolutely," said Petersen. "They are going to be the individuals who are going to be in leadership positions 20 years from now."
Petersen encouraged people to invite their friends, family and neighbors to fill out the survey and attend the open houses.
"It will be fun," he said.