Cruzan Dance Company (CDCO) will be kicking off the season with a host of events from October through Tuesday, Dec. 15. The community is invited to engage in the arts and support the dance company by participating in the following events:
October – Fantasy Flare
CDCO is The Virgin Islands Pulse of Movement in dance and creative expression. Makeup artists are encouraged to register for Fantasy Flare — a Virtual Halloween Makeup Competition where artists can take their talent to another level Registration is open at www.cruzandancecenter.org/fantasyflare and submissions are due by Oct. 24. Global participation is welcomed and national prizes, including, but not limited to, a round trip ticket to Atlanta, Ga., and a photoshoot by Shot of Sasha of AZUSTUDIOS are included for the winner.
November – Zoom N' Dance
CDCO aims to open in the Spring of 2021, but dancers can get moving now. Starting in November, CDCO company members and affiliate instructors, locally and abroad, will provide an opportunity for the global community to get up and get moving with its Zoom N' Dance series — a month of virtual classes in Afro-movement, hip-hop, modern jazz, belly dancing, modern and dance fitness. Applicants who are considering auditions in December are strongly encouraged to register at www.cruzandancecenter.org/zoomndance, get warm and get ready for auditions with the director, Alex Simon, in December.
December: Master Class and Auditions With Alex Simon
Cruzan Dance Company will end its series of events for 2020 with the highlight of the season: Master Class and Auditions with Director Alex Simon from 6-8 p.m., Tuesday, Dec. 15, at the Beeston Hill Health and Wellness Center Cardio Room. Anyone between the ages of 10 and17 who wants to join Cruzan Dance Movement or who is 18+ older and wants to audition for the Cruzan Dance Company, this is an opportunity to meet the director himself and experience dance on another level. To register, visit www.cruzandancecenter.org/auditions.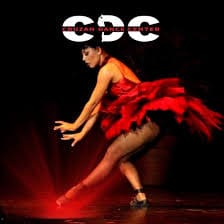 According to Artistic Director Alex Simon, "We are extremely passionate about dance, the performing arts, mental health and providing opportunities for our youth and adults alike to feel safe, inspired and most importantly learn from some [of] the best instructors and professionals from around the world. The community can help us in making this become a reality, by supporting us in this endeavor to once again give back in providing community sustainability that enhances the quality of life and provides solutions to the community problems facing the United States Virgin Islands."
Proceeds from the master class will support the Cruzan Dance Company fundraising campaign. This is an immense task that requires the support of the community in order to open a newly renovated facility for the youth of the Virgin Islands, namely Cruzan Dance Center. To support, please visit www.cruzandancecenter.org/societyofcontributors and pledge support today.
Register for the series of upcoming classes at www.cruzandancecenter.org/zoomndance and join "The Virgin Islands Pulse on Movement"
About Cruzan Dance Company: Cruzan Dance Company Inc. is a 501(c)3 non- profit organization that strives to provide the highest level of dance education and the performing arts from licensed professionals from around the world. Its commitment to fostering and molding the creative minds of the Virgin Islands community has given it the recognition of being a staple for the arts in the territory for more than a decade.
In doing so, the company offers a well-rounded experience with several afterschool programs that focus on at-risk youths, mental health and underserved communities that may not have the opportunity to participate in its programs. Since our inception in 2003, our broadened scope of educational services includes new programs such as Dance & Academics (DNA), Dance Xpress Boot Camp Summer Intensive, Stella Radiance HFM, and Lend A Hand Community Outreach.
These programs not only encourage positive reinforcement, discipline and self-confidence within each individual but most importantly, it keeps future leaders "off the streets." The Cruzan Dance Company offers a positive outlet where youth and adults alike can immerse themselves creatively while gaining an incredible education taught by some of the best instructors from across the country.