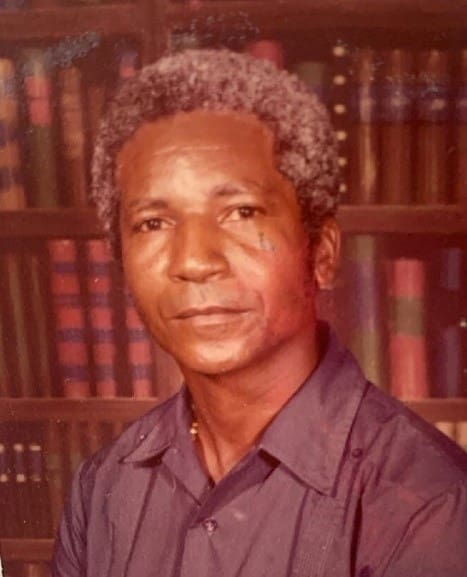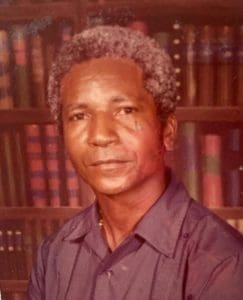 Wendell Hamilton was born Aug. 8, 1933, and died Oct. 14, 2020, on St. Croix, U.S. Virgin Islands.
He was preceded in death by his father, Theodore Hamilton; mother, Lucile Estes Hamilton; and brother, Robert Harris Hamilton.
He is survived by his daughters: Lisah Yetunde Hamilton, Dara Malaika Hamilton and Anika Ayodele Efuru Hamilton.  He is also survived by Wanda Hamilton Wright, who he met in Africa and married in New York in December 1969. Mother of Lisah and Malaika, she remained Wendell's constant companion and support and closely provided for his care until his death.  He is further survived by Leniese Mercer, lifelong friend and mother of Anika.  He was a beloved grandfather to Khalil Francis and Kaden Carnes.  He was father to Michael Springer, best friend to Tyrone Seales and his St. Croix sister, Betty Roper Nielsen.
Wendell first came to the Virgin Islands in the late 1950s. He made several visits and longer stays to St. Thomas and St. Croix before making St. Croix his permanent home. Having earned a Bachelor of Science at Morehouse College in Atlanta, Wendell went on to obtain Master's degrees in both African-American studies and physical education.
Mr. Hamilton! Hammy! Hamp! Ham! was a dedicated educator. He loved teaching at the Bronx School, Claude O Markoe High School, Charlotte Amalie High School, Elena Christian Junior High, Arthur Richards and John H. Woodson before retiring. He came back to substitute teach at St. Joseph's Catholic High School and Elena Christian Junior High in his later years.  Wendell maintained high standards and was a tough teacher; however, he was loved by his students, their parents and his fellow educators.
Wendell was a veteran. He served the military as a medic between 1959 and 1962. He was stationed in Europe and spent time in France and Germany.  Wendell constantly traveled across the Caribbean, South America and the United States, finding his way back to Africa several times, to China, to Canada, Cuba and Belize.  He was a revolutionary. La Lucha Continua.
Wendell was a gentle and fun spirit.  He was active on sports teams, pitching for the Grand Pappies Softball Team and also playing for The Guererra, The Marlins Men's and The Jokers Men's Softball Teams. He was a part of the Dukes Athletic Club of St. Thomas.  Wendell nurtured up and coming athletes as a dedicated coach, who was often found chaperoning school and youth teams about the Caribbean.
When not teaching, coaching or traveling, Wendell was found on the golf course, encouraging everybody he met to play the game.  He had an eye for beauty and could always be found with a camera in his hand or to his eye.  Or, his eyes in a book.  He was a voracious reader who loved learning and had an expansive knowledge of history and culture.  Wendell loved going to the movies with his daughters and grandson, as he had loved going to the movies with his mother as a child.
Wendell is survived in the hearts of his family with whom he was close; including his sister, Barbara Margaret Hamilton; Kareem Francis (father of Khalil Francis); Michael Carnes (father of Kaden Carnes); niece, Regina Hamilton Kimble and her husband Stan Kimble; grandnieces and grandnephews: Shekevia and Latrell Hawkins, Courtney and Corey Kimble, and Bernice Liddie Hamilton, loving and surviving wife of Robert Harris Hamilton.
Wendell's fun and generous nature, his intelligence and dedication, his sense of humor and his quick smile brought him many close friends across his lifetime.  Wendell held a special place in his heart for his very close friend, Lionel Sewpershad and his wife, Marta Sewpershad, and for Carmen Rodriguez Cruz and her husband, Miguel Cruz.
Mr. and Mrs. Carlos Rodriguez preceded Wendell in death but remained dear throughout his life. Helen Springer (mother of Michael) and loving companion, also preceded him in death.
Maryann Pickard, Rupert Ross, Noel Blakey, Pastor Gerald Williams, former Senator Adelbert Bryan and attorney Michael Joseph held special places in his heart and in his thoughts. They contributed greatly to his life.
Dorothy McIntosh and family of LaGrange, Hugh (Fuma) Petersen of Kentucky, Ari Ari of California, Joseph Cadette, Rosey (Rosey Lips) Roberts, Martha Eugene and Audrey of Audrey's are also significant in this regard.
Wendell made friends too numerous to name. However, he remains in their hearts and his surviving family is profoundly grateful for their presence in his life.
Toward the end of his life, Wendell received more than excellent care from Earth, Keshana Brooks. She is, in spirit, a lost daughter found.  The family cannot express the extent of their gratitude for not just her care, but for her love toward the end of his life.  He could not have asked for better.  Excellent, attentive and loving care was also provided by Gerarda Gibbs, whose administrations eased the family's worries and eased Wendell's spirits.
The family would like to offer heartfelt thanks to The Turning Point Senior Care Facility, Cindy Joseph and her loving staff (Jeaneace Cook, Michelle Stanmier, Joyce Gohagen and others) for providing a safe, comfortable and supportive environment for Wendell during his final months.
A viewing will be held at 10 a.m. followed by a funeral service at 11 a.m., Friday, Oct. 30, at the James Memorial Funeral Home on St. Croix. Wearing white, light or pale colors (no red) is encouraged.  Interment will follow the service at the Kingshill Cemetery.