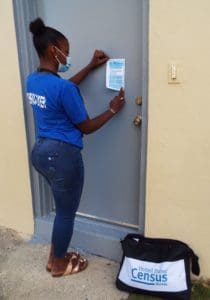 The count of the territory has not ended. The 2020 Census of the U.S. Virgin Islands is still in the process of collecting data. The decennial count began in March.
Self-response and field data collection operations across the continental United States ended on Oct. 15, according to a release from the U.S. Census Bureau. The U.S. Virgin Islands is not affected by this directive.
The 2020 Census USVI teams have begun the field follow-up phase of its operations. This phase serves as a quality check to ensure all households have been counted.
If no one is found at a residence, a census taker will leave a "Notice of Visit." The notice states that an enumerator stopped by to conduct the 2020 Census of the U.S. Virgin Islands. The notice will provide information for the household member to call and complete the census questionnaire by telephone by calling 340-718-2020.
Households can still respond to the 2020 Census. USVI Census 2020 contact centers are operational. The staff is ready to receive calls from households to complete their questionnaires. Also, there are Spanish-language customer service representatives in the contact center to assist, if required.
Don't miss the opportunity to be counted on the census.
Residents are encouraged to cooperate with census takers and ensure that everyone is counted. Call 340-718-2020 to complete the 2020 Census.