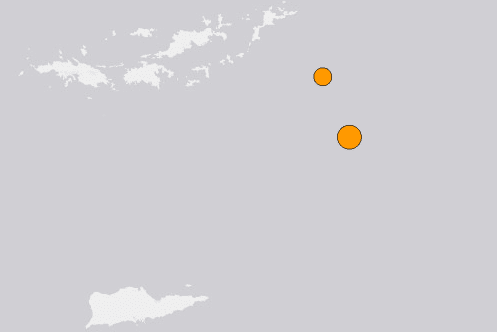 The U.S. Geological Survey recorded a 5.3 magnitude earthquake that was felt throughout the territory on Wednesday at 2:42 p.m.
The earthquake occurred 67 kilometers southeast of Cruz Bay, St. John at a depth of 6 miles. It was felt throughout the U.S. Virgin Islands, British Virgin Islands and Puerto Rico.
"I could feel rumbling and heard the bottles on my bar cart clanking," said Brad Arrington, a resident of St. Thomas.
According to the USGS, Puerto Rico and the Virgin Islands are vulnerable to tsunamis and seismic activity due to being located between the North American plate, and the northeast corner of the Caribbean Plate. These earthquakes and tsunamis are caused by the convergence of the two plates, which happens at a rate similar to that at which a human fingernail grows.
"The number of earthquakes in September and October from the islands is slightly larger than in earlier months, but as long as we are dealing with very small numbers and low magnitude earthquakes, it will be difficult to attribute any larger significance to this activity," said Dr. Uri ten Brink, a research geophysicist working at the USGS Woods Hole.
In late December 2019, Puerto Rico was struck by a swarm of earthquakes that continued into early 2020, causing power outages and damaging roughly 8,300 homes, according to the Puerto Rico Housing Authority.
The latest earthquake comes just over a week before VITEMA asks the community to participate in "International ShakeOut Day," the world's largest earthquake drill happening on Oct. 15 at 10:15 a.m. To learn more about tsunami and earthquake preparedness, visit www.vitema.vi.gov and www.shakeout.org/usvi.