Young Virgin Islanders are about to get a chance of a lifetime by registering for the first Virgin Islands Hip-Hop event of its kind.  G-Clef Music Academy is presenting an exciting one-day online music technology workshop, featuring Google coaches from BreakBeatCode at the U.S. Virgin Islands Virtual Hip Hop Hackathon, which will be held from 10 a.m. to 3 p.m., Saturday, Oct. 24.
Special national and local music guests will also be featured during this event.  Young V.I. residents, ages 12 to 18, who are interested in participating, should register early because only the first 50 eligible participants will be accepted.
G-Clef is looking for young residents of St. Thomas, St. John, St. Croix and Water Island in 7th to 12th grades to participate in this free online workshop that will be presented on ZOOM.  BreakBeatCode will teach participants how to build beats, write their own program, and remix their own original music tracks for a live DJ set!
What is BreakBeatCode?
BreakBeatCode teaches future leaders to code, collaborate and create, opening up a world of possibilities as artist engineers. BreakBeatCode coaches are a collection of professionals in music and technology, including singers, rappers, producers and entrepreneurs.  These coaches want to inspire and teach students the skills, habits and mindset they will need to pursue their dreams while creating opportunities to build their social capital.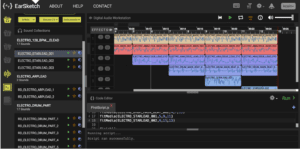 The first Hip Hop Hackathon live stream was launched in New York in August of this year with great success. Calvin Pinney, a BreakBeatCode coach, who is from the Virgin Islands and was instrumental in launching the program, said, "I thought this would be a great program for the youth of the Virgin Islands to explore the intersection between art, science and technology. It would give them an opportunity to build comfort in using video conferencing and collaborative technology tools that will enable them to adapt to the new normal.  I also hope to inspire a new group of artist engineers and students that would like to take their technical abilities and skills to the next level.
"Remote job opportunities are on the rise and I hope this inspires a new wave of job opportunities of remote workers in the Virgin Islands.  This event is a ground floor opportunity for young Virgin Islanders to advance in a new career in the tech industry that is relevant for these times."
The USVI Hip Hop Hackathon includes very interactive virtual workshops that provide hands-on experience with coaches, so there are limited seats.  James H. Gumbs Jr., G-Clef Music Academy director, said, "I believe that this virtual event will be a valuable asset to the U.S. Virgin Islands' youth. It is a technological extension of how music can touch young lives.  Please be quick about entering your registration form.  We are looking for the first 50 eligible participants who have registered for this dynamic event!"
Register online for USVI Virtual Hip Hop Hackathon at https://www.gclefmusicacademy.com/Special-Events.html
The deadline for submitting your online registration is Oct. 22.  For more information about the Hackathon event, contact G-Clef Music Academy at 344-6449.