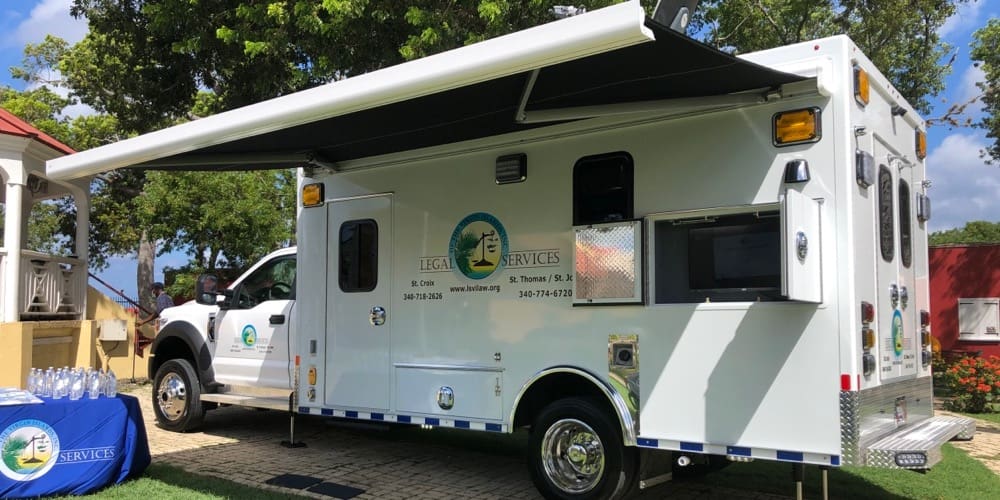 With a national grant from the Legal Services Corporation in Washington, D.C., the Legal Services of the Virgin Islands Inc. now can visit remote areas to help people without transportation deal with their legal needs, even when the internet and power grid are down.
One of two units was on display on Tuesday at Emancipation Park in Frederiksted. The other van will be used in the St. Thomas/St. John District. Inside the vans, three desks and a waiting area allow pro bono (volunteer) attorneys to help more than one client at a time. There is a video conference system and printers for paperwork and legal documents. A wheelchair lift makes the van compliant with the Americans with Disability Act, and a satellite dish and generator create a hot spot wherever it is parked. Outside the vehicle, an attached awning provides shade, and a smart television is available for presentations.
"We decided to, instead of just using it to help us post-disaster and having it to use right then, we would build for the future," Shelby King Gaddy, Legal Services executive director, told the Source.
The launching ceremony was attended by staff and stakeholders, including government officials. Gaddy said the organization has been advocates of the territory for 50 years and the staff has "reservoirs of compassion that never run dry."
The mission of Legal Services of the Virgin Islands is to access justice, protect rights and educate people in poverty. Gaddy said the van will travel to Frederiksted and other areas on a regular basis.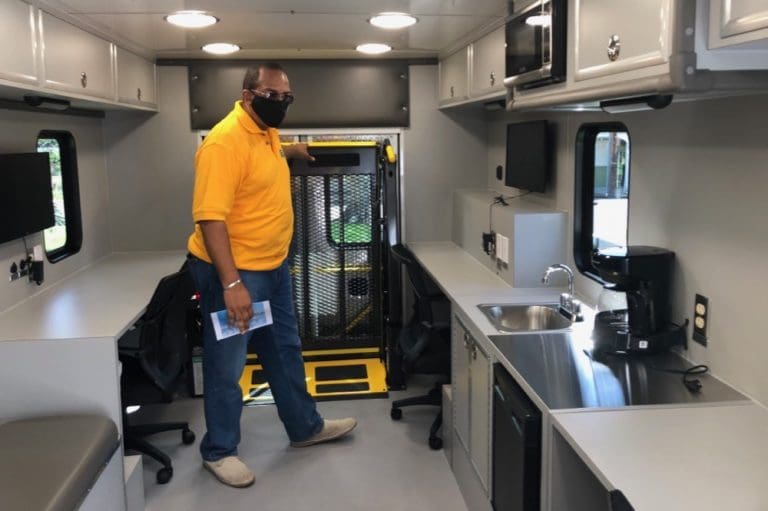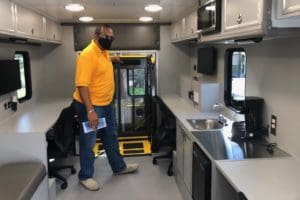 Legal Services of the Virgin Islands is a 501 (c)3 organization, founded in 1968. More than 1,000 cases are closed every year throughout the territory, Gaddy said.
Programs include the Senior Medicare Patrol to help Medicare beneficiaries prevent, detect and report health care fraud, errors and abuse.
The Disaster Advocacy Program was established after hurricanes Irma and Maria to manage increased disaster-related legal matters, offer disaster legal assistance workshops, community outreach and training materials for pro bono attorneys. The Disaster Advocacy Program provides pro bono legal assistance and help for low-income disaster survivors. Services include emergency child custody, housing assistance, identification and documentation recovery and emergency benefits such as emergency food stamps and FEMA benefits to pay rent and other expenses.
Government officials who attended the launch included V.I. Police Commissioner Trevor Velinor, Deputy Police Commissioner Celvin Walwyn, Director of the Office of Disaster Recovery Adrienne Williams-Octalien, V.I. judicial branch administrator Regina Petersen and a representative from the office of Delegate to Congress Stacey Plaskett.