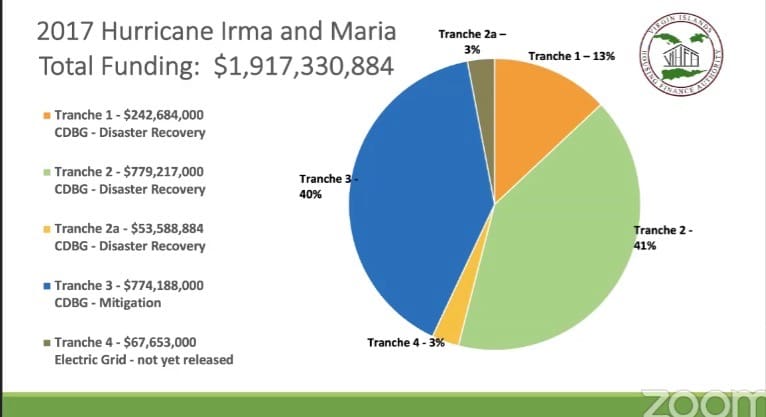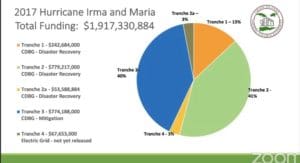 The V.I. Housing Finance Authority has $53 million to spend on recovery projects from the 2017 hurricanes that devastated the territory, and wants the public's help in how to use it.
Agency officials will speak on radio station 103.5 FM for an hour Tuesday to discuss the spending, and will hold a virtual public hearing Wednesday on the VIHFA Facebook page.
During a virtual hearing Sept. 15, officials from the agency explained how citizens can be involved in this process as HFA prepares to make changes to how they plan to administer hurricane recovery money.
The deadline for public involvement is Oct. 3.
The amendment is focused on the $53 million the department received for unmet infrastructure needs and reallocation funding to carry out different priorities.
Executive Director Daryl Griffith, communications manager Keva Muller, Chief Disaster Recovery Officer David G. Martin, Disaster Recovery Officer Antoinette Fleming and senior policy manager Leslie Dickenson-Maduro took part in the Sept. 15 hearing, and provided the following information.
– The funds for disaster recovery get announced in separate allocations called tranches. This amendment is part of Tranche 2a. The tranches need to be approved by the U.S. Department of Housing and Urban Development and the department will issue a grant agreement before the money can be spent.
– The $53 million in Tranche 2a can be used for roads, shelters, waste management, water and sewer, and under special conditions power generation.
– The proposed budget has 57 percent of the funds available for infrastructure, 33 percent for housing, four percent for public services and facilities and 6 percent for economic revitalization.
– This amendment will separate facilities for public services, homes for the aged and shelters from regular housing, which they were included under in previous amendments.
– Disaster recovery is an ongoing process that began July 10, 2018, when the action plan was approved. An amendment was approved on March 1, 2019, and that process is underway.
The full breakdown of the plans can be found online at the VIHFA website.
People can still send comments by email to CDBGDR@vihfa.gov or by the U.S. Postal Service at:
VIFHA ATTN: Comm. Mgr.
100 Lagoon Complex Suite 4
St. Croix, VI 00804-3912
The full video of the Sept. 15 hearing can be found on Facebook.