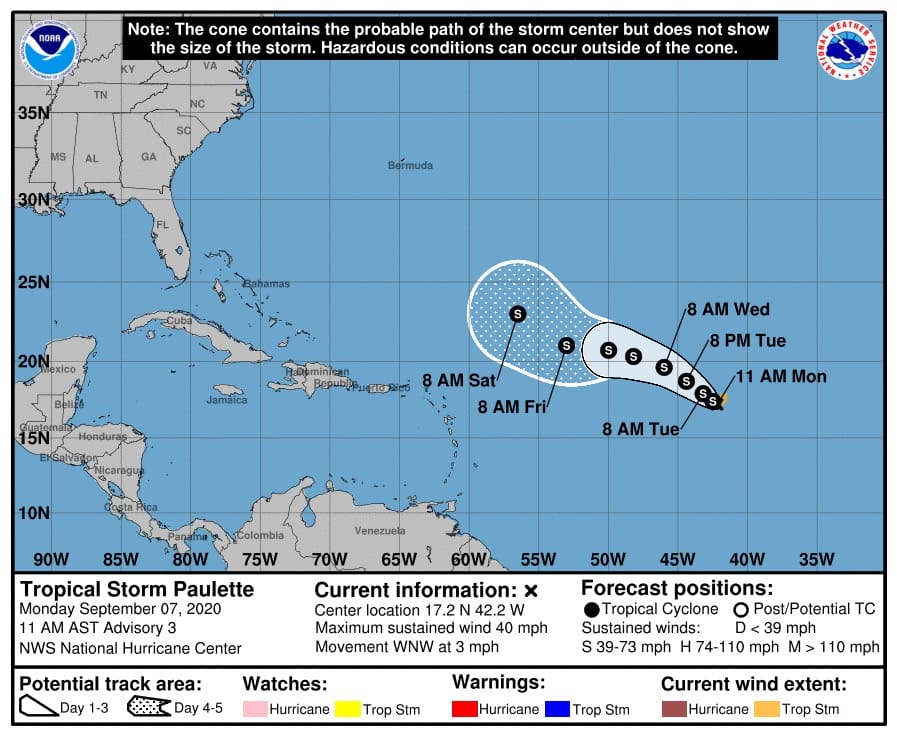 The tropical depression that formed Sunday night has developed into Tropical Storm Paulette, the National Hurricane Center announced in its 11 a.m. Monday update, but the system does not appear to pose a threat to the Virgin Islands.
Meanwhile, a system just leaving the coast of Africa has already developed into Tropical Depression 18, posing a threat to the Cabo Verde Islands by Monday night. TD 18 is forecast to strengthen into a tropical storm and tropical storm conditions are expected to spread over portions of the Cabo Verde Islands, where a tropical storm warning is in effect.
Tropical Storm Paulette is about 1,400 miles east of the northern Leeward Islands, the NHC said. It is moving slowly – about 3 mph, as it gathers strength, but its expected track is west-northwest, so when it does begin picking up speed it should pass well north of the territory.
As of 11 a.m. Paulette had maximum sustained winds of 40 mph.
There are no coastal watches or warnings in effect for Paulette.
"Paulette has moved very little during the past few hours, but a west-northwestward to northwestward motion is expected to resume shortly," the NHC said. "It is likely that the stronger Paulette gets, the farther north it will move."