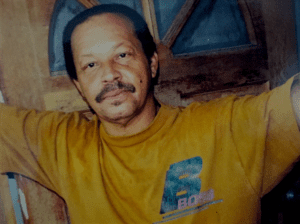 Owen M. Francis Sr., also known as "Merry," died on Aug. 26 in Virginia.
He was preceded in death by his mother, Clarice Francis; and father, Alcano Francis Sr.
He is survived by his wife, Cynthia H. Francis; sons: Darren E. Francis Sr. and Owen Francis Jr.; daughter, Althea Francis; grandchildren: Darren Francis Jr., Jimmar A. Payne, T'kiijah Francis, Michael II, Shimmar and Allayra Wakefield, Justin, Jadeel and Jordan Francis; great-grandchildren; Shamir and Shai'elle Gomez, and Azariah and Zarah Francis; sisters: Evelyn Mason and Velma Thomas; brothers: Ezekiel Woodrupp and Alcano Francis Jr.; and nieces and nephews: Malina, Lorraine, Seth, Denyell, Michael, Edward, Natika, Andrea, Sekiyia, Ignacia and R'Muntiago Woodrupp, Altan, Ray and Debra Mason, Sharon Danielson, Tiffany Roberts and Akeem Thomas, Lorelei, Jeffery, and Khaled and Tammika Francis.
He is also survived by son-in-law/love: Mitchell Smalls; sisters-in-law: Quintica Woodrupp, Lavern Francis, Eileen Phillips, Marilyn Bartlett, Yvonne Rawlins and Ketruda Liburd; brothers-in-law: Donald, Myron and St. Clair Liburd, aunts; Edna O'Reily and Beryl Schuster; uncles: Gregory and James Miller; and great-nieces: Maisha and Aniyah Baptiste, Raynia Gaskin, Tiara, Toyria and Tajah Mason, Cionay Chiverton, Jaleesa Garrison, Khaliaha Danielson, Kamara Thomas, Nsia Mitchell, Tonya and Natasha Giddings.
Other survivors include great-nephews: Alwyn Baptiste Jr., Jakobi Mason, Roynald Roberts Jr., James Rock, Khalyme Danielson, Roshawn Roberts, Amari, and Keimani Thomas, Charles Moore, Akihrie and Akahro Chiverton, Amir Thomas, and Anselmo and Michael Giddings; great-great-nieces: Liyanna Lang, Te'Alliyiah Garrison, Jahliya, Mi'Kayla, and Taylona Rock; nieces-in-law: Natasha Mason, Monique Sinclair Mason and Deniesha Thomas; nephews-in-law: Roland Roberts Sr. and Christian Danielson; great-great-nephew, Kade Roberts; and godchildren: Shani Z. Pope and Muslema Davila; and special family and friends: Khan Pope Sr., Renaldo, the Ventura family, Miller family, O'Reily family, Gittens family, Eugenie and family, Ingrid Gardine family, as well as many more families and friends too numerous to mention.