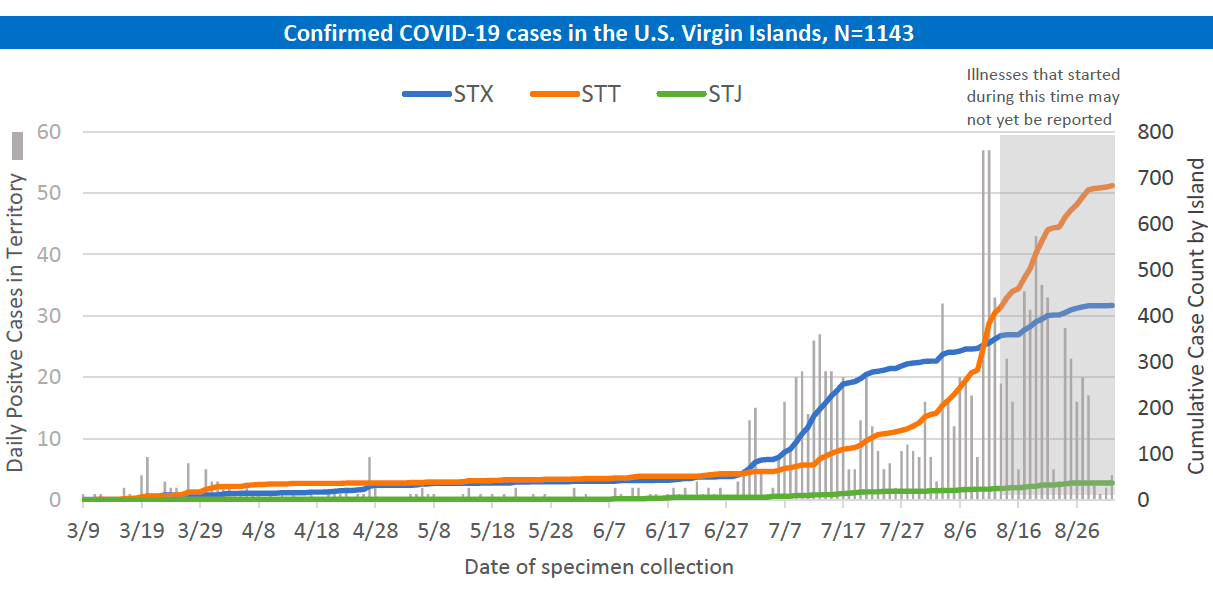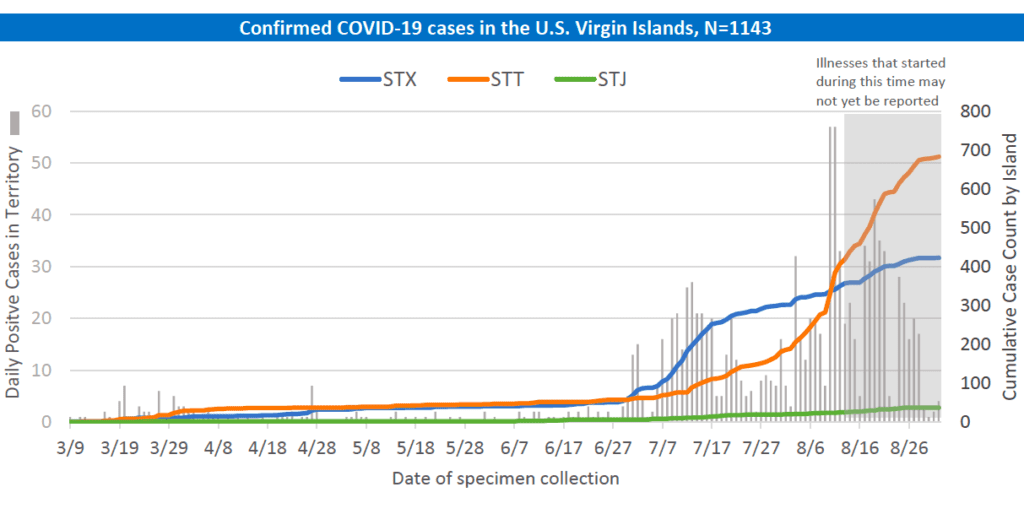 New confirmed COVID-19 infections continued to slow this week in the U.S. Virgin Islands, with four new cases from Monday to Tuesday, according to the V.I. Department of Health's daily update for Tuesday evening. That comes on the heels of five new cases from Sunday to Monday, five from Saturday to Sunday and 11 Friday to Saturday. The territory saw more than 20 new cases every day for several days prior to that, and much higher levels just two weeks ago.
V.I. Health Department COVID-19 update for Sept. 1
The total number of confirmed cases in the U.S. Virgin Islands now stands at 1,144 for the territory. Actual cases are higher, as not every infected person shows symptoms or is tested. So far, 16,810 Virgin Islanders have been tested and 15,649 have tested negative for the novel coronavirus.
St. Croix saw one case from Monday to Tuesday and zero the previous two days. St. John has had zero cases since Sunday, one case from Saturday to Sunday and one case from Friday to Saturday.
Two weeks ago, St. Thomas was seeing more than 20 new cases every day and reported 50 new cases from Aug. 20 to 21.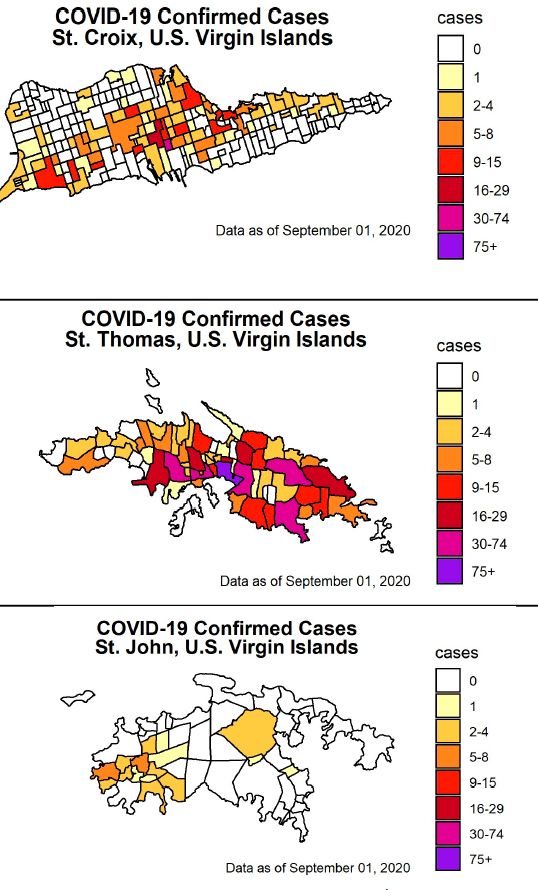 Because lots of things can affect any single day's results, the Health Department tracks a seven-day rolling average of the percentage of test results coming back positive. This evens out day-to-day variations.
That graph has been showing a downward trend. But the experience of many stateside locations and here in the USVI shows that progress can be quickly reversed, and cases, hospitalizations and fatalities can start rising again if residents relax their precautions.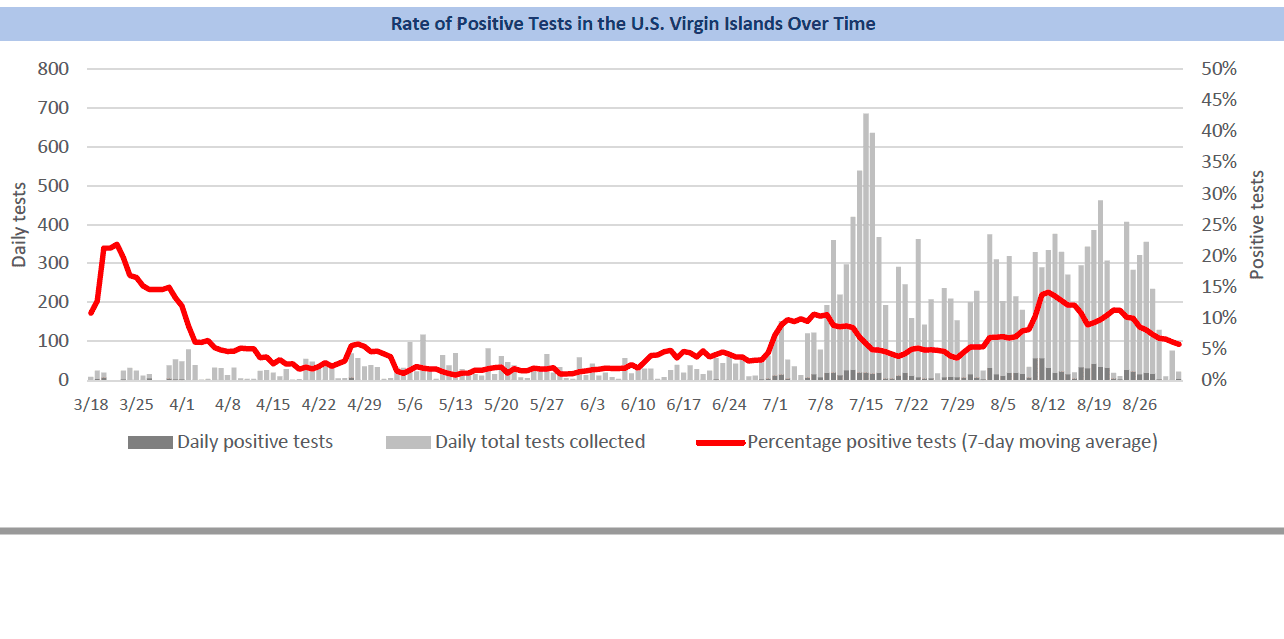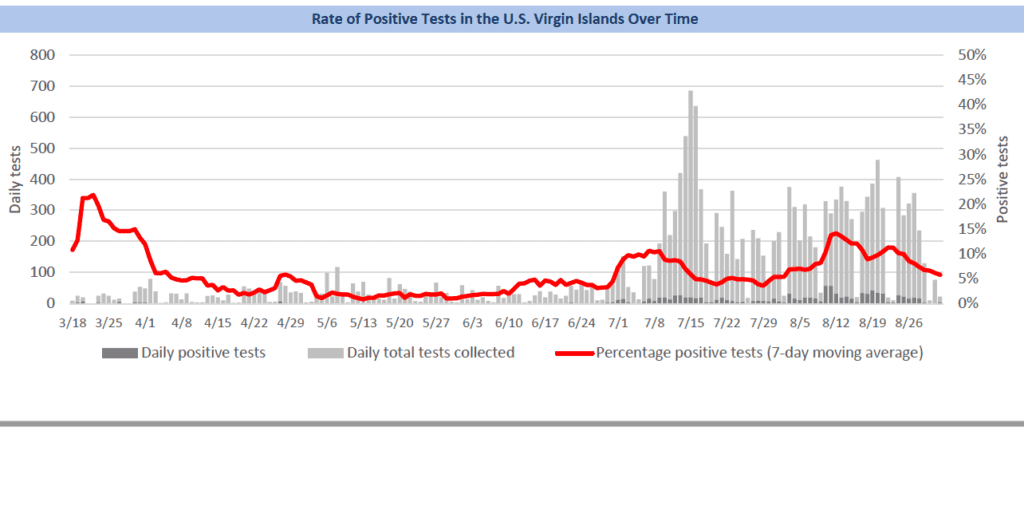 Risk factors for transmission of the virus are:
Community transmission – 395 cases
Close contact – 562 cases
Travel – 84 cases
Still under investigation – 102 cases
According to the U.S. Centers for Disease Control, symptoms may appear two to 14 days after exposure to the virus.
People with these symptoms may have COVID-19:
– Fever or chills
– Cough
– Shortness of breath or difficulty breathing
– Fatigue
– Muscle or body aches
– Headache
– New loss of taste or smell
– Sore throat
– Congestion or runny nose
– Nausea or vomiting
– Diarrhea
Editor's note: The Department of Licensing and Consumer Affairs has provided the following cellphone numbers where residents can report activity that is against the law, including violations of the governor's executive orders, that may put others at risk or in danger. Information, photos or videos can be texted to the following: The general number is 340-725-5129. The other two numbers are 340-727-7226 on St. Croix and 340-771-7226 on St. Thomas. You can also call 911 to report serious crimes.