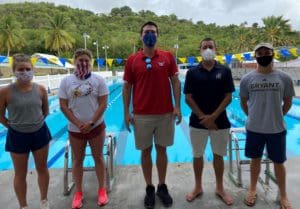 On Friday, Aug. 7, five alumni of the St. Croix Dolphins Swim Team hosted a clinic from 3-5 p.m. at the Dolphins pool for current Dolphin swimmers. These alumni role models were all members of the Dolphins Swim Team and USVI National Swim Team and have competed at various international and elite levels including the Pan American Games, World Championships and the Olympic Games.
They include:
Kevin Hensley, a local business owner, who swam at University of Tampa and University of Georgia serving as captain his senior year
Ryan Nethropp, a sales executive for Marshall & Sterling Insurance, who swam at Rider University serving as captain his senior year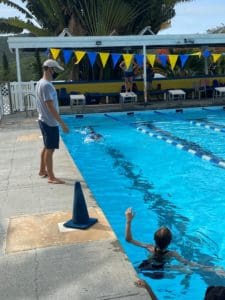 Caylee Watson, a recent Law School graduate of Washington College of Law and a 2016 VI Olympian, who swam at American University and served as captain her senior year
Matthew Mays, who currently attends and swims at Bryant University, is entering his senior year and will serve as team captain.
Natalia Kuipers, who will be an incoming freshman at Bryant University and will be part of the Women's Swimming and Diving Team there.