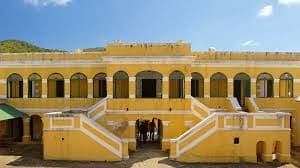 Beginning Tuesday, Aug. 4, the Fort Christiansvaern parking lot in Christiansted will reopen to the public under a temporarily modified schedule. The parking lot will open at the fort's normally scheduled hours, 8:30 a.m. to 4:30 p.m., Monday through Friday. However, it will continue to remain closed on weekends until the fort officially reopens. The parking lot is historically a fee-charged parking space, but those fees have been temporarily waived until further notice when the fee system is reinitiated.
This temporary closure of the park's parking lot was in response to the initial park closure on March 17 due to COVID-19, following guidance from the President of the United States, CDC (Center of Disease Control), CTF (Coronavirus Task Force), and from local public health authorities in consultation with the National Park Service Public Health Office.
"While the parking lot is specifically for the use of visitors visiting our park, I understand that there are limited parking areas for our local community and out-of-town visitors," said Superintendent Gregory Camacho.
The park is currently operating under an Adaptive Recovery Phase plan, which provides steps on how to safely reopen and/or increase access. After assessing staff levels, federal and local mandates and public health recommendations, the park made the determination that reopening the parking lot would be feasible at a temporarily modified schedule.
We encourage people who choose to visit Christiansted National Historic Site during this pandemic to continue to adhere to guidance from the Centers for Disease Control and Prevention (CDC) and Territorial and local public health authorities to protect visitors and employees. https://www.cdc.gov/coronavirus/2019-ncov/index.html. #RecreateResponsibly.
For information, contact Ranger Gabriel Laurencin at 773-1460, ext. 234 or 247, or Deputy Superintendent Gregory Camacho at 773-1460, ext. 222. The Christiansted National Historic Site webpage is www.nps.gov/chri/.