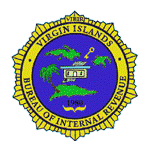 Joel A. Lee, director of the Virgin Islands Bureau of Internal Revenue, alerts Virgin Islands taxpayers of the possibility of the receipt of duplicate stimulus payments. "It has been brought to our attention that some of our Virgin Islands residents have received stimulus payments via direct deposit in addition to the checks that were paid by the Government of the Virgin Islands. Taxpayers are only entitled to one stimulus check at this time," said Director Lee.
The bureau is not making stimulus payments via direct deposit. Taxpayers who receive two stimulus payments are asked to repay the second one by bringing a check or money order to the bureau's offices, or by mailing it to the following address:
6115 Estate Smith Bay, Suite 225
St. Thomas, Virgin Islands, 00802
Taxpayers are asked to indicate that this is the repayment of a duplicate stimulus payment in the memo of the check. Taxpayers who fail to repay the duplicated payment may be charged interest and penalties for failing to return an erroneous stimulus payment.
The bureau strongly reminds taxpayers to protect their Social Security numbers and tax information. Taxpayers should not share their Social Security number or tax information with anyone. Taxpayers with questions or concerns are asked to contact the bureau directly at 340-715-1040.