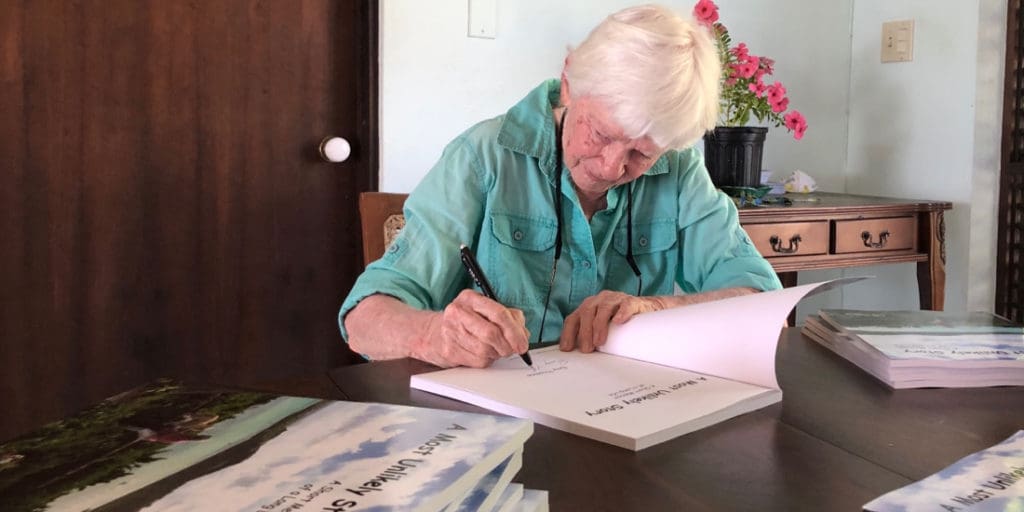 The petite, white-haired artist and author, Emy Thomas, first wrote about her adventures in "Home is Where the Boat Is," and then "Life in the Left Lane." Now, she is releasing a book that tells how she got from a small town in Connecticut, traveled halfway around the world and ended up on St. Croix.
Thomas started writing "A Most Unlikely Story" years ago. She started writing down her memories about 20 years ago because she worried she might lose her memory as she aged.
"The more I wrote, the more I remembered – pictures, colors, places, people. It's not that I'm unusual or well-known, but I wanted to write again, and I should write about something that I know, and my life is something I know well," Thomas said.
Realizing there was nothing wrong with her mental faculties, she put her recollections aside and only picked them up again two years ago. She finished the book in 2019. The softcover book is easy to read with lots of pictures.
Thomas has remembered well. The book is full of descriptions of cherished people and places from her earliest memories, including details of a Christmas necklace she made for her mother when she was four years old.
Aspects of Thomas' nature and character are revealed throughout the book. She said that was the only way to write a memoir – openly and personally.
Her love and respect for her brother, who was born with cerebral palsy, are obvious, as she describes him in the memories she wrote 20 years ago. She remains close to him as he married and had a family. During her interview with the Source, she talked about being with him in public and becoming aware that there's more to a person than their appearance.
"I was self-conscious for him, but he'd been living this way for so long. He did not appear self-conscious," she said.
Thomas is an independent woman who traveled solo to Europe, staying for months at a time in some places. After her career in journalism, she moved to San Juan alone, not knowing anyone and not knowing how to speak Spanish.
After earning a master's degree in journalism and working in the industry for almost 25 years, Thomas decided that career wasn't a perfect match for her – she began her studies for her father and never gave it a second thought.
"Journalism was the only path I ever considered. I loved the writing, getting the story, but suddenly I realized what it took out of me," she said.
Starting at the bottom of the ladder, Thomas worked her way from proofreader to obituary writer to reporter. After working at her hometown paper, she moved to New Jersey to work for Newsday, then she wrote for the New York World Telegram & Sun, the Ladies' Home Journal, Woman's Day and the New York Herald Tribune.
After the Herald Tribune closed, she moved to San Juan hoping to find work at the San Juan Star.
She spent six years in Puerto Rico with many new friends.
Thomas began her adventures in onboard living on a whimsy and met a man with whom she would fall in love and sail with to many exotic places.
Eight years later, after exploring the Caribbean, the South Pacific, including Australia and New Zealand, Guam and Hong Kong she longed for a home on the land.
"When you're on a small boat in a big ocean, the bogeyman is never far away," she wrote after cruising some dangerous waters near New Zealand.
Thomas landed on St. Croix in 1986 with plans to build a house with some of an inheritance from her foster parents. Since then she wrote two other books, took up gardening and became an environmental advocate. She started what is now Writers Circle and volunteered for the Botanical Gardens and St. Croix Animal Welfare Center. (The 11 dogs she has homed have all been rescues.)
An interest in painting blossomed when Thomas had time to herself. She has become a well-known and respected artist who started the outdoor painting group, the Palletteers. She has been featured in group and solo art shows over the years.
Thomas has not lost her wanderlust for travel and has visited Kenya, Costa Rica, Machu Pichu and Peru for a boat trip on the Amazon since moving to St. Croix. She also traveled to Eastern Europe for an art tour, attended a conference in Cuba and toured the northwest United States.
Now in the time of COVID-19, like many Virgin Islanders, Thomas said she wonders if and when she will see her family again.
Those who have ever known Thomas or seen her art would enjoy "A Most Unlikely Story," to learn more about what makes her tick. Others who are bored with their lives can live vicariously through the memoir of this spontaneous adventuress.
Thomas' book is available at Undercover Books and Caribbean Museum Center for the Arts.