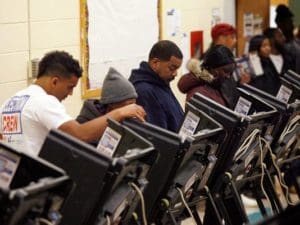 Supervisor of Elections Caroline Fawkes has announced the successful implementation of early voting in both districts. The first day of early voting saw a steady stream of voters casting their ballots. Early voting will continue from Tuesday, July 7 to Sunday, July 26. Voting hours are from 9 a.m. to 3 p.m.
Early voting locations are as follows:
St. Croix Elections Office: Sunny Isle Annex, Unit 4
St. Thomas: Charlotte Amalie High School Temporary Cafeteria (Sprung Unit)
St. John Elections Office: Market Place Suite II
The numbers of electors who participated in early voting on Monday, July 6, are as follows:
St. Thomas: 55, St. Croix: 65 and St. John: 6. Supervisor Fawkes expects the number to rise significantly as voting continues.
Voters are encouraged to cast their ballots during early voting and make sure to follow all guidelines (wearing a mask, washing or sanitizing your hands, social distancing, etc.).
If there are questions or concerns, contact the Elections System offices at 340-773-1021 (St. Croix Elections Office), or 340-774-3107 (St. Thomas Elections Office) or 340-776-6535 (St. John Office).