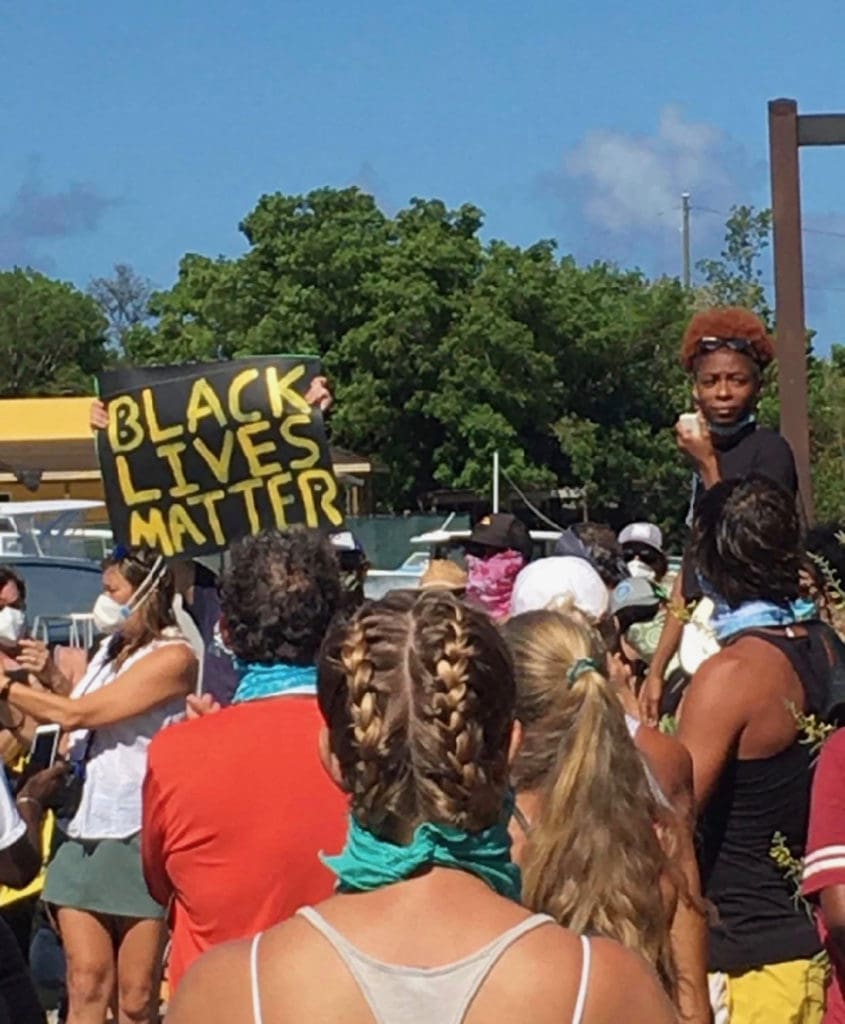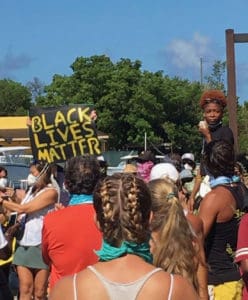 Almost 300 residents of St. John marched through Cruz Bay Saturday morning to honor the memory of George Floyd and show support for the Black Lives Matter movement.
Marchers gathered near the Virgin Islands National Park Visitors Center in Cruz Bay at 9 a.m. and knelt for 8 minutes and 46 seconds, the time it took for Floyd to die as a Minneapolis police kneeled on his neck during an arrest.
Following that, march organizer Jalayne Jones addressed the crowd. She said although people in the Virgin Islands may not experience that level of police brutality, the events still affect us.
"We may have respect for each other in our small community, but the V.I. does have problems – like gun violence. We're losing too many of our young people to the street, and we have to talk about these things. Racism is still alive and well in these islands."
"I'm passing into my eighth decade, and I can tell you that this crap has been going on a long time," said veteran educator Eddie Bruce to the crowd before they set off to march.
Bruce was raised in St. Paul, Minnesota, close to where Floyd was killed. He spoke about being 15 in 1955 when Emmett Till was murdered and his cousin headed down to Mississippi with a rifle.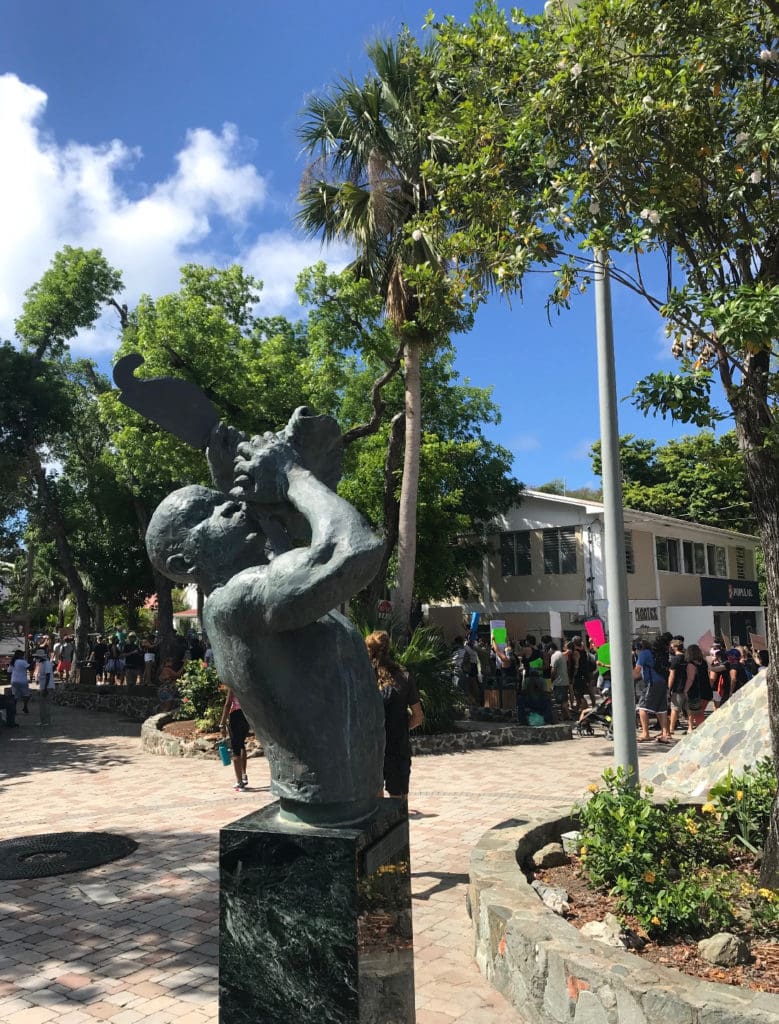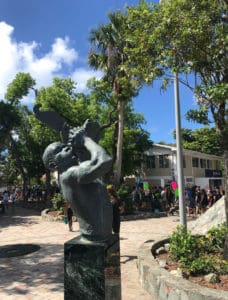 "I was amazed that he came back alive. Every black family has stories of trials and tribulations … and atrocities," he said.
"One of the greatest accomplishments of oppressors is convincing us that there can never be a world without oppression," said Jessica Samuel. "Today we have to use our imaginations. We have to envision a different world where black lives matter every day, and our lives and humanity are always at the forefront."
As he marched, Senator-at-large Steven Payne, who spent 19 years as a police officer in the Virgin Islands, recalled the first time he was exposed to racism after he moved from the Virgin Islands to Virginia for college.
"I was pulled over as a suspect – someone had killed an FBI agent. They were looking for someone who was 5 feet tall, weighed 250 pounds, was light skinned, Hispanic, had curly hair, and tattoos on both his arms," said Payne. In spite of the fact that he clearly did not fit that description, Payne said police officers kept him standing outside his vehicle in the cold winter air for more than a half hour. Payne said he didn't dare put his hands in his pockets to warm them.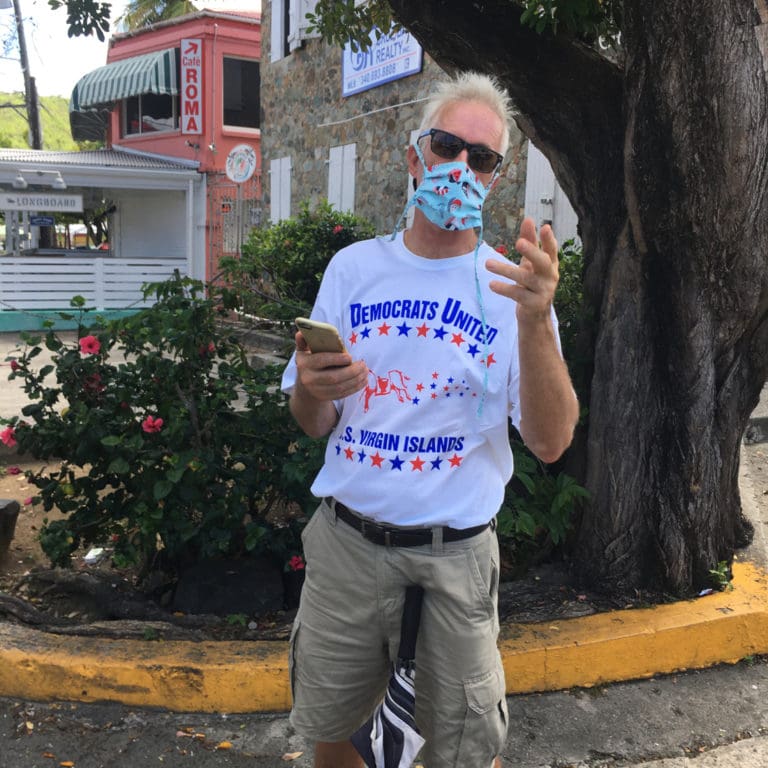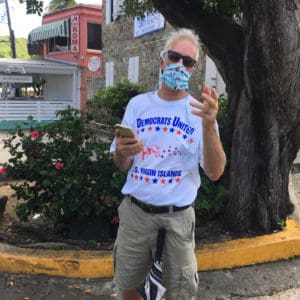 Eventually he was given a ticket for changing lanes illegally. Payne said he did use his turn signal, but the police officers said he didn't wait long enough before making his move. When he went to court to fight the ticket, the judge simply said, "Pay the fine."
Payne said he supports prosecuting to the full extent of the law police officers who commit hate crimes.
Retired Sen. Craig Barshinger read a poem written by Tedd Holland, a high school classmate, written after he had watched the memorial for George Floyd and stood for eight minutes and 46 seconds.
"We did this and while I stood there, I couldn't help but notice how slowly the time passed," wrote Holland. "I kept thinking to myself that there was plenty of time!"
The poem follows:
"There was plenty of time" … A poem for George Floyd
There was plenty of time for the police officers to verify that the alleged $20 bill was counterfeit. There was plenty of time for them not to escalate the situation.
There was plenty of time for them to sit him down and talk to him to hear his side of the story. There was plenty of time for them not to throw him in the back of a police SUV and apparently rough him up while he was handcuffed.
There was plenty of time as they took him to the ground to realize that he wasn't resisting and three police officers didn't need to put the weight of three grown men on the back of this man's body.
There was plenty of time for them to understand that the one officer putting his knee in the back of his neck and pressing down ever so slightly even after he went non-responsive was not a good thing.
There's plenty of time for the fourth officer to turn around and say "hey what's going on here guys what are we doing?" There was plenty of time for any one of them to ask that question of themselves and of each other!
There was plenty of time for him to call out to his mother, his dead mother, because that's what God gave him in the face of insurmountable brutality and the recognition of his very own death, as some semblance of comfort … oh, there was plenty of time for God to give him some comfort even in that moment.
And there was plenty of time for these four officers to realize that what they all were doing and eventually had done … Was wrong!
There was plenty of time for them to understand that they had just robbed someone of life!!! The ultimate theft … yes, there was plenty of time.
There was plenty of time for them to do one thing, just one thing and one thing only … There was plenty of time for them to recognize his humanity before they treated him like he was an animal!
There was time, … there was plenty of time …