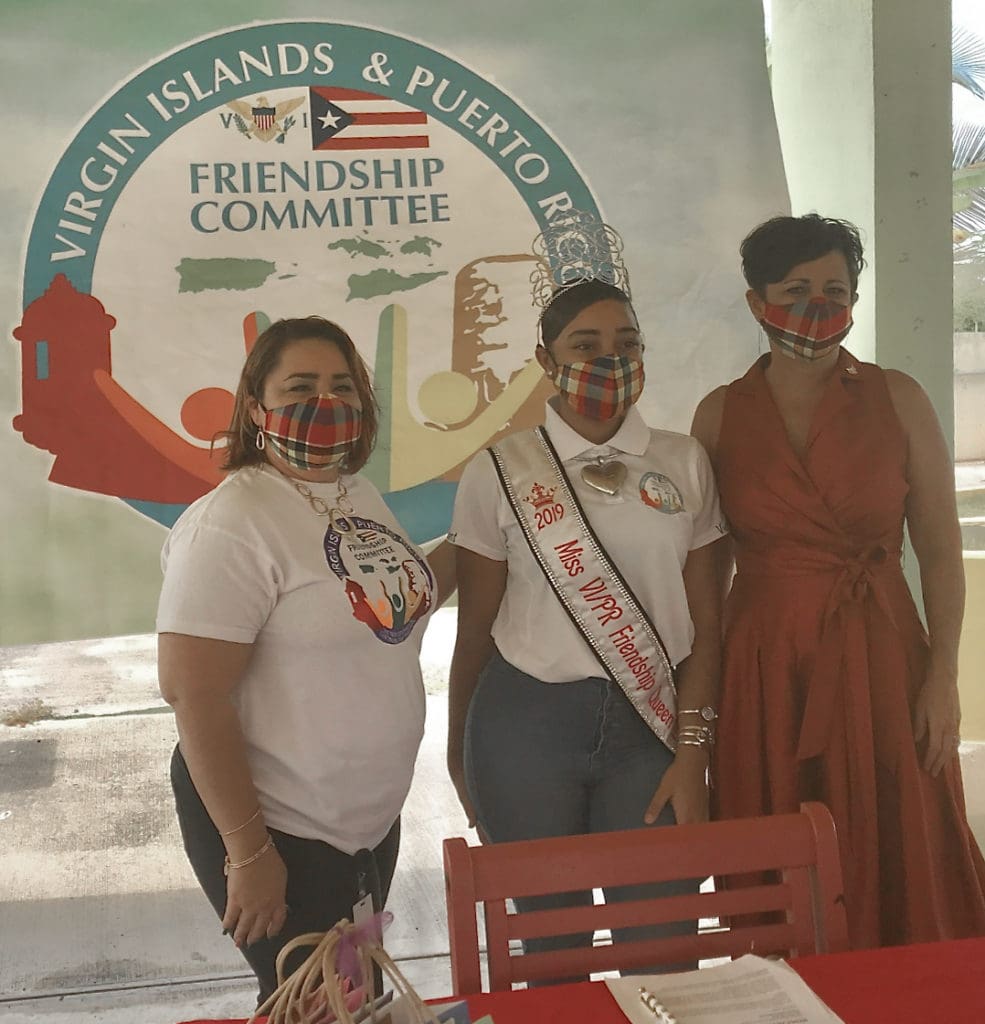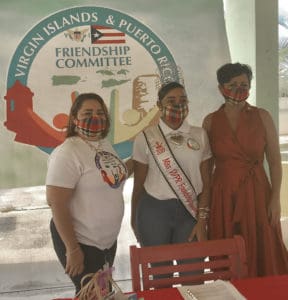 Members of the Virgin Islands-Puerto Rico Friendship Committee expressed gratitude Friday to St. Croix's senior care workers at a ceremony in the gazebo at the Herbert Grigg Home for the Aged on St. Croix.
Committee President Maria Colon-Clarke presided over the event.
"Senior Citizen Month" is a time we pay homage to our older population and now it's time to give back to those who take care of them, she said. "It is a little token of thanks for all the work they do."
The committee presented employees with gift bags that included madras fabric masks locally made by Claudia Emanuel, plastic gloves, bottles of hand sanitizer and packages of goodies for their sweet tooth.
Colon-Clarke conveyed the committee's thanks to the group "for being heroes for our families."
"God bless you and give you strength for your own life and for the help that you give to our seniors," she said.
St. Croix Administrator Sammuel Sanes told the crowd that the Grigg Home is close to his heart.
"I've been in homes for the elderly in the states – Puerto Rico, California, New York – and this is the only place that takes the best care of the elderly," he said. "They're treated right," he said. "They're treated with respect."
Sanes thanked Grigg Home Director of Resident Services Ana Velez Martinez and her staff for "doing such a wonderful job of taking care of our elderly, our grandparents, our community."
Senior Citizen Affairs acting Administrator Alvin Milligan thanked the committee for recognizing "our dedicated staff."
"We didn't get the luxury of staying home. When we hear about first responders, you are our first responders," he told his staff. "From 'day one' you have been out here every day."
Department of Human Services Commissioner Kimberley Causey-Gomez spoke of the difficulty everyone is experiencing during this time of COVID- 19.
"When they said we [DHS] are reopening … we never closed. We maintained our level of dedication and professionalism throughout the start of COVID-19," she said.
"We knew it would be a difficult decision to close off visitation and not allow families to visit their elder family members here and at family caregivers, but we had to maintain the health of our staff and our elders."
"When we look at the devastation around the world and we look at the low numbers in the Virgin Islands, I am thankful," she said.
Causey-Gomez thanked the employees for their love, smiles and dedication.
"You're special," she said. "You're special for doing the work."
Colon-Clarke announced that two $1,000 VIPR scholarships will be awarded to two Virgin Islands high school seniors graduating in 2020. The application deadline is at 5 p.m. June 26.
Applicants must contact the VIPR Friendship Committee for information:
– Maria Colon-Clarke, president, 340-244-3981, mariavp.vipr@yahoo.com
– Luis Torres, vice president, 340-513-9338, pmluistorres@gmail.com
The committee is offering the scholarships in celebration of its 2020 theme: "56 years Cultivating the Unity of our Cultures."