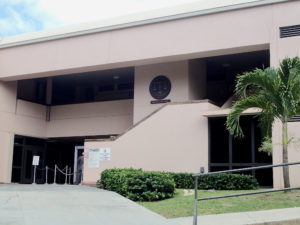 Chief Justice Rhys S. Hodge and Presiding Judge Harold W. L. Willocks remind the general public that the Superior Court is now accepting online credit card payments for traffic, litter and conservation citations. Citations filed after Jan. 1, 2018, are eligible to be paid online.
The Superior Court began accepting online payments beginning on Monday, May 4. This initiative has enabled the public to make payments for the citations online versus waiting in line or in person at the courts.
The online payment processer will be accessible through Judicial Branch of the Virgin Islands web portal at http://www.paymentsvicourts.org/. The site provides the option to search for the citation by citation number, case number or vehicle tag/license number. Multiple citations can be found and paid at the same time by performing a tag number search, and a payment receipt can be either printed, emailed or texted for payment confirmation.
All major credit cards will be accepted; a service fee of 4.5 percent will be assessed on all credit card transactions.
The public is advised that payments will not be accepted on the day of the scheduled court hearing, and by paying a citation online or in person, the individual payor is pleading guilty to the offense charged.
With the launch of the new case management system in February of this year, the Judicial Branch is pleased with the overall success of the CMS project, and the consistent improvement of access to services to both its judicial partners and the community at-large.
For more information, contact Regina Petersen, administrator of Courts, Judicial Branch of the Virgin Islands, P.O. Box 590, St. Thomas, U.S. Virgin Islands 00804
Fax: 774‐2258 TTY: 693-4118 or [email protected]