Around 35 members of the Rotary Club of St. Croix West have been delivering bottles of hand sanitizer to some of the most vulnerable residents of St. Croix.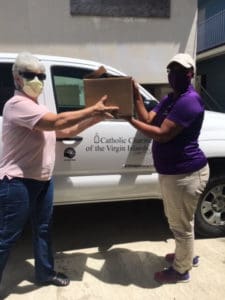 "At the end of the process, close to 2,500 will have been handed out to individuals and families," Rotarian Rupert Ross told the Source.
Rotary West received a $4,500 grant from the Rotary Foundation to purchase hand sanitizers, Ross said. Already they have delivered dozens of bottles to these organizations: Whim Gardens Home for the Elderly, Herbert Grigg Home for the Aged, Louis E. Brown Senior Villas, Lutheran Social Services for Queen Louise Home for Children and Ginger Thomas Residence, My Brother's Table, The Eagles Nest, Catholic Charities for Bethlehem House and feeding program and Ten Thousand Helpers. The individual members also were given containers of the liquid sanitizer to distribute among family and friends.
In the future, sanitizer will be delivered to Genip Gardens Residence, No Child Goes Hungry Program; Claude O. Markoe, Alfredo Andrews and Arthur Richards schools; Renholdt Jackson Ballpark; and Rotary West and William's Delight Community Centers.
In addition to the Rotary Foundation, other businesses have supported the project including Cultured Natural Body Care, Plaza Extra West, Sion Farm Distillery and Rotary West donors.
The mission of the Rotary Foundation is "to enable Rotarians to advance world understanding, goodwill and peace through the improvement of health, the support of education and the alleviation of poverty."