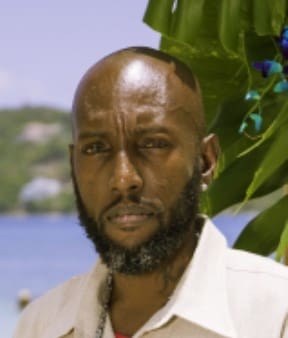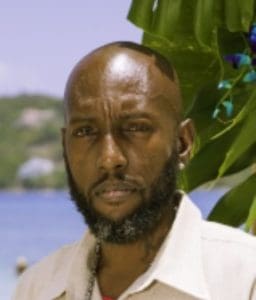 On Wednesday, April 8, Michael Martin McKie, also known as "Shabba" or "Lynx" to many, was suddenly taken from us at the age of 45.  He was a loving, caring and respected son, father, nephew, cousin and friend. He was also an avid animal lover.
He was preceded in death by his wife, Ka'Riise Marie Donovan-McKie; grandmother, Mercedes Sprauve-Lynch; grandfather, Harold A. Lynch Sr., uncles: Clarence Lynch and Harold A. Lynch Jr.; cousin, Dwayne A. Lynch; mother-in-law, Claire Henneman-Trotman; and uncles-in-law: Robert Dean Jr. and Myron B. Henneman.
Those left to cherish his memories include his parents: Pauline Lynch-Benitez and Manuel Benitez; children: Mosi, Zya'Nel, Annakiya, Elijah, Kyree and Makynzi McKie; father, Michael McKie; brothers: Marcus McKie and Manuel Benitez Jr.; grandmother Argentina Benitez, special friend Kishma Samuel, aunts: Marion Lynch-Esannason, Yvonne Lynch-Dean, Dian Lynch-Philip, Shirline Lynch and Jennifer "Jenny" Lynch; uncle, Verne Lynch Sr.; great uncle, Leopold Sprauve; cousins: Kevin Stridiron, Dion Whyte, Maurice Clark and family, Jonathan Clark and family, Harold Lynch III and family, Jamika Lynch, Christopher Lynch and family, Yvette Lynch-Donaldson, Pearlette Lynch-Sheriff, Karol Lynch, Camisha Lynch, Verne Lynch Jr. and family, Shayla Lynch, Lashawn Lynch, Troy Lynch, Tanika Lynch, Denekua Lynch, Dwayne Z. Lynch, Kamalie Lynch, De'Janique Lynch, Adrian Sprauve and family, Milton Sprauve and family, Alice Rey, Alicia Vasquez, Carol Shoy, Alford Shoy Jr., Jamal and Terrique Sprauve, and Sharla Rey: godparents: Denise Vanterpool and Millicent Rivera; goddaughter, Trinity Christina Henneman; and god sister, Chantel Charles.
He is survived by his father-in-law, Elroy Donovan Sr.; sisters-in-law: Mia Trotman Samuel, Tiffany Trotman James and Lelia Donovan-Challenger; brothers-in-law: Elroy Donovan Jr., and Brent Donovan; aunts-in-law: Wanda Elliott-Lynch, Marion Sprauve, Joyce Henneman Martin, Debra Henneman Smith, Carol O'Bryan Henneman, Avril O'Reilly Henneman, Adelia R. Henneman, Crystalia Christopher, Ena Gomez, Blanche Donovan-Griffith and Pacita Donovan; uncles-in-law: Stedroy Philip, Marvin Clark, Roy A. Henneman, Audi Henneman, Joel Martin Sr., James Smith, Charles Donovan, Rudolph Donovan and Calvin Donovan.
He is also survived by a host of extended families and long-time friends: Alani Henneman-Todman, Amika Henneman, Akia Henneman, Tyrell Steele, Tenae Yusuff, Esau David, Royce Creque, Ishmael Todman, Akai Henneman, Victoria Edwards and family, Louis Powell and family, Jelani Walters, Deyzha Todman, Neressa and Ian Forde, Lorraine Joseph, Laurel Joseph-Rodgers and family, Nicole Turnbull, Kisha Sprauve, the Benitez family, the Freeman family, the Foy family and the Ible family.
Other family and friends include: Robert O'Neal, the Henneman family, the Martin-Holmes family, Monique Creque and family, the entire Lynch and Sprauve families, Brenda Charles, Stephanie Joseph, Jennifer Moorehead, Monique David, Kimo Bonelli, Steve Morton, Theodore "Black Ice" Sealey Milliner, Garfield Marshall, Gary Richardson, Fox, Rudell Fahie, Guy Henry, Germaine Hall, Hassen George, Richard James, Addison "Danny" Rogers, Orville Colbourne, Miguel "Esco" Penn, Trevor "Peko" Fleming, Derick "Shortman" Alexis, Theton Donadelle, Raheim George Sr., Cherrisse Woods, Kishamaria Byron and family, Chelsea Connell, Jasmine Springette, Tiffany and Jamal Todman, Khalidia Furet, Shakira Clarke, Tia, the Mitchell family, Carol Callwood, Jamon Liburd and family (College Park, Md.), Nathan Williams, Mashama Ferdinand, Areth Aberdeen, Kevin Liburd, Rubean Allamby, Jeremy Smith, Eugenie Bell Jr., Peter Williams and the entire Department of Education School Lunch Division family, the Tutu Park Mall family, the Human Society family, and the CAHS Class of 1992. Michael also had other numerous family and friends who are too many to mention.
There will be a first viewing for Michael Martin McKie from 1-3 p.m., Friday, May 8, at Turnbull's Funeral Home.  The second viewing will be held at 9 a.m. followed by a funeral service at 10 a.m., Saturday, May 9, at Turnbull's Funeral Home. Interment will be at Western Cemetery No. 3. The family requests that anyone attending wear festive colors.