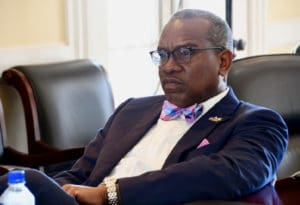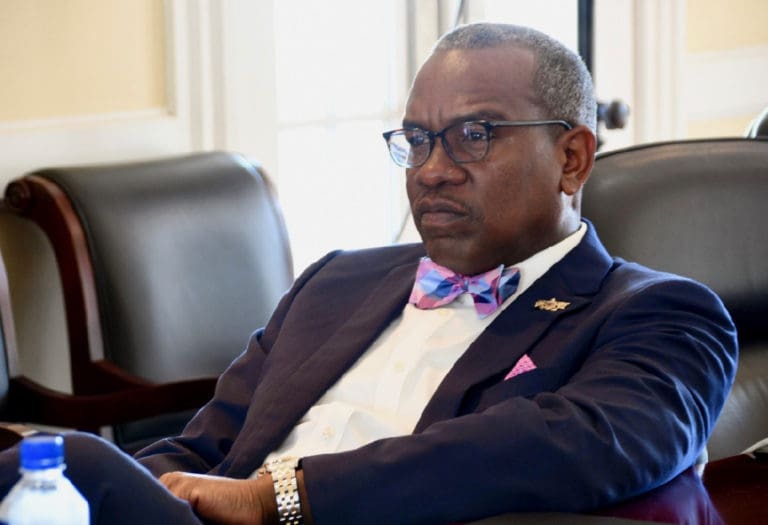 With the additional reopening this week of restaurants at local beaches for takeout only, Gov. Albert Bryan Jr. said seeing whether residents can continue to adhere to social distancing guidelines will be the litmus test for the further loosening of public stay-at-home orders.
Last week, the governor said he convened a task force to put together an overall plan for reopening the economy but explained the first step would be to work internally, allowing residents to move around more while continuing to monitor virus activity in states like Florida, Georgia and New York that feed into the territory.
At Monday's news briefing, he added that if residents are not able to abide by the rules – which will continue to limit mass gatherings and encourage residents to stay at home if it's not necessary to go out – closing the beaches again will be imminent. At this point, restaurants can serve food, but are not allowed to serve alcohol, while larger group activities such as picnics, parties and camping are still prohibited.
"It is critical you adhere to this," Bryan said Monday. "Governors in other states have tried to open the beaches and once they saw that citizens were not abiding by the rules, they closed them. And, similarly, if we run into this noncompliance locally, we will have to go to the beaches again."
Referencing the example set by officials in the British Virgin Islands, which put a shelter at home order in place early and set a curfew for residents, Bryan said simply "locking down" the territory doesn't eliminate the threat of the virus, but rather delays exposure.
"As we slowly open up our economy, we are going to have to rely on you to get it done properly," he said. "Next week ends the first phase of 30-day stay at home order. This week will be a test of how we behave and how seriously we are taking this pandemic. It is clear from our brothers and sisters in the BVI, you can't hide from this virus. It will sit and wait for you. At some point you have to open up."
However, the governor said he doesn't anticipate any public mass gatherings until at least July, if not further, and made it clear in response to questions that Carnival events on St. Thomas will be postponed until 2021. Without the guaranteed ability to mass test, and seeing the decreased capabilities of other states, there is "always the threat of a resurgence" if reopening moves too fast, he said.
While the territory is still not out of the woods, Bryan did say the "peak" projected to happen within the next two weeks is looking less likely. Out of 625 residents tested to date, 53 cases (15 on St. Croix, 36 on St. Thomas and two on St. John) are positive, while 554 are negative and 18 are pending. Three deaths have been recorded – the last was on St. Croix on Friday – and 48 individuals have recovered, leaving public health officials tracking two active cases, including a patient at Schneider Regional Medical Health Center on St. Thomas.
Expanded testing capability between public and private health labs and the territory's two hospitals, along with additional access to equipment, has allowed the territory to "get better and stronger at testing, and stronger at treating the virus," the governor added. During the briefing, Health Commissioner Justa Encarnacion added that there are currently 700 available tests in the public health lab, with 380 more expected this week, along with an additional 380 tests promised by the Centers for Disease Control every week "for some time."
"With our expanded testing capability, the numbers we are seeing do not indicate we are going to hit a large surge within the next two to three weeks," he said, adding that the most recent positive case was a traveler coming into the territory and not someone who had been exposed to the virus locally or a product of community spread.
"But we must remain vigilant," he said. "Stay at home when you're sick, practice social distancing, wash your hands and abide by the executive orders. If you're going to the beach, use this liberty sparingly. Take a dip and then find a way to get home again."
In the meantime, Bryan encouraged residents to be on the lookout for economic stimulus checks, which he said should be arriving in mailboxes in mid-May. While waiting for additional guidance from the federal government on funding, he said Puerto Rico is currently in the midst of sending theirs out, putting the U.S. Virgin Islands next on the list. While the first set of names for checks have been gathered, residents who have not yet filed a 2018 tax return should submit a 1040EZ, filling in $0 for income and including the names of each person in the immediate household so an amount can be determined.
For additional relief, he said residents should also apply for the U.S. Small Business Administration's Paycheck Protection Program which, according to conversations with Delegate Stacey Plaskett and other federal partners, should soon be re-funded.
During the news conference, the governor also:
– Thanked My Brother's Workshop for distributing more than 6,500 meals to senior citizens and residents with disabilities over the past few weeks;
– Said National Park sites are also expected to open this week, but will issue their own guidelines; and
– Said Cramer's Park on St. Croix will not open until Wednesday because of vandalism.