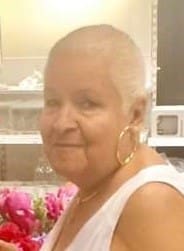 Ana E. Encarnacion, also known as "Nena," of Estate Golden Rock died on April 12. She was 83 years old.
She is survived by her daughter, Catalina Ledesma; son, Senator Pedro M. Encarnacion; niece/daughter, Juliette Canegata; nephews/sons: Juan R. Felix and Michael A. Encarnacion; grandchildren: Kimberly K. Encarnacion and Khyle A. Encarnacion; sister: Maria A, Encarnacion; brothers: Luis A. Encarnacion, Jose P. Encarnacion, Marcelino Encarnacion, Carlos Encarnacion and Juan Encarnacion Jr.; and nieces, nephews, great nieces and great nephews: too numerous to mention.
She is also survived by daughter-in-law, Janie Encarnacion; son-in-law, Raul Ledesma; sisters-in-law: Josephine Encarnacion and Tatiana Encarnacion; godchildren: Juan Encarnacion II, Edwardo Encarnacion, Juan Encarnacion III, Roberto Encarnacion and Raquel Marte; special friends: Louise Gallivan Espinosa and Carmen Cunneen (cousin); as well as cousins and other relatives and friends too numerous to mention.
The family appreciates your support and condolences; however, due to the current situation and mandates, a memorial service will be held at a later date. Your understanding is greatly appreciated.