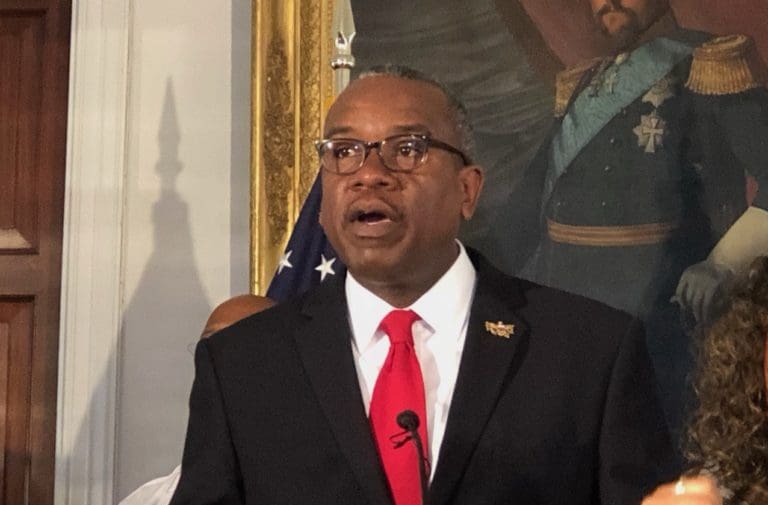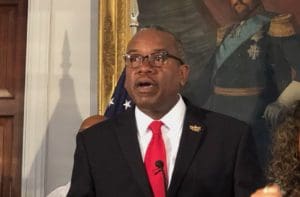 With increased hospital activity and, as of this weekend, the first COVID-19-related death recorded in the U.S. Virgin Islands, Gov. Albert Bryan Jr. announced Monday that all public beaches in the territory were closed effective immediately in an effort to keep gatherings down and residents off the streets.
"The White House is referring to the next two weeks as the nation's next 9-11 or Pearl Harbor moment," the governor said. "We can't afford a 9-11 or Pearl Harbor here in the territory, so I am appealing to you, tell your friends, your family and your loved ones to do the right thing and to stay at home."
The additional measure comes in advance of the Easter holidays, which Bryan said traditionally brings families out to the beaches for camping, picnics and other festivities. At this point, no one is allowed on the beaches "for any purpose," and Bryan said that as the territory hits its "peak" within the next two to three weeks and the community can't "afford to have any flareups."
"We want to make sure that we do every single thing to make sure that we are not facilitating the spread of the virus," Bryan said, adding that the V.I. National Guard will help the V.I. Police Department and Department of Planning and Natural Resources to enforce the new restrictions, which also includes jogging or exercising on the beaches, along with swimming.
As of Monday, the territory had tested 283 individuals and of those, 222 tests have come back negative, 43 are positive and 20 are still pending. There is one COVID-19 positive patient being treated at the hospital on St. Croix and two at Schneider Regional Medical Center on St. Thomas – one of which is now on a ventilator. Of those cases confirmed, 36 patients have recovered, leaving the government to track nine active cases territorywide.
Speaking of the death on St. Thomas, an 85-year-old man with underlying health issues who unknowingly came into contact with a traveler who had tested positive for the virus, Bryan said:
"The passing of this gentleman is a grim reminder of how serious this virus is. Any single one of us can contract it and suffer serious health consequences, even death. For the most part, together we have been doing a good job as a community, but we still have some who are not. We have a considerable way to go before we reach our peak, which is not expected to be for another two to three weeks, and we cannot afford to backtrack on the incredible progress we have made so far."
Urging residents to rely on accurate information provided by the V.I. Department of Health, the governor added that reports of a recent death on St. Croix was not COVID-19 related, and explained that the University of the Virgin Islands employee who passed away on the mainland earlier this month did not appear to have contracted the virus on the island. As of Sunday, the U.S. Virgin Islands was the last state or territory to have recorded a COVID-19 related death.
Anyone who believes they might have the virus or were exposed to it should call the Health Department at 340-712-6299 or 340-776-1519 instead of going to the emergency room and potentially exposing other patients.
"Essential businesses can remain open but if you must go out, please maintain safe social distancing," the governor said. "We would like you to concentrate during this period of Easter on staying at home so that we can nip this in the bud once and for all."
During Monday's press conference, St. Croix Sen. Allison DeGazon also shared economic stimulus initiatives she has been working on with the governor and other senators to benefit local farmers who have been impacted by COVID-19 response measures in recent weeks. Using $100,000 in "applicable funds" from the government, produce will be purchased from registered local farmers and used for the Education Department's "No V.I. Child Goes Hungry" program, food drives for senior citizens or sold back to the community.
The money will be put into the Agriculture Revolving Fund and managed by Agriculture Commissioner Positive Nelson and his team, she said. Meanwhile, farmer's markets will continue to be open in Estate Bordeaux on St. Thomas and at the Agriculture Fairgrounds on St. Croix, she said.
Officials also said Monday there have been two recorded suicides and an increase in domestic violence within the territory since the stay-at-home order was implemented. Health Commissioner Justa Encarnacion encouraged residents to reach out if they need help, or to call the National Alliance on Mental Illness helpline at 800-950-6264 or the National Suicide Prevention Hotline at 800-799-4889.