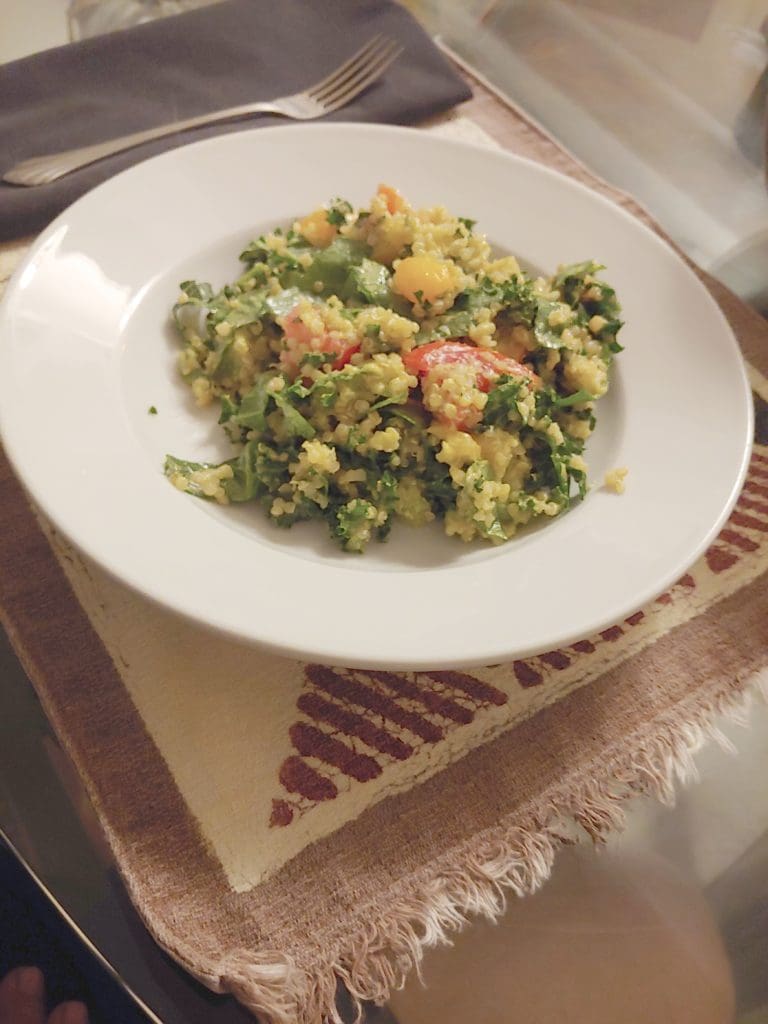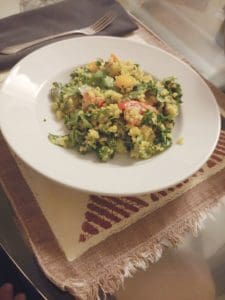 Avocado is a magic fruit to me. I stalk them. Friends in the neighborhood know of my avocado addiction and either offer them to me or tell me their trees "haven't fruited this year." Either way, there is usually a way to find them on island. My favorite places to hunt are the gas station markets, where they get them from Dominican Republic they tell me. The other place is at the farmer's markets. Like all "drug" experiences, you never know what's going to happen. Sometimes when I cut into the beautiful green skin, I find the brown spots of disappointment. Other times, I hold my breath while cutting into a mottled, funky looking, brown-spotted peel and I find nothing but soft green flesh. Thrilling and rewarding.
In keeping with my addiction, when I find avocado on the island, I can't buy just one. Naturally, I try to find a variety of "ripeness," but that is often a fool's mission. So, I end up with two beautiful fruits, both ready at the same time. One of my favorite recipes is what we call "Pesto by Shaunee," boldly stolen from a recipe called "Pesto by Chloe." Chloe's is a vegan restaurant in the West Village in New York City. My grandson who is addicted to pesto introduced me to Chloe's. With uncommon generosity, she has made the recipe available online. But you are going to have to wait for that. Today's offering is what I did with the second avocado.
Ingredients
– 1 cup uncooked quinoa
– ½ avocado diced
– 1-2 plum tomatoes or several cherry tomatoes*
– 1 cup kale and/or spinach finely chopped
– Feta cheese crumbled
Lime Cilantro Dressing
– 1/4 cup olive oil
– juice of 1 lime
– ½ jalapeno pepper
– 1 or 2 cloves of garlic
– cilantro
Directions
Rinse quinoa, bring two cups of water to a boil (I add one tsp dehydrated vegetable broth to boiling water), add quinoa, lower heat and cook for 15 minutes and let cool. Blend the dressing ingredients. Combine chopped vegetables, toss with cooled quinoa and dressing. Add cheese and eat. You can top the salad with the remaining diced avocado.
*A note on tomatoes in 2020: let's not pretend that most tomatoes today actually taste like a tomato did in 1954. I keep a bag of Frontier sun-dried tomato powder in the fridge at all times. But even if you don't, this will help: chop the tomatoes into a separate bowl, sprinkle with salt and toss with a pinch of tomato powder if you have it.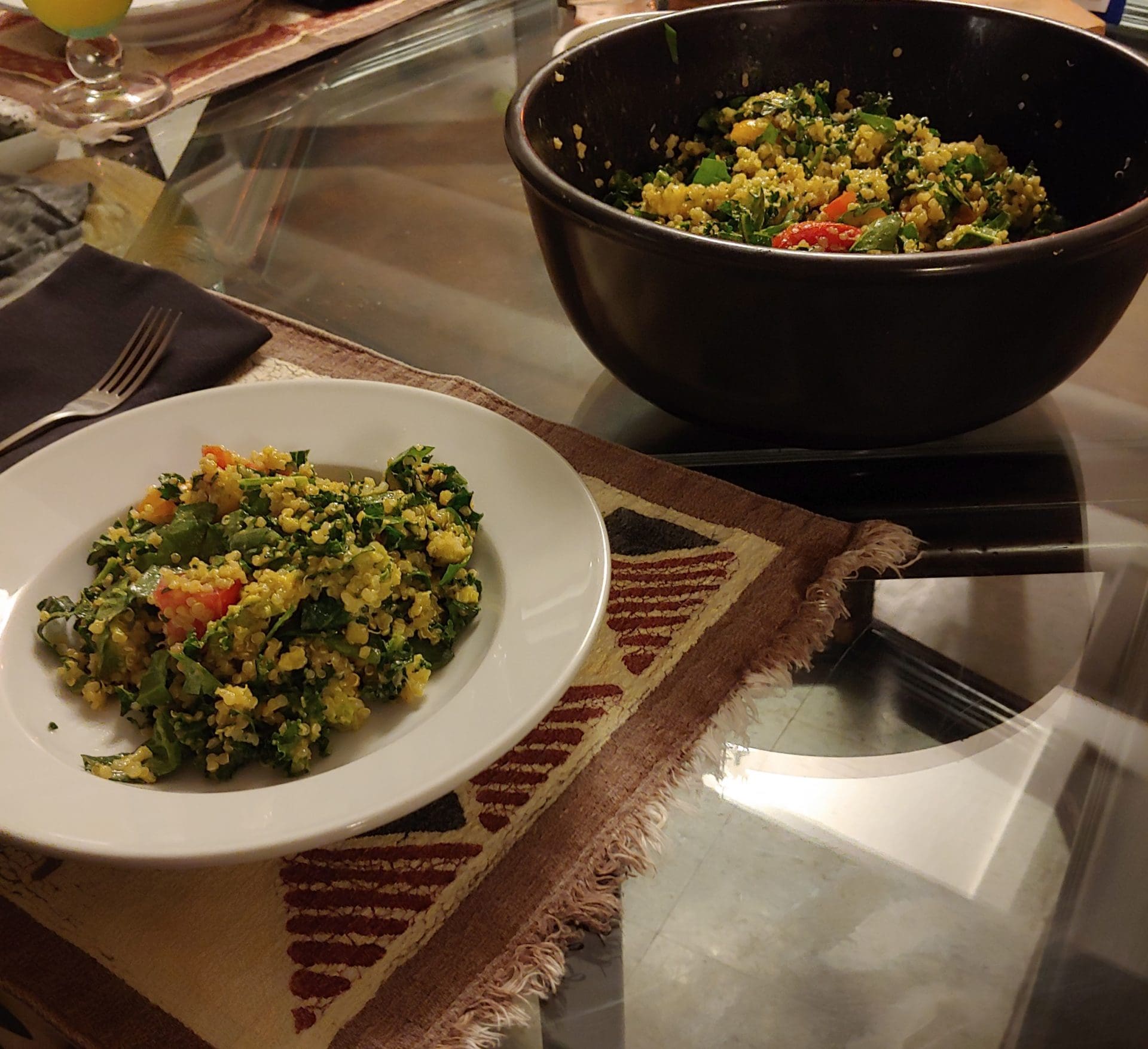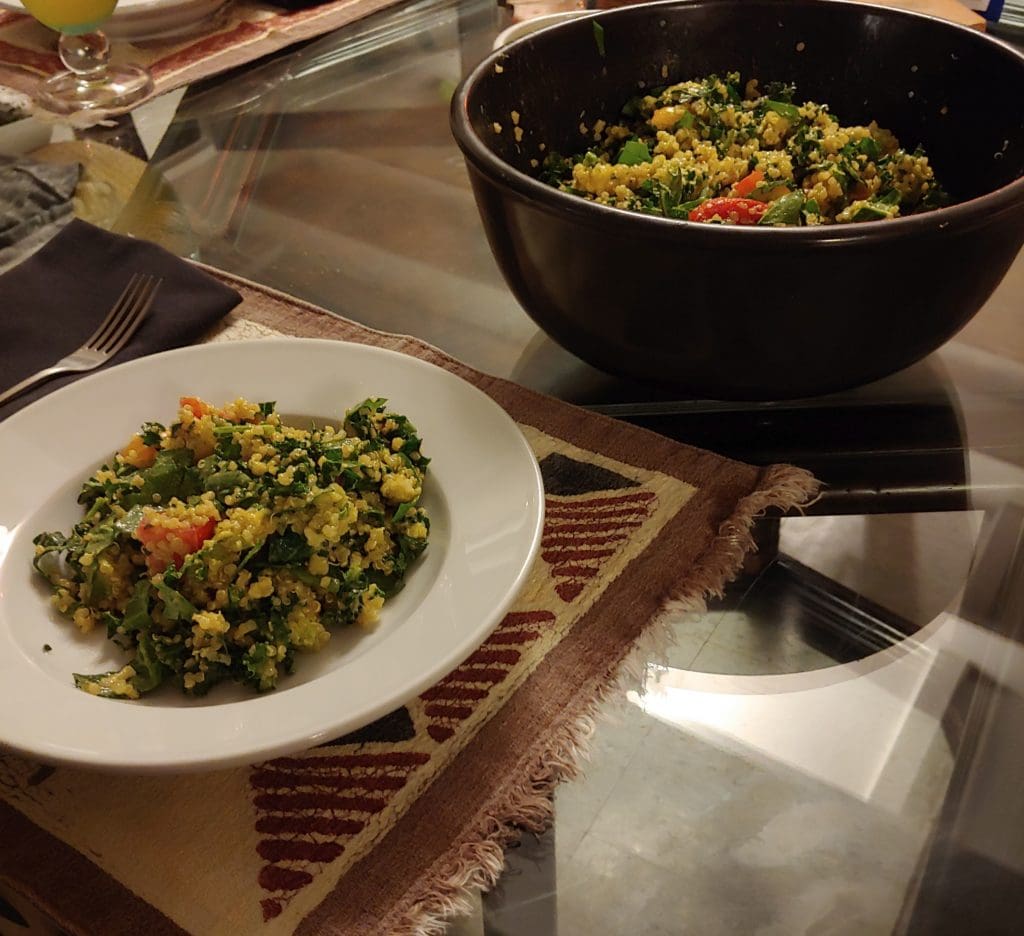 Author's note: Stay tuned for Pesto by Shaunee and Chloe.