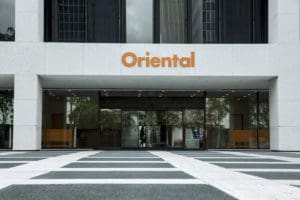 Following the spread of the new coronavirus, COVID-19, worldwide, Oriental Bank announces it has taken precautionary measures for the health and safety of its employees and customers. As a bank that emphasizes convenience, it is urging its customers to use technology to do their banking without the need to go to the branches and avoid unnecessary contact with others.
"Our clients and employees are our priority, and we will take all necessary measures to guarantee their safety. We are monitoring the situation; the most important thing is to remain calm and follow the protocols and recommendations from experts," said José Rafael Fernández, president and CEO of Oriental.
As part of these measures, Oriental Bank has increased the cleaning frequency in its branches and main buildings.  It has also increased the number of antibacterial products available in the common areas of its premises, including the network of branches in Puerto Rico and the U.S. Virgin Islands. Bank employees have been provided educational materials on prevention and preparedness.
Fernández also expressed that "we invite our clients to take advantage of using the channels that we have available to facilitate the management of their accounts — from wherever they are, whenever they want. Although our branches are available and open to the public, these technological solutions allow our clients to manage their bank accounts without having contact with other people and thus reduce the possibility of any contagion. We encourage you to use them."
Among the services are:
Online Banking and Mobile Banking – To access accounts 24 hours a day, 7 days a week. Customers can check balances, make payments and transfer funds.
Drive-thru Lanes at the Branches – An option if the customer needs to make a deposit, a payment or withdraw money.
Phone Customer Service Center – Our service center operates 24 hours a day, 7 days a week, and customers can check balances, make payments, transfer funds between accounts, and verify the status of their transactions and paid checks. To contact the Service Center, call 787-766-4999.
Commercial Customer Service Center – Customers can continue to contact their relationship officer. If they need assistance for POS or Cash Management, call 787-721-9199.
Make Loans Payments Online — Customers can make their payments through Web Payment. This service allows the customer to make online payments for personal loans, car loans and leases, even if they do not have a deposit account with us. Customers can access through www.orientalbank.com.
Our branch hours continue to operate on a regular schedule until further notice. Our customers can access www.orientalbank.com for more details. "We invite our clients to be aware of our communications through email and our social networks," said Fernández.