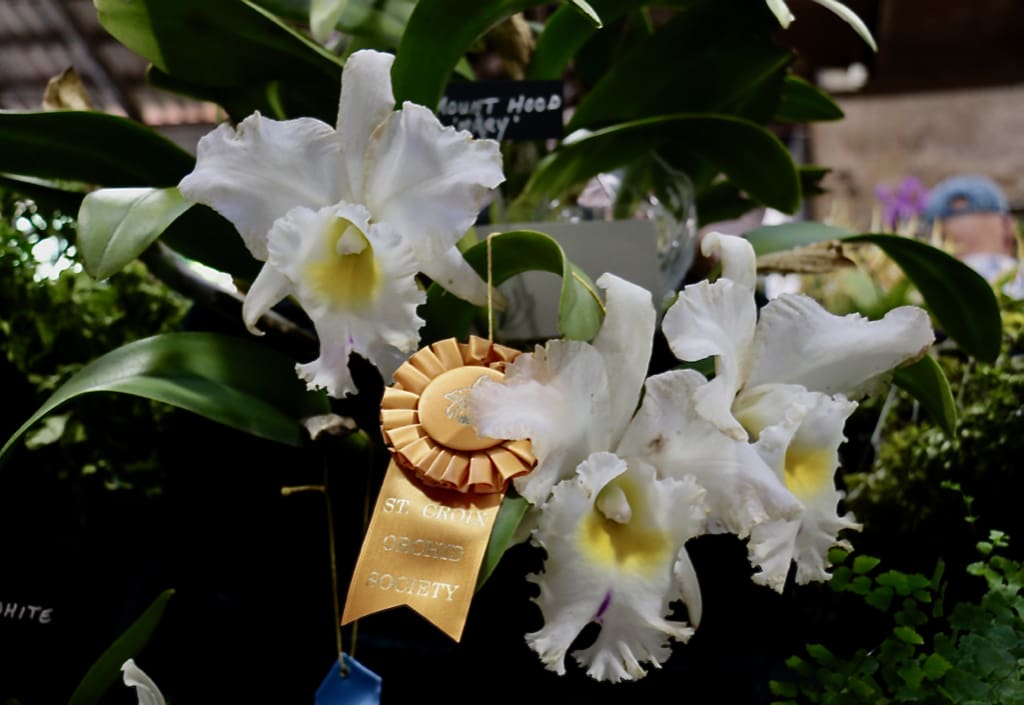 Under the theme "20/20: A Vision of Orchids!" the St. Croix Orchid Society kicked off its annual show Friday.
For the third year in a row, the event was held in the Great Hall of St. George Village Botanical Garden.
According to Society President, Susan Kraeger, "The show is produced by a very hard-working group of volunteers, and we are delighted to be able to offer show attendees an ADA compliant ramp."
The Great Hall was filled with brightly colored orchids ranging in size from huge to almost invisible. Above the displays were booths selling varieties of orchids. During the three days, five workshops were open to attendees to provide support and knowledge.
Four judges participated in the event, Dr. Carlos Fighetti, AOS/PROS; Dr. Julio David Rios, AOS/PROS; Jose Fernandez, PROS; and Debra Tryon, AOS.
Kraeger provided the following information:
– In addition to the 27 special awards sponsored by SCOS supporters and the awards made to outstanding exhibits, plants and flowers, six highly coveted American Orchid Society awards were received by this year's exhibitors. This is the largest number awarded to exhibitors in recent years, Kraeger said.
– Magda Finch received a CCE (Certificate of Cultural Excellence), awarded for her Epidendrum ciliare "Charmaine." To win, these plants must have been in the care of the exhibitor at least 12 months immediately prior to the award and must score at least 90 points on a 100-point scale. Plants receiving this award represent the highest level of orchid culture, according to Kraeger. Finch also won an AOS Award of Merit for her Brassavola Cattleya "Mary Dodson."
– Debra Tryon won an HCC (Highly Commended Certificate) for her Bulbophyllum maxillare awarded to orchid species or hybrids scoring 75 to 79 points inclusive on a 100-point scale.
– Other AOS award winners were Gertrude Gumb for her Dendrobium Sampran Brown "Gertrude" and Thomas Hannah's Caubicomutum and Epidendrum stanfordianum "Iliana's Delight." Both of these plants have won AOS awards in the past.
– The AOS Show Trophy – awarded for the best display in the show – was won by SCOS Vice President Michelle Thurland-Martinez for her floor display "A Simple Vision."