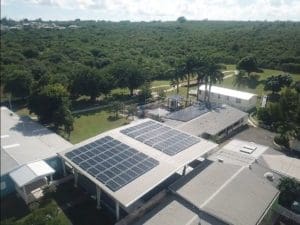 In 2019, Community Foundation of the Virgin Islands (CFVI) and the Clinton Global Initiative (CGI) Commitment to Action have partnered with Lutheran Social Services of the Virgin Islands to solarize the Queen Louise Home for Children on St. Croix, which provides care for up to 29 children who have been abused, abandoned or neglected and also houses the U.S. Virgin Islands' only Early Head Start program.
With the help of CGI, a solar PV system was secured for two buildings at the Queen Louise Home, saving the home more than $1,500 per month. "That money can now be reinvested into programs that support the youth living at the home and families participating in Early Head Start," said Baecher-Brown.
Together, CFVI and Lutheran Social Services of the Virgin Islands are seeking additional partners for $200,000 to complete the solarization of the entire campus, which will provide additional support for the children and families served by the Queen Louise Home.
For more information or to donate, contact CFVI at [email protected] or 774-6031.