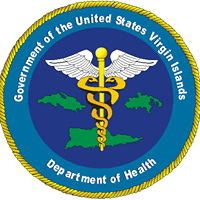 The Virgin Islands Department of Health (DOH) is continuing its participation in the Department of Agriculture's biggest event of the year. This year's theme is "Agriculture: Trendy in 2020," and the Health Department wants to make healthy living trendy for Virgin Islanders.
This weekend, from Feb. 15-17, Health will return to Agrifest with free health screenings, services and information. Every year, DOH's Community Health Clinic offers free glucose screenings, blood pressure checks, cholesterol screenings and flu vaccines for adults. Fair-goers stop by to check their vitals and learn their health baseline numbers.
Community Health Program Administrator Ruth Dublin said, "I am looking forward to seeing the hundreds of visitors under our tent. This is an excellent opportunity to connect residents with the health services they need. We want residents to know their numbers."
This year, DOH will be expanding the services and information that it normally provides to include more programs — each with their own giveaways and services.
The Division of Chronic Disease Prevention will be providing information on the "silent killers," such as cancer, heart disease, high blood pressure, diabetes and stroke. It will also provide information on how to make healthy food choices while enjoying AgriFest.
February is Heart Month, the perfect time to learn about the risk for heart disease and the steps people need to take now to reduce the risk. Health, in an effort to raise awareness about heart health, is challenging fair-goers to complete 10,000 steps while at the fair to stay active and prevent heart disease.
The Division of Communicable Diseases will be providing free, discreet HIV testing. Staff will be available to teach the community the importance of sexual health and knowing one's status.
DOH is promoting a year-round culture of readiness and disaster preparedness staff will be present with information on how to prepare one's self and family for natural disasters by building an emergency kit as well as learning how to cope before and after a disaster situation.
The Division of Behavioral Health, Alcoholism and Drug Dependency Services will be sharing much needed information on behavioral health and drug dependency services as well as information on suicide prevention.
The department's Vector Control Program will be under the tent sharing valuable information about the proposed plan to control the disease-carrying Aedes aegypti mosquito.  There will be a cage of non-biting male mosquitoes on display to educate the public on the St. Croix Mosquito Project. The Vector Control Program will also be sharing information on mosquito bite prevention, best mosquito control practices for homes and businesses, and will be giving away free mosquito repellent.
The Epidemiology Division will be providing information on asthma management and carbon monoxide poisoning prevention. The community can look forward to free carbon monoxide detectors.
Finally, the Maternal and Child Health Division will be educating the public about the upcoming Zika Health Brigade, which is a free pediatric specialty clinic for children ages birth to 4. The department will be hosting pediatric specialists whose services are not usually available in the Virgin Islands. These specialties include pediatric neurology, pediatric audiology, pediatric ophthalmology and developmental pediatrics for overall development. The brigade will take place on St. Croix on March 30 and March 31 and on St. Thomas on April 2 and April 4.
The Department of Health's Environmental Health staff reminds the public to practice good hand hygiene by washing hands frequently with warm water and soap especially after handling livestock and before eating. If a person has a cold, take extra precautions by sneezing with the mouth closed and coughing into a flexed elbow.
The table displays under the department's tent will be interactive and will feature games, prizes and other free giveaways. The Department of Health is looking forward to a great community turnout as it continues its efforts to provide quality, comprehensive health services to Virgin Islanders.