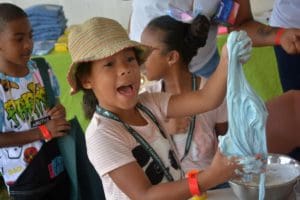 The Community Foundation of the Virgin Islands (CFVI) and Lutheran Social Services of the Virgin Islands (LSSVI) invite children and families to visit their Play & Learn Tent at the 49th Annual Agricultural and Food Fair, Feb. 15-17 at the fairgrounds on St. Croix.
The Play & Learn Tent is designed to encourage children and parents to engage together in play and developmentally appropriate activities. This year's tent activities will once again emphasize STEM (Science, Technology, Engineering and Mathematics) concepts, using hands-on activities such as slime-making and flour painting to promote learning through fun.
Early childhood professionals from LSSVI's Early Head Start Program will guide children and their parents through the activities.
There will be a "Talk at the Fair" handout being given out at Agrifest. Available in both English and Spanish, this guide provides prompts for families with children to talk about what they see and do at the fair. CFVI will also be providing the IGGI Story and Coloring Book to allow for continued discussions around hurricane recovery and supporting children, families and the community. CFVI's annual Fatherhood Collaborative T-shirts will also be available for pick-up by fathers.