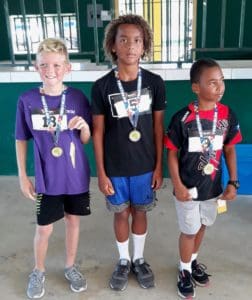 Beautiful weather on Sunday morning set a positive stage for the Just "DU" It! Duathlon, hosted by the Virgin Islands Triathlon Federation at the Susana Santana Ocasio Park in Gallows Bay.  The run/bike/run event was open to kids of all abilities, ages 5 to 15.
"Although the event drew a smaller crowd than usual, I think all of the 20 participants had a great time and felt good about the effort they put into getting to the finish line," said race organizer Theresa Harper.
Since there was only one registered competitor in the 5-6 age group, Daniel Remie, student at Claude O. Markoe Elementary School, agreed to race in the 7-8 age category.  Remie held his own against the older competition and finished the .25-mile run/1-mile bike/.5 mile run in 16:35.  Bjorn Stutzman, a Good Hope Country Day School (GHCDS) student, was the overall winner in the 7-8 age category in a time of 13:22.  Hudson Mirocha, also of GHCDS, was second; Xander Morales, a student at Lew Muckle, was third.  Isabelle Bohlke finished in a time of 15:17 and was the lone female participant in the 7-8 category.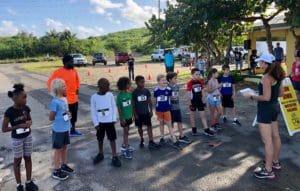 The closest race of the morning was between Kalonji von Schilling-Royer and Ezekiel Tutein in the 9-11 age category, as they posted the same splits for all three legs on the .5-mile run/ 1-mile bike/ .5-mile run course.  Although both boys received the same finish time of 14:23, a photo taken at the finish line confirmed that von Schilling-Royer was the winner.  Eric Sommer was a close third in 14:40.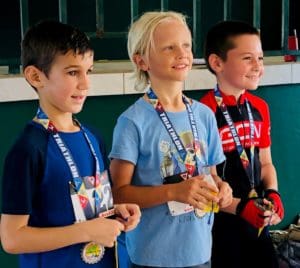 Two of the three competitors in the 12-15 category had competed in the Just "DU" It! Duathlon race at the age of 6.  Now at age 13, Mason and Kirra Lambert still enjoy participating in Junior Tri VI events.  Mason completed the .5- mile run/ 3-mile bike/ 1-mile run in a time of 24:32.  Kirra kept a steady distance behind her brother and finished in 27:04.  GHCDS classmate Candace Felix has been competing for three years and finished in third place.
On March 19, the Junior Tri VI committee will host the final competition of the 2019-2020 school year.  The Grand Finale Triathlon, a swim/bike/run event, will take place at Cramer's Park.  For more information, call 513-2707.
Feb. 9, 2020 JUNIOR TRI VI — Just DU It! Duathlon
Altona Lagoon Park, St. Croix
5-6 yr old TOTAL .25-mile run/1-mile bike/ .5-mile run
1 Daniel Remie/ 0:16:35 0:01:50/ 0:07:54/ 0:06:51
7-8 year-olds TOTAL .25-mile run/1-mile bike/ .5-mile run
1 Bjorn Stutzman 0:13:22 0:02:15 0:05:31 0:05:36
2 Hudson Mirocha 0:13:37 0:02:21 0:05:37 0:05:39
3 Xander Morales 0:14:00 0:02:18 0:03:40 0:08:02
4 Oliver Croney 0:14:18 0:02:30 0:05:50 0:05:58
5 Isabelle Bohlke 0:15:17 0:02:40 0:06:20 0:06:17
6 Drew Sommer 0:16:23 0:02:43 0:05:26 0:08:14
7 Chad Lewis 0:17:32 0:03:09 0:04:54 0:09:29
8 Sanay von Schilling-Royer 0:21:03 0:03:26 0:09:24 0:08:13
Daniella Remie DNF
9-11 yr olds TOTAL .5-mile run/1-mile bike/ .5-mile run
1 Kalonji von Schilling-Royer 0:14:23 0:04:18 0:05:05 0:05:00
2 Ezekiel Tutein 0:14:23 0:04:18 0:05:05 0:05:00
3 Eric Sommer 0:14:40 0:04:48 0:04:41 0:05:11
4 Ozzy Odom 0:15:14 0:04:40 0:05:04 0:05:30
5 Kai Tanguay 0:15:41 0:04:46 0:04:58 0:05:57
6 Tristan Samuel 0:16:49 0:04:46 0:05:04 0:06:59
Sawyer Holley DNF 0:04:36
12-15 yr olds TOTAL .5-mile run/3-mile bike/ 1-mile run TOTAL run bike run
1 Mason Lambert 0:24:32 0:03:40 0:12:25 0:08:27
2 Kirra Lambert 0:27:04 0:04:01 0:13:31 0:09:32
3 Candace Felix 0:30:03 0:04:19 0:15:09 0:10:35