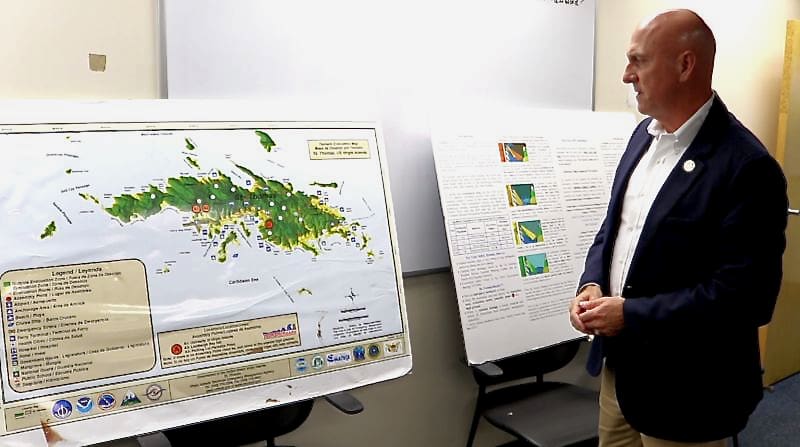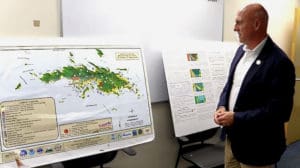 Education is the best way to fight "anything that comes to us unknown," like earthquakes and tsunamis, according to V.I. Territorial Emergency Management Agency Director Daryl Jaschen.
That's why Jaschen and his team have been hosting a series of town halls to make residents more aware of these threats, how to prepare for them and the territory's likelihood of being affected. Jaschen said that with the U.S. Virgin Islands, Puerto Rico and the British Virgin Islands wedged between two plates, seismic activity has been ongoing for the past decade. Lately, however, the magnitude of those quakes have increased, resulting in the last few weeks with a 6.4 magnitude quake in Puerto and a 7.7 quake between Cuba and Jamaica.
Puerto Rico's quakes have been happening around a plate located on the south side of the territory, which he said has a connection to the Virgin Islands. Regardless of whether they are felt on the ground here, the impact of a tsunami is just as real and that's why residents should pay attention and monitor any alerts that come out.
"The quake … near Cuba centered around a plate to the north," Jaschen said. "We don't know exactly why the activity is going back and forth, but it makes us just as concerned. We spoke to the Tsunami Warning Center for the Pacific region, which is based in Hawaii, and we paid attention to their analysis of what happened. A warning wasn't issued for us, it was for other areas, but it is still very key to watch what continues to happen."
Without speculating on what exactly is triggering the increase in seismic activity – though, he did say teams have ruled out anything manmade after checking for drilling in the area – Jaschen explained that the best thing someone can do is be aware of the danger zones in their area and the evacuation routes, because once a quake occurs, a tsunami can be right behind and its impact could be different based on the topography, structure and design of each island.
A wave comes in at 300-400 miles per hour and is basically a wall of water that can vary in height. Historical data indicates safety can be found around 82 feet above sea level or higher. He urged residents to stay away from areas close to the coastline and out of buildings that could be unsafe, such as those built on filled land. Jaschen said a phenomenon called "liquefaction" turns that ground into something like quicksand, which will cause a structure to quickly fall or sink.
Further, in heavily populated or flatter, low-lying areas close to the water, residents would have, at most, 20-30 minutes to get to safety. The territory's tsunami warning sirens have been offline since the hurricanes in 2017, and VITEMA is working to get them back online by September. Once up and working again, they will sound if a threat is imminent – about four to five minutes before impact – but before that, residents should pay more immediate attention to the series of messages, warnings and alerts that come out from the agency across other channels.
The Alert V.I. system is a subscription-based service that notifies residents by email, text and voicemail. Jaschen said that he's heartened by the number of residents that have signed up since VITEMA switched platforms and described it as the best way to monitor a threat. For those who haven't signed up in advance, or visitors who may be just getting off a cruise ship or airplane, VITEMA's next line of communication is an Integrated Public Alert and Warning System that sends a message to cellphones, over the radio and to public information stations.
Bull horns and messages issued by first responders on the streets are the third line of defense, followed by the sirens, which Jaschen said are not designed to warn people in their homes. The sirens will sound only when a warning is issued, and are meant to alert people outside, in a danger zone, that a tsunami is on its way.
Jaschen said he has been working to finalize a contract to get the territory's sirens up and active by September. The system will go from a manual to an automated one and from wooden poles to galvanized dipped poles for better protection. The sirens were installed in 2017 but were rendered inactive after hurricanes Irma and Maria, and while the agency received a grant for 90 percent of the funding, they were focused in the last year on finding a contractor, securing the last 10 percent and getting through the following hurricane season.
Residents, meanwhile, are encouraged to keep coming out to VITEMA's town halls, which Jaschen said have been packed and have generated some important questions. Those meetings have finished on St. Croix and move to St. Thomas. All sessions begin at 6 p.m. They will be Tuesday, Feb. 4, at Ivanna Eudora Kean High School; Wednesday, Feb. 5, in the Charlotte Amalie High School cafetorium; and Friday, Feb. 7, in the Administration and Conference Center at the University of the Virgin Islands.
Eight-hour tsunami workshops with experts in the field are also scheduled for Feb. 24 and 25 on St. Croix, and Feb. 26 and 27 on St. Thomas. More information is online at the VITEMA website.