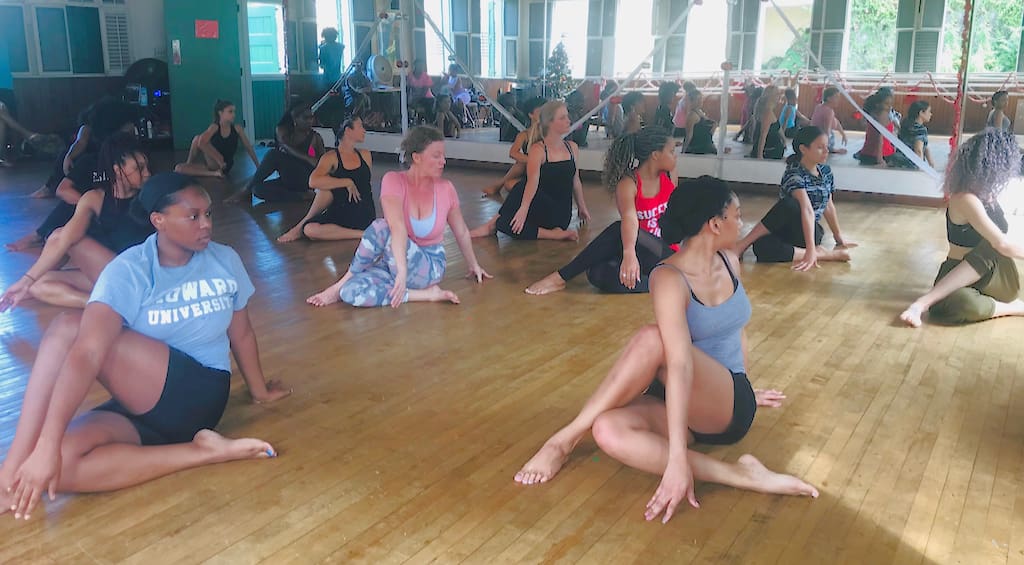 Twenty dancers arrived en masse for Nateli Ruiz's master dance class at the Caribbean Dance Company studio in downtown Christiansted on Saturday. The diverse group arrived on time for the time of their lives.
Full of energy and eager to get started, Ruiz greeted the dance group with preliminary instructions. The music was pumped up and inviting. Each dancer moved into a space dedicated as her own for the next 90 minutes.
Ruiz was introduced to dance at the age of four at Pointe Dance Academy. She has danced on the island through high school and has continued the art throughout her life.
A bachelor's degree in fine art dance from Jacksonville University has kept the dancer on her toes. Ruiz has explored different styles and genres in the art of dance.
During her undergraduate studies, she worked with the David Parsons Modern Dance Company, American Ballet Theatre II, and also with Debbie Allen. In 2010, she was a back-up dancer for Mariah Carey at the Disney Parks Christmas Day Parade.
Ruiz worked with Debbie Allen's Dance Academy Summer Intensive in 2008 and 2016.
On Saturday, a spirit of enthusiasm filled the Caribbean Dance studio as bodies moved to their own inner spirit inspired by the sound of music.
Ruiz gave the group a series of warm ups to stretch their bodies and relax their minds. The dancers began to loosen up and slowly unwind.
Three lines were formed – and as the music heightened, the dancers moved forward – one at a time from each line. Ruiz instructed them to move from that place inside where the music touched them. And they did.
Each dancer moved in her own improvisation, her own expression of what the music drew from her. The movement of arms and legs, heads and torsos flowed with graceful fluidity.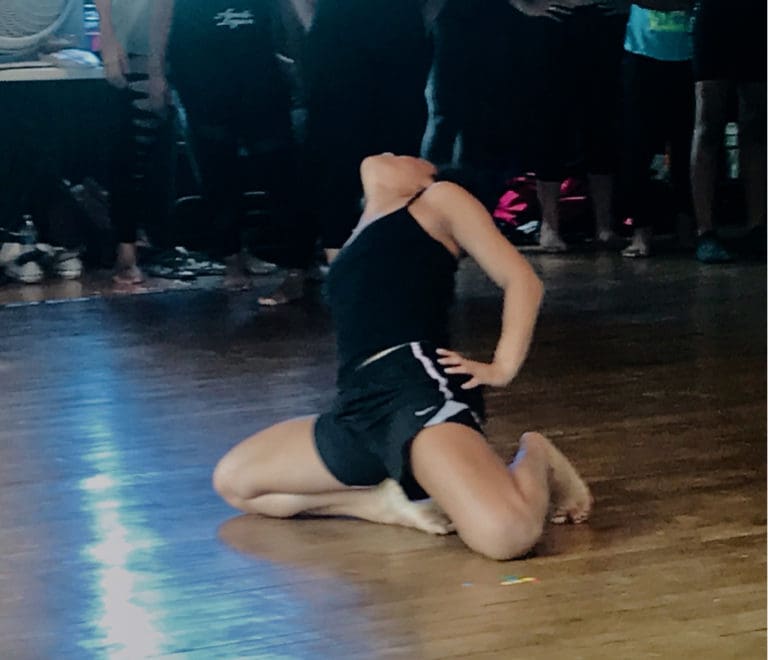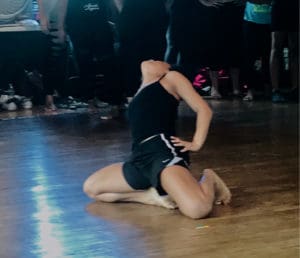 Ruiz moved the class into a short choreography that they repeated a few times until everyone felt comfortable with the combination of movements. Then they all performed the 30-second piece of choreography, ending to the sound of their own applause. Asked about the dancers and the dance, Ruiz said, "I was blown away."
One of the dancers was Jenelle Davis, who grew up on St. Croix dancing with Caribbean Dance for 15 years until she graduated from high school.
"I live in New York and I'm home for Christmas break. I thought I would try this class and I'm so happy I did," Davis said. "I love dance and I do get to dance sometimes at the (Alvin) Ailey studio in NY."
Former Dancing Classrooms director Katy Zeytoun danced with the group.
"I have always been a dancer," she said. "I dance with the Caribbean Dance School."
"Having Nateli here has been a treat. I saw a range of ages and abilities here today. It's important for our dancers to have one of their own to come back and give back," Zeytoun said. "It's so nice that Nateli can make a living at what she loves."
Ruiz is happy to be back and give back what she's learned, she said.
"It's so gratifying to see people come and participate since they don't have much of an opportunity to get this kind of training here."
Ruiz reminisced about her dance training in 2005 and 2006 with Alex Simon of Cruzan Dance.
"He exposed us to hip hop, salsa, jazz, and jazz funk, which allowed us to step out of the norm."
Of course, its great to have the foundations of classical techniques, Ruiz said, but it's nice to have the freedom of dancing how you feel.
"That's what I love about contemporary dance," she said. "I think people seek it outside in the states and they take workshops there. So to be able to give here what I've learned in the states – it's the idea of 'let's try something new, let's try something different.'"
St. Croix Festival Queen Izhani Rosa danced in the master class Saturday.
"I've known Nateli for many years and I've always looked up to her. She's amazing. I have 'hands down' support for her," Rosa said.
Rosa is the dance choreographer of the Caribbean Dance Team at the University of Tampa, where she majors in psychology and Spanish.
"I love to dance as a release. It's fun, it's non-competitive. It's amazing therapy. I would encourage anyone who likes to dance to take a class – have fun – just do it."
Ruiz was asked if she would come back and do a "Summer Dance Workshop" on St. Croix.
"I would love to do something like that," she said. "It would be great to teach jazz, hip hop, and salsa and have our dancers explore the freedom those styles would give. And if someone is interested in going further in a dance career, the variety would enhance their repertoire."
A pivotal moment in Ruiz's career was her debut in her first film, "Bessie," which featured the actress Queen Latifah and premiered on HBO in May 2015. Ruiz also appeared on the HBO series Euphoria, which featured Disney pop artist Zendaya.
Ruiz is in a Netflix film, "Christmas on the Square," starring Dolly Parton and directed by Debbie Allen. She recently performed as a principle dancer in the Little Mermaid Live spectacle on ABC.
Ruiz continues to share the skills she has learned in dance; she teaches a variety of styles at studios around the country, spreading what she calls her "profound love and passion for dance."
Beyond the Stage Cultural Art Project, a 501 (c)(3) non-profit organization, hosted Ruiz's master dance class.