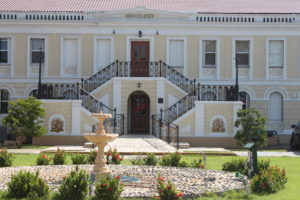 The entire 33rd Legislature, all 15 senators, expressed eagerness to pass a bill which would allocate $500,000 from the St. Croix Capital Improvement Fund to the Caribbean Drag Racing Association to refurbish the St. Croix Motor Sports Complex, as long as the association adheres to financial disclosure obligations.
Sen. Steven Payne Sr. was a strong advocate for the bill. He said he recalls watching vehicles like "Flashing Bug" and "White and Terrible," causing him to "fall in love with Volkswagen Beetles." He recalled a time when after college he came back to the territory and started working on bugs and built a "buggy" at Charlotte Amalie High School. Every day, Payne said, kids would flock to the shop and watch what they were creating while learning about mechanics, airbrushing and restoration.
"Now I know … on social media we see people doing wheelies and all these things in St. Thomas traffic and some people have said let's go to the police, bring more surveillance and lock them up, but I don't believe in that. Years ago, we used to race by the drag strip by the National Guard Armory and the government didn't want to arrest us, so they built a track in Bovoni. And that eliminated the problem like that. But over the years we have dropped the ball," Payne said.
Payne said not only does he support the track on St. Croix, but he recently went to the mainland to meet with investors to have a track built on St. Thomas. He said he has secured $3 million towards the endeavor and has solidified a location, adding that it was difficult since many areas on St. Thomas are located too close to residential properties.
The National Hot Rod Association is where Payne said he procured the funding, and the entity will be providing the architectural plans for a track that can hold up to 3,000 spectators. The track will be designed with a drag strip, a smaller track for go-karts and an obstacle course to race drones.
The track will also be tied into the school system for automotive classes, said Payne. "We have to do this to attract our young people," he said.
Sen. Allison DeGazon said her son has left the territory because he told her there is not enough to do on the islands, that "it was boring," which is why she fully supported the measure.
Not only did all senators unanimously approve the bill, but 14 of the 15 senators had signed on the bill.
"I'm in full support of spectator sports. We need to have things to do here in the Virgin Islands; that is critical and important," Sen. Donna Frett-Gregory said.
Payne said financing should be in place by March or April of 2020 to have a "state-of-the-art track on St. Thomas."
Present for the voting of the allocation of $500,000 from the St. Croix Capital Improvement Fund for the overhaul of the St. Croix Motor Sports Complex were Sens. Payne, DeGazon, Frett-Gregory, Alicia Barnes, Oakland Benta, Marvin Blyden, Dwayne DeGraff, Novelle Francis Jr., Kenneth Gittens, Stedmann Hodge Jr., Myron Jackson, Javan James, Janelle Sarauw, Athneil Thomas and Kurt Vialet.
The bill will now go to Gov. Albert Bryan Jr. for final approval.