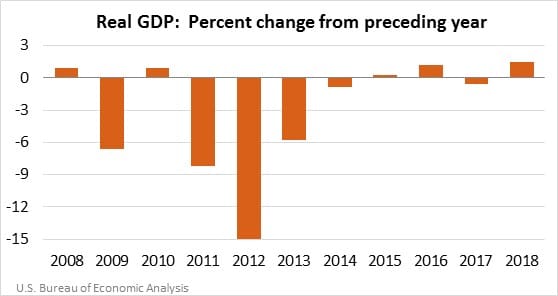 Real Gross Domestic Product for the U.S. Virgin Islands grew 1.5 percent in 2018 after decreasing 0.6 percent in 2017, according to numbers released Tuesday by the V.I. Bureau of Economic Research.
Real GDP is GDP adjusted for inflation.
The territory's growth, while welcome, is smaller than that experienced by the U.S. as a whole, which, excluding territories, saw a real GDP increase of 2.9 percent in 2018 after increasing 2.4 percent in 2017. (BER USVI GDP 2018)
The BER data shows the territory took big hits to real GDP in 2009 and 2011, during the worldwide recession after the 2008 financial industry collapse. The V.I. saw an even bigger drop of more than 15 percent in 2012, when the Hovensa refinery on St. Croix shut down, greatly increasing unemployment and reducing tax revenues. The year 2013 was also very bad, with a 6 percent decline. Since then, conditions have been a little better, with slight increases in 2015, 2016 and 2018 and smaller declines in the other years.
According to BER, the growth in the USVI economy reflected increases in government spending, private fixed investment and consumer spending.
The V.I. government increased spending by 38.7 percent, reflecting federal funding after the two 2017 hurricanes.
Private fixed investment increased by a massive 51.4 percent, reportedly reflecting growth in business purchases of equipment and in home and other construction. Consumer spending on food, cars and household goods also increased.
Tourism spending fell off, partly offsetting these increases.
Total visitor arrivals decreased and the number of people arriving by air decreased 23 percent. Visitors arriving by air spend much more in hotels, restaurants and stores than cruise passengers, making them especially vital. Air arrivals fell after the 2017 hurricanes and remained lower throughout 2018.
BER's report says accommodation and food services was the largest contributor to the decrease. Government output also decreased, due to long-term power outages and damage to hospitals.
Total compensation increased in 2017, reflecting growth in wages for goods-producing industries, including construction.