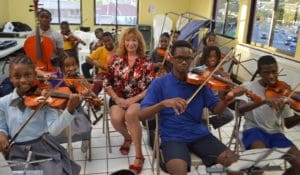 Street Level VI (SLVI) recently presented a donation to G-Clef Music Academy to benefit its newly launched VI Youth String Orchestra. Students, ages 8 to 17 and from both public and private schools, are eligible to join this new music education program.
G-Clef Music Academy Director James H. Gumbs Jr. said, "We are honored to receive the $500 donation from Street Level VI. SLVI is recognizing our desire to make a significant impact in our community's youth through the installation of the VI Youth String Orchestra. Our string orchestra is putting violins, cellos, violas and bass violins in the hands of young people free of charge.
"Weekly rehearsals and sectionals are held at G-Clef for orchestra members. These participants are expanding their confidence and how they read music. They're learning bowing techniques, dynamics and performance skills. Some of the students started with the orchestra's launch in February, 2019, and performed their first recital in April of this year.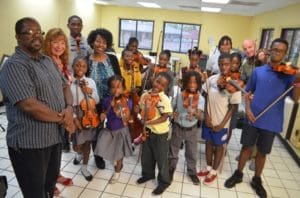 "We're elated that many new members have recently joined. We require that each member be dedicated to giving it their best. Their growth will give G-Clef's VI Youth String Orchestra a chance to perform in local and off-island venues. We appreciate all the parents and guardians, SLVI, and other kind sponsors/donors who are making this program possible. We welcome any additional support from organizations and individuals who would like to assist in this worthwhile educational program."
Inspired by the many articles written about the benefits of early music education, Street Level VI (SLVI) founder Priscilla Lynn — a mother and grandmother herself — decided to launch a donation program to benefit local youth music programs. According to Lynn, "I polled my SLVI members to ask for nominees. G-Clef Music Academy perked to the top, so they were chosen to receive the premiere donation. I chose it to be $500 to recognize and honor the first 500 members to join my Street Level VI Group."
SLVI plans to continue to donate $100 for every additional 100 members who join SLVI.