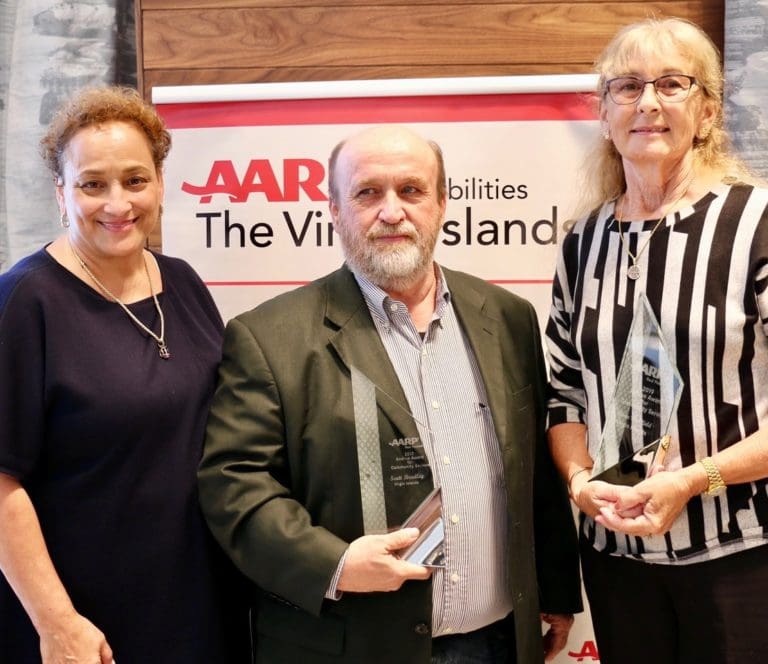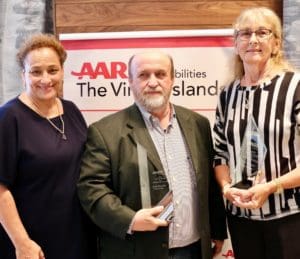 The AARP of the Virgin Islands presented its top award for volunteers Tuesday, presenting the Andrus Awards to Scott Bradley and Alma Winkfield.
The awards were presented at the recently reopened Ritz-Carlton on St. Thomas during a tour by Jo Ann Jenkins, the chief executive officer of AARP and other officers of the international organization.
Winkfield, the recipient of the 2019 AARP Community Challenge Grant and the Andrus Award, is a registered nurse. According to the organization's information, her "love of nature, adventure and a strong work ethic along with a deep-rooted need to give back to those around her and her community drives her passion for community involvement."
She is responsible for the Bike Lane Project that will be unveiled Wednesday, the AARP said.
Bradley was the 2017 winner of the Andrus Award, but the arrival of Hurricane Maria in the territory delayed plans to present him with the award.
Originally from Maine, Bradley founded My Brother's Workshop, the program that provides vocational training, education, mental health services, life skills and mentorship for disadvantaged youth.
The AARP is the largest nonprofit, nonpartisan member organization.
Also attending Tuesday's event was AARP's National Volunteer President Catherine Alicia Georges, who has served on the AARP Board of Directors since 2010 and will serve in her current position through June 2020.