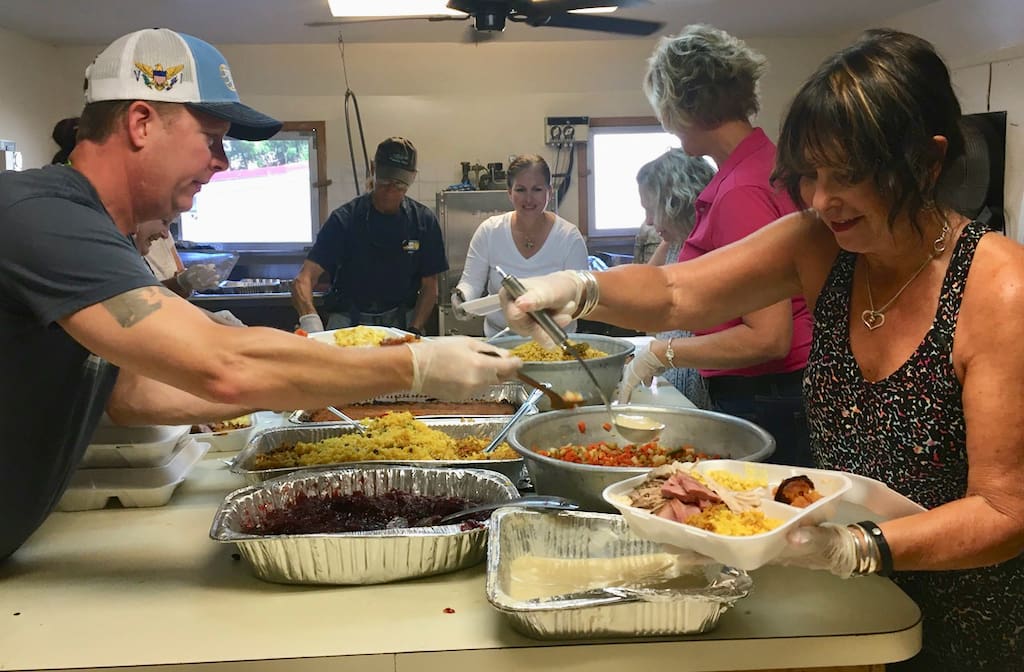 A group of dedicated volunteers has been serving Thanksgiving dinners from the St. Mary's Catholic School cafeteria for almost 30 years, and the group has grown so much since it began in 1990 that this Thanksgiving almost 700 dinners were delivered from the cafeteria, and another 180 dinners were served to people with no place to go for a holiday meal and who showed up at the school.
Since the beginning, Milly deChabert and Leonore Finch have distributed the traditional meal from two small kitchens. In one, volunteers are crammed together around a big table, carving and dishing up turkey, ham, sides and dessert into foam plastic containers. In the other room, more volunteers slice meat, pile macaroni and cheese, mashed potatoes, potato stuffing and vegetables into chaffing dishes for those who come to the school's cafeteria.
As the founders of the event slowly reduced their participation, Rikki Nelthropp stepped in to direct more of the event organization in 2013. Nelthropp said more young people are needed to continue the event since the current crew is aging and beginning to retire.
"We desperately need younger people involved. They need to run with it," she said.
This year, there was a new cadre of people wanting to help with the dinner. A group of Junior Angels, high schoolers affiliated with the Women's Coalition of St. Croix and the Community Foundation of the Virgin Islands, and students from the JFK housing community baked and decorated 500 cookies. They put a cookie in a small box and wrote holiday wishes on the outside. The cookies were included in the food delivered to elderly and people with disabilities in group homes and individual residences.
Nelthropp said the longtime donors such as the La Reine Chicken Shack, Quality Foods and Nando Webster were joined this year by a contingent from the Limetree Bay refinery. The volunteer and donor list expanded to include Pinnacle V.I. and Ballard Hospitality who arranged a huge delivery from the refinery's caterer. Using a hot cart, they helped deliver 20 cooked turkeys and hams, 40 pies, along with mountains of potato stuffing and macaroni and cheese.
"They just ran with it," Nelthropp said.
Broadband V.I. also pitched in this year.
The community cooked 79 turkeys and 49 hams. Eugene "Doc" Peterson cooks 30 pounds of rice every year and Maria Brignoni cooks for days to support the event. That compares to the program's 1990 origins, when three turkeys, two hams and a $60 donation fed 135 people.
Since those days, Nelthropp said, one employee, Freddie Francis, from the St. Mary's school has spent a day or more, every year, cleaning and preparing the hall for the event. Without him, they couldn't pull off the intensive but rewarding event, she said. He is "quite a hero."
"I don't want to under appreciate the people who did a turkey or ham. They are crucial to the event," Nelthropp added.