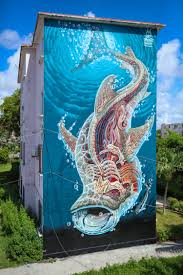 In order to raise awareness for coral reef conservation and inspire people to take action in creative ways, PangeaSeed is partnering with The Ocean Agency's "Glowing Glowing Gone" campaign for their public art project.
In December, ocean-focused nonprofit PangeaSeed Foundation, in collaboration with Clean Sweep Frederiksted, will be making waves on St. Croix with its public art program: "Sea Walls: Artists for Oceans." For their ten-day public art program, the nonprofit has partnered with The Ocean Agency's "Glowing Glowing Gone" campaign in order to raise public awareness of the urgent crisis facing coral reefs in the Caribbean and around the world.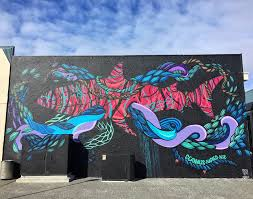 Richard Vevers, founder and CEO of The Ocean Agency, will join the artist collective on St. Croix to help facilitate various public outreach events, including workshops and a screening of the Chasing Coral documentary followed by a panel discussion at the Caribbean Museum Center for the Arts. The Sea Walls team aims to paint the first "Glowing Glowing Gone x Sea Walls: Artists for Oceans" mural in Frederiksted, incorporating their Glowing Colors of Climate Action to call for climate and ocean action through public art.
"We're incredibly excited to be collaborating with The Ocean Agency to create the world's first Glowing x Sea Walls mural highlighting the beauty and plight of coral reefs around the globe. Through public art and activism, we have an awesome opportunity to engage communities to become better stewards of our seas," said Vevers.
"The Ocean Agency's mission is to accelerate ocean action through creative collaboration. We are thrilled to partner with PangeaSeed and their talented network of artists to engage people in saving coral reefs, utilizing art and creativity as a catalyst for action." said RVevers, founder and CEO, The Ocean Agency.
"Sea Walls St. Croix" will kick off on Monday, Dec. 9, and finish on Thursday, Dec. 19. For volunteer information or to donate to this innovative project, please visit https://seawalls.org/get-involved/.