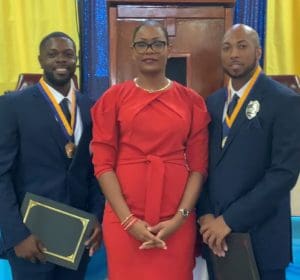 Acting Chief Executive Officer Dyma B. Williams of the Gov. Juan F. Luis Hospital and Medical Center (JFL) has announced the graduation of hospital-based law enforcement officers Dequan Bondieumaitre and Claudelle Abraham from the Virgin Islands Police Academy on Nov. 4.
Officers Bondieumaitre and Abraham are the first hospital-based peace officers in the territory. Their graduation marks the beginning of JFL's Workforce Development Initiative in the security department. This initiative was in conjunction with the V.I. Police Department (VIPD) to address the escalating gun violence in the community.
In addressing the graduation of Officers Abraham and Daquan on Monday, Acting CEO Williams said, "The JFL team is proud to announce that the territory's first hospital peace officers are employees of the Gov. Juan F. Luis Hospital and Medical Center. The hiring of hospital-based peace officers allows us to exceed regulatory requirements by ensuring improved patient and staff safety. As critical first responders, the safety of JFL staff and patients has been a top priority during my tenure. We thank the Virgin Islands Police Department for partnering with JFL in this initiative. We also would like to thank Senator Novelle Francis for his vision and sponsorship of the bill expanding the definition of peace officer to include the foundation of a hospital-based police force."
The JFL Police department and the Security Department, led by Chief Winsbut McFarlande, who is a 27-year law enforcement veteran and has served as the territorial police chief for the VIPD, provides protective services 24 hours a day, 7 days a week on the JFL campus.
The two departments play a pivotal role in maintaining a safe workplace for employees and patients by managing and de-escalating aggressive behavior and conflict. JFL intends to send more security officers to the Virgin Islands Police Academy in the near future.